Many investment gurus recommend the 'buy and hold' investment strategy when it comes to stocks. Unfortunately, most investors wrongly interpret this as 'buy and forget'.
Purveyors of market timing would like us to believe that this investment strategy is no longer relevant to the current uncertain environment.
The truth is 'buy and hold' implies staying invested, but with an eye on the stock, the sector, the economy and international developments that may affect the company whose stock you have invested in.
Investor sentiment has weakened as a result of the ongoing midcap selloff, with many starting to get anxious about the economy even though recent data has been positive. Hence, the risk is that individual investors will reach the wrong conclusions from this market environment by questioning their long-held beliefs, including the virtues of 'buy & hold' strategies.
It is important to remember that long-term investing, particularly a 'buy & hold' approach, remains as relevant today as it has ever been. But to adequately benefit from this tested and proven strategy, investors need to guard against four major pitfalls. Here they are:
1) 'Buy & Hold' Doesn't Mean 'Buy & Forget'
Investing in stocks is not a one-off event. You need to pay attention to the portfolio and nurture it; this means staying engaged with your investments. Staying engaged with your portfolio is a must. Investing for the long run doesn't mean that you lose sight of developments in your portfolio.
All of the successful investors of this approach stay well informed of what is going on with each of their holdings.
2) Don't Fall for the 'Buy What You Know' Mantra
Guard against the simplistic beauty of the 'buy what you know' mantra a.k.a. investing in well-known companies.
A number of investors believe in investing in companies whose products they use on a daily basis or they are well-known companies. Being familiar with a company's product(s) is a useful, but not necessary, starting point to 'knowing' the stock as an investment opportunity. The decision to buy the company's stock should follow a thorough, due diligence process that gives you a solid appreciation of the company's prospects, competitive position and the proper value of its stock.
In fact, studies show that people have a crippling blind spot when it comes to stocks that they think they know. Too often they will overlook the negatives of the firm because they have fallen in love with the stock. Love is nice in your personal life, but there is no place for passion and emotions while evaluating stocks.
3) Stick with a Plan
Your investment decisions should be methodical and based on a clear strategy. Compiling a portfolio randomly should be avoided. It is vital to have a view on an investment based on in-depth study, analysis and an outlook. You must also have clearly laid down exit parameters which help you cut your losses early. In other words, 'buy and hold' with an ear to the ground and an eye on the markets.
4) Be flexible
'Buy and hold' can work wonders if you have the knowledge and skills to pick potential winners and the inclination and time to track these stocks. As long as you keep an eye out for good businesses and ensure that your investments are monitored, 'buy and hold' works as well today as it did in the past.
Putting It All Together
Please keep each of these pitfalls in mind while putting together your stock portfolio to increase your odds of success. Note that this is where we can help you. At stockaxis, we use incisive research and years of experience to spot potential multi-baggers which are leaders in their industry group. Customers' investment portfolios are closely monitored and investment/exit decisions are made based on a number of technical and fundamental parameters.
stockaxis Equity Research Methodology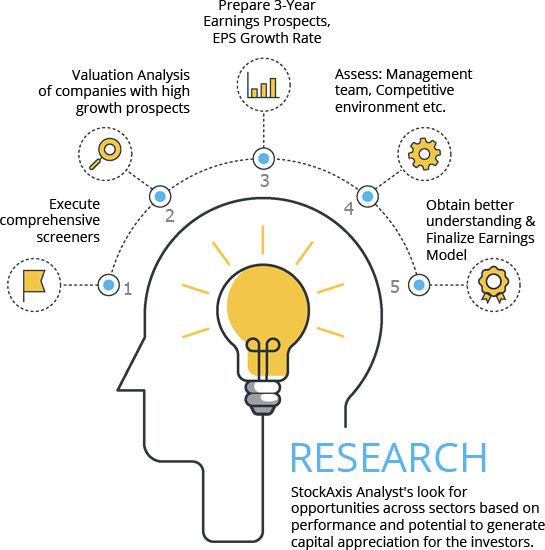 Become our privilege member and avail the following services:
Free Portfolio Review. We will provide you with complete guidance on your existing portfolio.
Portfolio Realignment. stockaxis will carry out an overhaul of your portfolio and help you pick winning stocks.
Access to Experts. We provide you direct access to our fundamental research analysts to get insights on the reasons for our recommendations.
Research. We will provide you our in-depth research-based 1 – 2 recommendations and the research reports through email & SMS.
Portfolio Tracking. We help you track your portfolio so that you are kept abreast of how the market impacts it.
Relationship Management. Our dedicated relationship managers will always be happy to assist you with your queries.
We look forward to serving you as our esteemed clients. Ready to get serious about pursuing your financial goals?
---