Huge beneficiary of structural changes in IT industry
Company Profile
Incorporated in 1945, Wipro is one of the leading global IT, consulting and business process services companies. It is the fourth largest Indian player in the global IT services industry, in terms of revenue. Wipro was as Western India Vegetables Product limited and was majorly a consumer care product manufacturer till 1980 after which it diversified into the IT services business. The company demerged its consumer care division into a separate company called Wipro Enterprises Limited (WEL) in April 2013, to enhance its focus and allow both businesses to pursue their individual growth strategies. The company's operations can be broadly classified into IT Services, IT Products and India state run enterprise and it derived 96.8% of its revenue from the IT Services segment in FY20. IT services include digital strategy advisory, customer-centric design, technology consulting, IT consulting, custom application design, development, re-engineering and maintenance, systems integration, package implementation, cloud infrastructure services, analytics services, business process services, research and development and hardware and software design.
Consolidated Financial Statements
| Rs in Crores | Revenue | EBITDA | EBITDA% | PAT | EPS | ROE% |
| --- | --- | --- | --- | --- | --- | --- |
| FY18 | 54487.00 | 10376.00 | 19.00% | 8002.00 | 13.00 | 17.00% |
| FY19 | 59019.00 | 11617.00 | 20.00% | 9022.00 | 15.00 | 16.00% |
| FY20 | 61138.00 | 12342.00 | 20.00% | 9769.00 | 17.00 | 18.00% |
| FY21 | 61935.00 | 14772.00 | 24.00% | 10855.00 | 20.00 | 20.00% |
| FY22E | 73021.00 | 16038.00 | 22.00% | 11427.00 | 21.00 | 17.00% |
| FY23E | 85289.00 | 18572.00 | 22.00% | 13382.00 | 24.00 | 19.00% |
Rationale for Investment
Continous deal wins shall bolster growth
The company has managed to win large deals in the past two quarters and the demand environment is currently robust coupled with overall deal pipeline remaining healthy. The company's focus continues to remain on midsized deals especially in areas like cybersecurity, application modernization and customer experience to drive growth in the medium term. The company closed 12 large deals resulting in a TCVs of $1.4 billion during Q4FY21, out of which the company's mega deal in American market is expected to lead to revenues over $1 billion of the deal duration. The company's focus is on account mining of existing clients, which will be done by empowering global account executives for faster decision-making. The company is witnessing strong deal wins and strengthening of market presence through acquisitions.
Inorganic expansion to provide impetus to growth
Recently, the company announced the Capco acquisition for a cash consideration of $ 1.45 billion. Capco is a global technology and management consultancy specialising in driving digital transformation in the financial services industry. The acquisition will strengthen Wipro's position as a consulting and IT services provider (more comprehensive end-to-end solutions and offerings) in the BFSI space and shall provide following benefits such as: i) widening customer reach in BFSI segment, which was hard for the company to penetrate in the past (Capco's 80% of revenues is generated from the top 30 customers, thus the company intends to increase its wallet share in these accounts by cross-selling IT services) and ii) strengthening its capability to participate in large transformation deals using Capco's consulting solutions. The company emphasized that they have received encouraging response up till now and their major focus will be on driving growth through joint go-to-market efforts. Capco will continue to function as a separate brand and hence the company expects limited cost synergies from the acquisition.
New organizational structure showing early signs of success
The company adopted a new organizational structure designed to simplify its go-to-market execution and ensure sector focus and growth in non-US markets. The previous structure of multiple delivery units has been replaced by a simplified model designed to bring the best of the company closer to its customers. This model consists of four strategic market units ("SMUs") and two global business lines ("GBLs"). The four SMUs are Americas 1, Americas 2, Europe, and Asia Pacific Middle East Africa ("APMEA"). This new model reduces the total number of P&L units from 20+ to 4, aligns the company geographically to be closer to the customer and eliminates red tape to facilitate faster decision-making. In the previous vertical structure, business heads were primarily based in the US, whereas in the new structure leadership teams are closer to customers. Further, the company is not focused across all verticals in a particular geography, and instead focus is on select verticals in select markets depending on the company's strength and relative size. This shall aid in increasing focus on priority investments and free up resources.
Streamlined its business to facilitate faster decision-making
The company has consolidated its delivery organization into two global service lines (instead of 15 delivery hubs earlier) constituting i) iCORE: which includes service lines cloud infrastructure, digital operations, risk & enterprise cyber security services (43% of revenue) and ii) iDEAS: integrated digital, engineering & application services (57%). Due to changes in service line structure, now each market has its own delivery engine and this enables geographic heads to invest in creating its own talent pool and simplify the delivery organization. The company is going to follow global account executive (GAE) model whereby they intend to appoint a GAE from among the senior leaders who will be supported by a dedicated team of tech specialists and industry experts, delivery teams and decide on investments to grow these client accounts. The company has raised the role of account executives to be closer to the CEO and decrease hindrance around decision-making. The company is also setting-up a large deal team which includes a team of industry veterans to improve participation.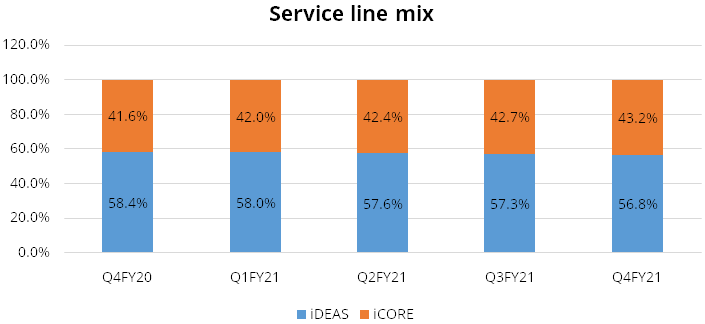 Structural changes in the IT industry
We believe that to navigate businesses through the current crisis, digitization and use of technology will be of prime importance. There is high demand for services like i) digital transformation, ii) cyber security, iii) cloud. It is evident that companies that have previously digitized their operations have been more resilient. The pandemic has positively impacted the IT industry, with more and more organizations globally having realized the importance of technology and increased their spending on digital transformation. Consequently, in the medium to long term, it is very likely that businesses will continue to spend on technology related initiatives with a greater focus on automation, remote working, cloud-based applications, optimization of legacy technology costs, etc. Several sectors are also seeking technology-based solutions immediately to tackle the health and economic crises – notably in healthcare, life sciences, banking, telecommunications and essential retail.
Peer Comparison:
In comparison to its peers like TCS & Infosys which is trading at PE of 26x/25x on FY23E basis, Wipro currently trades at 21.1x FY23E EPS which looks attractive. The company is well positioned to decrease the gap in growth rate with large peers in FY22E.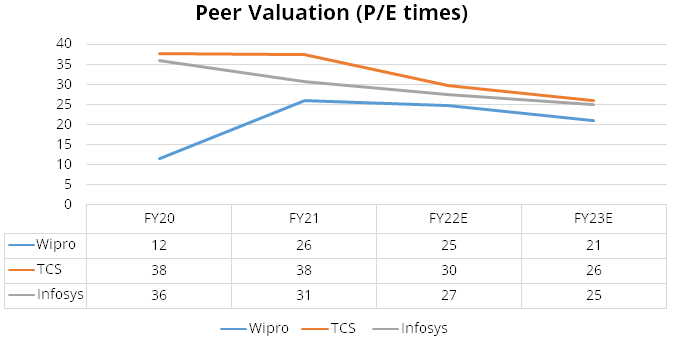 Outlook & valuation
We believe the company has multiple growth drivers such as i) healthy deal pipeline largely driven by mid-sized deals ii) early success visible from its change to a new organization structure iii) ramping up investments in senior hires in key focus markets, iv) focus on higher client mining v) beefing up capabilities in consulting through the Capco acquisition and lastly investing in setting up a large deal team. We believe strong demand for cloud infrastructure services, higher usage of specialised software and increase in online adoption across verticals should augur well for the company. The stock currently trades at 21.1x FY23E EPS and we initiate our coverage on "Wipro ltd" with a Buy rating.