Global Steel Industry
In 2019, the global crude steel production stood at 1,875.2 MT, compared to 1,825.5 MT in 2018, a growth of 2.72% YoY (Source: Worldsteel). This increase was primarily due to the growth in steel consumption in infrastructure, manufacturing, and equipment sectors. China, India, Japan and the USA continued to be the major contributors in crude steel production, contributing 69.05% of the total world crude steel production. In the wake of a protective market environment in key economies, the global steel industry faced pricing pressure for most parts of 2019 which was further aggravated due to country-specific demand slowdown. The consumer industries of steel undertook active destocking which led to stunted capacity utilisation and resulted in net excess capacity globally. This was further complemented by addition of new capacities and resulted in downward pressure on steel prices.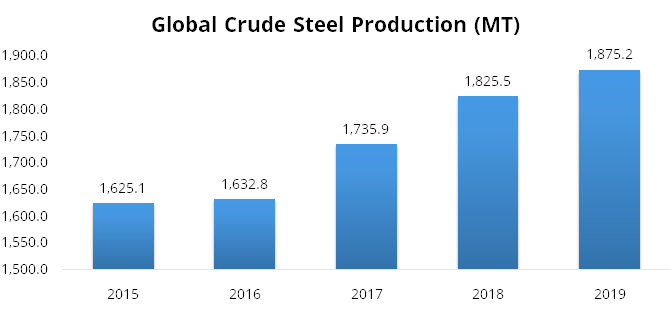 Source: WorldSteel
China produces the largest quantity of steel in the world every year, producing more than half of the world's steel. In 2019, China produced 996.3 MT of steel, a growth of 7.33% compared to last year. India is the second-largest producer of steel in the world. India's crude steel production for 2019 was 111.2 MT, an increase of 1.9% from 2018. This is still a fraction of what China produces in a year. Japan produced 99.3 MT in 2019, a decrease of 4.8% vs 2018. The US produced 87.9 MT of steel in 2019, a growth of 1.33% from 2018.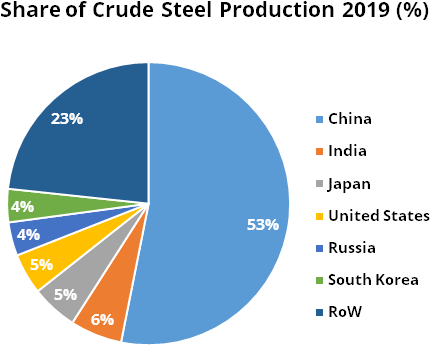 Source: WorldSteel
The Covid-19 pandemic has severely affected economies and industries globally and the steel industry is no exception. As a result, the World Steel Association (World steel) forecasts that the steel demand will contract by 2.4% to 1,725.1 MT in 2020. Further, the association expects steel demand to recover to 1,795.1 MT in 2021, an increase of 4.1% compared to 2020. This view is more optimistic compared with the Short Range Outlook the association released in June 2020. The strong recovery in China will mitigate the reduction in global steel demand, while the post lockdown recovery in demand in the RoW has been stronger than that was earlier expected. However, that reduction in demand still resulted in a deep contraction in 2020 in both developed and emerging economies, with only a partial recovery expected in 2021.
A strong rebound in manufacturing will be counterbalanced by supply chain issues. However, steel consumers suffered less from the lockdown and are recovering faster than the hospitality, aviation and entertainment sectors. The construction sector has been more resilient as many governments focused on implementing public projects. Following the easing of lockdowns, construction sector recovery continued in the advanced economies, mostly driven by infrastructure investment, pent-up demand, low mortgage rates and easier access to credit.
Indian Steel Industry
India's steel industry has witnessed a robust growth in the last 10-12 years on account of sustained domestic demand. Since 2008, production has gone up by ~75% while domestic demand has grown by ~80%. Further, the Government of India has supported the industry and introduced the National Steel Policy in 2017 which envisions the growth trajectory of the country's steel industry till 2030.
India is the second-largest crude steel producer in the world after China. As of 2019, the crude steel production stood at 111.35 MT. The production has grown at a CAGR of 5.75% between 2015 – 2019. Further, as per the National Steel Policy (NSP) 2017, the crude steel production is expected to reach at 255 MT by 2030 at a capacity utilisation of 85%. In 2020, the production was hit by -2.56% compared to 2019 and a sharp contraction of 19% in March due to Covid-19 pandemic. However, the production has witnessed growth from October 2020 and in the month of January 2021, the production stood at ~10MT, a growth of 7% compared to January 2020.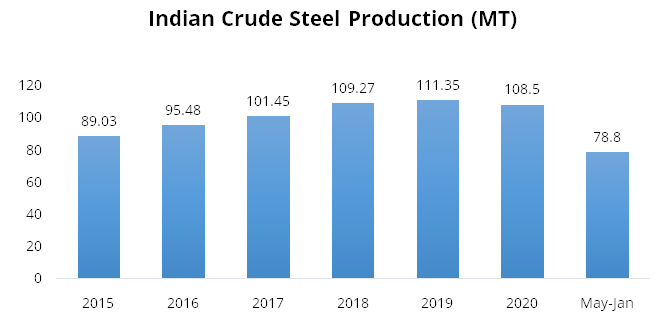 Source: WorldSteel, IBEF, StockAxis Research.
The National Infrastructure Pipeline (NIP) is a noteworthy initiative of the Government of India which holds tremendous opportunities for the growth of steel sector. The NIP announced an investment of ~102 lakh crores by FY 2024-25. NIP was launched with 6,835 projects which is now expanded to 7,400 projects. ~217 projects worth Rs. 1.10 lakh crores have been completed. In Budget 2021-22, total capital expenditure outlay for infrastructure has increased from Rs. 4.39 lakh crores to Rs. 5.54 lakh crores.
India's consumption of finished steel has grown at a CAGR of 5.24% between FY16 - FY20 and stood at 100.01 MMT as of FY20. After a decline in consumption in April 2020, due to the covid-19 pandemic, the consumption of the steel has been witnessing a growth every month starting from May 2020 and in the month of Jan-2021, the consumption stood at ~10MT, a growth of ~9% YoY and ~3% MoM. The growth in the month Jan-2021 was despite the strong base in Jan-2020, which has seen a growth of 9% YoY. The growth in demand has been backed by the robust demand from infrastructure and double-digit growth in auto, white goods, and consumer durables.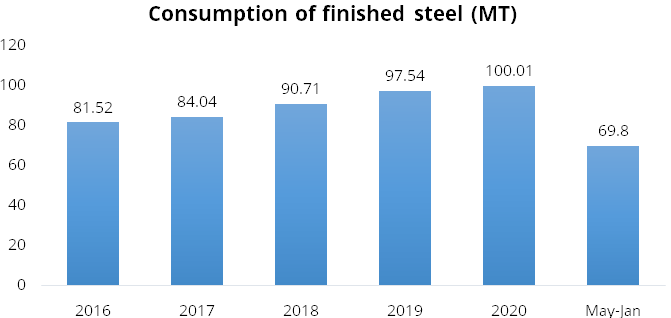 India's per capita steel consumption was at 75.1 kgs. in 2019, which has grown from 61.2 kgs. in 2015 (Source: WorldSteel). It is expected that consumption per capita would increase, supported by rapid growth in the industrial sector and rising infra expenditure projects in railways, roads and highways, etc. The National Steel Policy aims to increase per capita steel consumption to 160 kgs by 2030. The government has objective of increasing rural consumption of steel from the current 19.6 kg/per capita to 38 kg/per capita by 2030. It is to be noted that even at 160 kgs. of the consumption, India will be still far from the average global consumption of 190.5 kgs as of 2019.
India was net exporter of finished steel during April-January of FY21 with net trade surplus of 5.05 MT. During the current FY21 till January 2021, exports of finished steel from India stood at 8.84MT, a growth of 22.5% while the imports stood at 3.79MT, a de-growth of 36.7% compared to same period last year. India became a net importer of finished steel during January 2021 with a marginal net trade deficit of 0.06 MT. In the recent months, the demand has increased on the back of gradual unlocking of the economy and improving economic activities which has resulted in decline in exports and increase in imports with imports exceeding exports for the first time during the fiscal year in January 2021 (See chart below)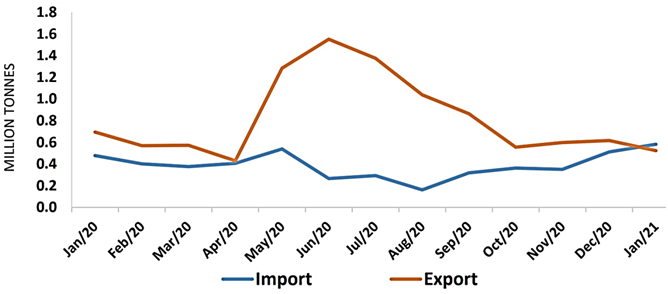 End usage of Steel in India
Construction & Infrastructure
This segment contributes approx. 55% of India's steel demand and includes physical infrastructure and real estate. The construction sector contributed to about ~7.5% of the GDP in FY20. The real estate sector and the affordable housing and smart cities initiatives will enable strong growth in this sub‐segment. Various government initiatives will provide impetus to growth in this sector as well as overall steel demand. A few of the major government initiatives are as follows: i) Road connectivity through the Bharatmala programme depicts the development of 34,800 kms of roads under the National Highways Development Project ii) Port connectivity through the Sagarmala programme depicts industrial development covering all major maritime zones in India iii) Under the Atal Mission for Rejuvenation and Urban Transformation (AMRUT), basic facilities are being upgraded.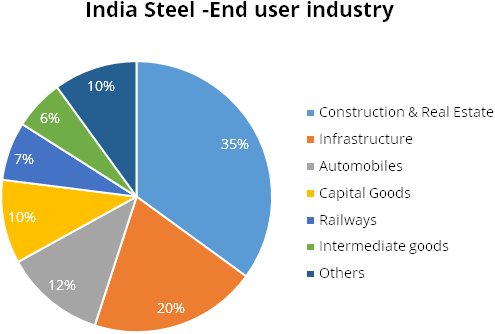 Automobiles
This segment contributes to around 12% of steel demand in India. Steel demand from the automotive sector is likely to sustain, despite the temporary blip in growth this year. India's automobile sector is domestic market‐oriented; whereby domestic demand constitutes over 80% of sales.
Capital Goods
The sector contributes to about 10% of steel demand. It has several sub‐segments, of which electrical equipment followed by plant equipment are the largest segments. A significant gap exists in technology capabilities due to the low acceptance of domestically manufactured products, leading to a lower capacity utilisation ratio, weak support infrastructure and inadequate R&D spending.
Steel industry production process
Globally, two distinct processes make up bulk of worldwide steel production: the blast furnace‐basic oxygen furnace (BOF) route and the induction furnace‐electric arc furnace (EAF) route. The key difference between the routes is the type of raw materials they consume. The BOF route predominantly uses iron ore, coking coal and recycled steel while the EAF route produces steel using mainly recycled steel and electricity.
Basic Oxygen Furnace (BOF)
In basic oxygen furnace, iron is combined with varying amounts of steel scrap (less than 30%), after that very pure oxygen is blown into the vessel causing a rise in temperature to 1700 degree Celsius. The scrap melts, impurities are oxidized and carbon content is reduced by 90%, resulting in liquid steel. Other processes can follow secondary steel‐making processes where the properties of steel are determined by the addition of other elements such as boron, chromium and molybdenum, ensuring that exact specification can be met.
Currently about 71% of the world's steel is produced through BOF route remaining ~29% of steel is produced in Electric Arc Furnaces.
Electric Arc Furnaces (EAF)
Electric Arc Furnace or mini-mill, does not involve iron making. It reuses existing steel (scrap), avoiding the need for raw material and their processing. The furnace is charged with steel scrap, it can also include some Direct Reduced Iron (DRI) and pig iron for chemical balance. The electric arc operates with an electric charge between two electrodes providing heat for the process. This furnace does not require coke as raw material but depends heavily on the electricity generated by coal-fired power plant elsewhere in the grid.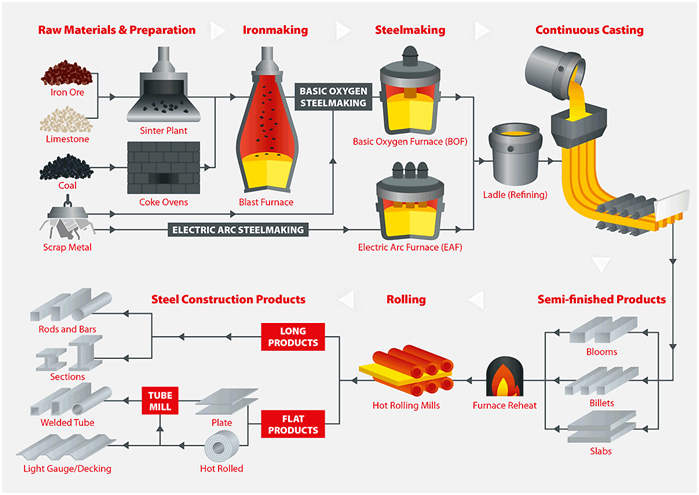 Peer comparison
We have compared the company with its listed peers- JSW steel and SAIL. As far as JSW steel & SAIL is concerned volumes were impacted due to benign demand in FY20 and lockdown in the wake of the pandemic. However, the output has improved significantly after H1FY21 and the companies are now operating at near-full capacity levels. The disruptions due to pandemic impacted the smaller steel producers more severely, leading to market share consolidation in favour of larger steel players that could tap the robust export markets in South East Asia and China.
| Particulars | FY16 | FY17 | FY18 | FY19 | FY20 |
| --- | --- | --- | --- | --- | --- |
| Tata Steel | 114716 | 115423 | 132315 | 167302 | 148972 |
| JSW Steel | 60536 | 60536 | 73211 | 84757 | 73326 |
| SAIL | 43294 | 49180 | 58297 | 66267 | 61025 |
Further in comparison to its peers like JSW steel and SAIL which is trading at EV/EBITDA of 4.3x/4.8x FY23E basis, we believe Tata Steel is fairly valued. Tata Steel has distinct advantage of captive iron ore as well as coking coal thus can demand higher valuation. JSW steel is currently doubling its 5mtpa capacity at Dolvi in the state of Maharashtra and the
company has a robust near-term capacity addition profile in comparison to its peers, which could potentially increase its domestic market share. Thereafter, SAIL aims to double the share of high-value yielding cold rolled coils/sheets to 11% going forward post-expansion from 6% in FY20. The improvement in its product mix will have a positive bearing on its realisations.