According to NASSCOM, India's IT-BPM industry (excl. e-commerce) is expected to grow by 6.1% in FY19 to $ 177 billion. As per current trends, the new age technologies such as robotics, Internet of Things (IoT) and VR/AR are driving large part of the growth. India's IT & ITeS industry grew to US$ 181 billion in 2018-19. Exports from the industry increased to US$ 137 billion in FY19 while domestic revenues (including hardware) advanced to US$ 44 billion.
According to Gartner study, despite of uncertainties' and the Covid 19 pandemic, the IT industry is expected to grow by 6% in 2021. Spending is expected on the new age technologies such as Cloud computing and Internet of Things (IoT) devices.
The Indian IT/ITeS industry contributed around 7.7% to the country's GDP and is expected to contribute 10% to India's GDP by 2025. The industry is a global powerhouse today, and its impact on India has been incomparable. It has contributed immensely in positioning the country as a preferred investment destination amongst global investors and creating huge job opportunities in India, as well as in the USA, Europe and other parts of the world. Revenue from digital segment is expected to comprise 38 per cent of the forecasted US$ 350 billion industry revenue by 2025.
Exhibit No 11: IT industry structure

India, having proven its capabilities in delivering both on-shore and off-shore services to global clients, emerging technologies now offer an entire new gamut of opportunities. The country's cost competitiveness, which is ~3-4 times cheaper than the US, continues to be its USP in the global sourcing market. The industry offers cost-effectiveness, great quality, high reliability, speedy deliveries and, above all, the use of state-of-the-art technologies globally.
Exhibit No 12: Market size of IT industry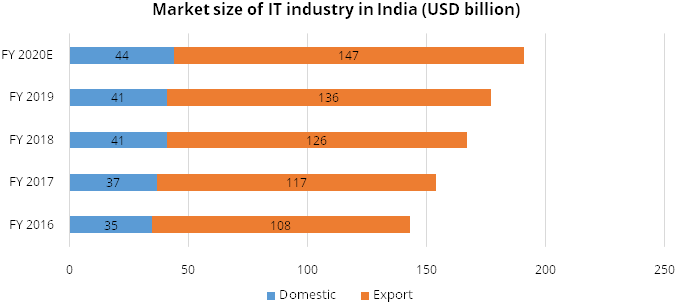 The export sector crossed USD 147 billion in revenue in FY 2020, growing at 8.1%. E R&D market is expected to grow to USD 42 billion by 2022 from USD 28 billion currently.
Exhibit No 13: Revenue segmentation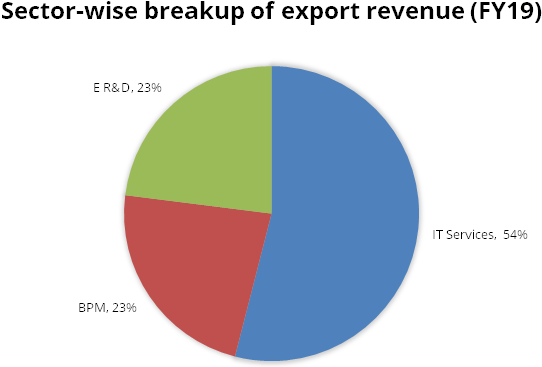 Disruptive technologies such as cloud computing, social media and data analytics are offering new avenues of growth across verticals for IT companies. Large players in the Industry with a wide range of capabilities are gaining ground as they move from being simple maintenance providers to full-service players, offering infrastructure, system integration and consulting services.
Growth in Automotive Vertical:
The automobile industry has witnessed several incredible technological advances over the last century. Right from the arrival of engines that used fossil fuels to power transportation, the impact of technology in shaping the automobiles over the course has been enormous. Some of the greatest minds in the tech industry have joined forces with automotive companies in order to improve the way vehicles operate.
AI and machine learning play an important role in the future of the automotive industry as predictive capabilities are becoming more prevalent in cars. Manufacturers are applying algorithms that use data to automate the process of setting up a vehicle, including infotainment system and its application preferences. Vehicles are becoming IoT devices which can connect to smartphones and take voice commands, changing the user interface. The rise of self-driving vehicles and the potential of CaaS as a mobility service will save consumers greatly, while also increasing their safety.
The future of the automotive world is moving towards electric, digital and shared solutions and how R&D teams are preparing for these multiple and simultaneous disruptions. Energy transformation, asymmetric competition, safety, autonomous vehicles, material science, connectivity software and digital are six significant trends that are going to impact the R&D function. The emergence of hybrid and electric vehicles, connected and autonomous cars, digital technologies as well as increasingly stringent emission and safety regulations are also driving global R&D activity and vehicle manufacturers are looking to stay ahead of the curve by investing in new technologies and coming up with innovations.
As per the recent data from Statista, total global R&D spending on automotive in 2019 is USD 103.1 billion vs. USD 99.8 billion in 2018. ER&D outsourcing continues to be underpenetrated with large growth opportunities across industries supported by businesses moving to platforms, data monetization.
R&D spend has increased from 4.7% to 5.4% of revenue over CY 2014-2018. As the targeted R&D% for leading auto OEMs are near the current levels, R&D growth is expected to converge with overall revenue growth. Leading auto ancillary continental expects software function in vehicles to increase by 10x as the use of Electric vehicle is expected to increase. The dominant trends of Autonomous, Connected, Electric, and Shared Mobility (ACES) in the automotive market, are enabled by the advancement of technology in electronics and software. TELX is investing in strengthening capabilities in the development of Electric vehicles, including control software development, battery management systems, and validation.It plans to increase its software professionals substantially. Auto majors require faster time to market for their products which supports the growth opportunity for service providers.
Growth in Media & Broadcasting Industry:
Media broadcasting industry finds application in areas such as Broadcaster, Studios and Creators, Distributors, OTT, IPTV, among others. With the penetration of high-speed internet, smart devices and content flooding in the market, the borders between entertainment, media, and telecommunications have dissolved. New services such as smart, connected homes & OTT are creating new revenue opportunities for operators and broadcasters.
Excellent user experience and content are becoming the key drivers to customer engagement and loyalty. The increased use of machine learning and contextual information will help in delivering content recommendations and personalized video experience. The media and telecom service providers are coming together to take-on pure-play OTT service providers. With the industry undergoing consolidation, tapping into synergies will help to reduce expenditure on re-engineering effort needed to create optimized networks.
Exhibit No 14: OTT Service Framework

With advancements in the communication sector, the world has become more linked. As broadcasting companies aim to provide customers with seamless communication experience, the industry is likely to experience major developments in the coming years. As per the recent report by experctmarketresearch (EMR), the global broadcast and media (solutions and services) technology market size will grow by USD 116 billion during the forecast period of 2020 – 2025, growing at a CAGR of 42%. Further, the rollout of 5G wireless technology by telecommunication companies is expected to bring at least USD 10 billion global business to Indian IT firms by 2019–25.
Growth in Healthcare vertical:
Miniaturization and integration of technologies are two of the leading innovation themes in the industry. Companies are increasingly focusing on launching holistic solutions with medical devices, which can be seamlessly integrated into the consumer's workflow to enhance user experience and improve operational efficiency. While regulatory bodies have become more receptive to innovations, they still require comprehensive risk management to ensure critical aspects such as patient safety, data security, device reliability, etc. to be thoroughly addressed.
Healthcare industry is also witnessing a new wave of AI-fuelled technology innovation, primarily due to the advancements in computing infrastructure and deep learning architectures, delivering reliable performance comparable to human experts. The advancements in AI technologies have led the industry to explore AI for improving their internal processes, as well as adding value to their customer-facing products. This has resulted in an increase in the development of AI-based Software as a Medical Device (SaMD).
As per the recent report by The Business Research Company, the global medical devices market reached a value of nearly USD 456.9 billion in 2019. The market is expected to decline to USD 442.5 billion in 2020 mainly due to lockdowns imposed by the governments across the world. However, the market is expected to recover and grow at a CAGR of 6.1% from 2021 and reach USD 603.5 billion in 2023.
Exhibit No 15: Market Size of other progressing verticals by 2020 (USD billion)

Source: Company, IBEF, Gartner