Robust deal wins and healthy pipeline
Q2FY21deal wins were strong across products and services. The management indicated that deal signings were across mid-small sized deals as compared to large deals. Deal wins for Q2FY21stood at $8.6billion, up 24.6% QoQ and up 34.4% YoY. This includes the Phoenix- Standard Life deal ($2.5bn), which was announced in the earlier quarter. Of the total TCV, North America accounted for $2.3 billion among geographies while segment wise $1.7 billion was from BFSI and $1 billion in retail.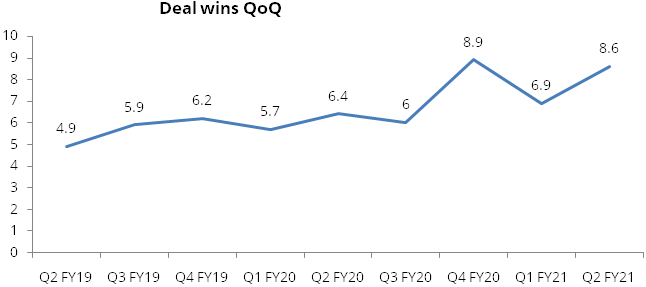 The management indicated that they are seeing healthy deal pipeline and there is no delay in decision making from organisations. We believe TCS is better placed to gain market share as compared to peers, as organisations are looking at vendor consolidation.
The company added two $100 million+ clients to reach 49 such clients. Three clients were added in the US$20 million+ and 44 in the US$1 million+ revenue bucket taking the total to 1076 clients.
| No. of large clients | Q3FY19 | Q4FY19 | Q1FY20 | Q2FY20 | Q3FY20 | Q4FY20 | Q1FY21 | Q2FY21 |
| --- | --- | --- | --- | --- | --- | --- | --- | --- |
| USD1m+ | 996 | 1008 | 1014 | 1032 | 1053 | 1072 | 1066 | 1076 |
| USD5m+ | 519 | 532 | 551 | 554 | 557 | 565 | 564 | 565 |
| USD10m+ | 370 | 371 | 384 | 398 | 395 | 391 | 382 | 386 |
| USD20m+ | 211 | 215 | 219 | 225 | 232 | 240 | 230 | 228 |
| USD50m+ | 99 | 99 | 100 | 101 | 102 | 105 | 100 | 97 |
| USD100m+ | 45 | 44 | 44 | 47 | 47 | 49 | 48 | 49 |
Strong EBIT margin expansion
TCS delivered 26.2% operating margins in Q2 FY2021, which is an expansion of 220 bps YoY and 260 bps QoQ. Margin improvement was led by cost control initiatives like discretionary cost cutting in travel, marketing and better onsite mix. We believe some of these changes are structural in nature and are not going to reverse very soon, as work from home is here to stay for the long term.

Beginning of multi-year technology transformation cycle
Management believes that they are currently at the start of the first phase of a multi-year technology transformation cycle. Currently, enterprises are building a cloud-based foundation, in subsequent phases will see new technologies will lead to new business models and differentiated customers' experiences. TCS's investments in research & innovation and in industry specific solutions will make it a key beneficiary of this secular demand growth in coming years. We believe TCS will benefit disproportionately due to robust growth in global digital technologies.
Structural changes in the IT industry
We believe that to navigate businesses through the current crisis, digitization and use of technology will be of prime importance. There is high demand for services like i) digital transformation, ii) cyber security, iii) cloud.
It is evident that companies that have previously digitized their operations have been more resilient. The pandemic has positively impacted the IT industry, with more organizations globally having realized the importance of technology and increased their spending on digital transformation. Consequently, in the medium to long term, it is very likely that businesses will continue to spend on technology related initiatives with a greater focus on automation, remote working, cloud-based applications, optimization of legacy technology costs, etc. Several sectors are also seeking technology-based solutions immediately to tackle the health and economic crises – notably in healthcare, life sciences, banking, telecommunications and essential retail.
On the cost side, work from home, reduction in discretionary spends like branding, marketing, re-negotiation of rents and no travel costs are improving margins. Voluntary attrition rate has been at a multi-quarter low at 8%.
Strong partnerships to drive growth-
Below are key partnerships that TCS has successfully signed up:
Partnership with B3i to Launch Innovative Blockchain Solutions for the Insurance Industry: TCS has partnered with B3i Services AG, a global industry-led blockchain initiative, to design, develop and launch ecosystem innovations based on distributed ledger technology (DLT) for the insurance industry. This partnership leverages TCS' innovation capabilities and B3i's industry-leading production DLT platform, to accelerate the digitization of insurance for faster and more efficient delivery of tailored solutions to support risk managers, insurers, brokers, reinsurers, and industry service providers.
AG Selects TCS as a Strategic Partner for its Digital Transformation- TCS has been selected as a strategic partner for managed IT services by AG, a leading Belgian insurer, to help enhance the latter's digital channels and modernize its IT systems, leveraging TCS' Machine First™ approach. TCS will also creatively leverage its investments in research and innovation around technologies like IoT, big data, blockchain, machine learning and AI to help AG reimagine products, processes and services.
Equinor Collaborates with TCS to accelerate its Transformation into a Digital Energy Company- TCS has been selected as a strategic partner by Equinor, the Norway-headquartered global energy company, to accelerate its digitalization journey and help realize its vision of becoming a digital energy company. TCS will help Equinor to achieve Data Democratization across its core operations and harness the power of machine learning and Leverage Advanced Analytics to help Equinor achieve its growth and transformation objectives.
Volt partners with TCS to Expand Payment Offerings- TCS announced that Volt, Australia's first neobank, has partnered with TCS to power Volt 2.0, its next-generation banking as a Service (BaaS) platform. Set to launch in 2021, Volt 2.0 will leverage TCS BaNCS™, a global payments solution, to expand the bank's offerings to include NPP, BPAY and DE, enabling full-service banking capabilities for all its customers. Volt will work closely with TCS to incorporate the real-time capabilities of TCS BaNCS for payments, along with API-based access to open banking components that are not dependent on traditional legacy structures. The end-to-end solution provides full back-end support, the flexibility to integrate leading technologies, and connect with an extended ecosystem to offer innovative new products and services.
Institutionalized Secure Borderless Workspaces (SBWS) model:
TCS had adopted the SBWS model during Q4FY2020 as it makes physical location irrelevant because work from home has replaced in-person interactions with virtual collaboration. This virtualization blurs the traditional divide between onsite and offshore. Management foresees that the virtualization of many activities with SBWS will reduce the need for travel and co-location even further, results in savings cost. Also, adoption of SBWS model will help at societal level, as young people will eventually have the option of pursuing their careers in TCS without uprooting themselves from their home towns as long as they have good connectivity. Over the past few months, TCS has also been helping its clients adapt to this new working model using SBWS™. This product has now become a significant part of its go-to-market discussion. The company has also been strengthening to cover broad range of activities, including - customer engagement, on boarding of new projects, etc.