World's Leading Manufacturer of Soda Ash and Sodium Bicarbonate, with Market Shares at 3rd and 6th Position, Respectively
Company Profile
Tata Chemicals Ltd. (TCL), a part of ~USD 106 billion Tata Group, is engaged in manufacturing of basic and specialty chemicals. In basic chemicals, it manufactures Soda Ash, Sodium Bicarbonate, Salt, and other products. In specialty chemicals, it develops specialty silica products for industrial applications as well as nutrition ingredients and formulations for food, feed, and pharma industries. TCL also develops and manufactures crop protection chemicals, crop nutrition, seeds, and other agricultural inputs through its subsidiary, Rallis India Ltd. The company is a global major in soda ash and sodium bicarbonate (market position of 3rd and 6th respectively).
It has 13 manufacturing units across India, the USA, the UK, and Kenya. In 2006, TCL completed acquisition of the Brunner Mond group and gained access to the soda ash business in Europe and Kenya. It acquired GCIP in North America in March 2008. In December 2010, it acquired British Salt Ltd., the leading manufacturer of pure-dried vacuum salt products with around 50% market share in the UK. Given below is the installed capacity of various products (as of June 2021) –
| Capacity (in TPA) | India | The USA | The UK | Kenya |
| --- | --- | --- | --- | --- |
| Soda Ash | 9,17,000 | 24,50,000 | 4,00,000 | 3,50,000 |
| Sodium Bicarbonate | 1,05,500 | - | 1,30,000 | - |
| Salt | 11,70,000 | - | 4,30,000 | - |
| Specialty Silica | 10,000 | - | - | - |
| Prebiotic | 5,000 | - | - | - |
Source: Investor Presentation, June 2021
Investment Rationale
Well-established Position in a Soda Ash Industry
Tata Chemicals is the world's leading manufacturer of soda ash and sodium bicarbonate, with market shares at 3rd and 6th position, respectively, with a global footprint spanning four continents: Asia, America, Europe, and Africa. It has a capacity of 4.1 MMT of soda ash, of which +75% is natural soda ash, resulting in efficient operations and lower operating costs. Its products are utilized in a variety of applications, including flat glass, container glass, soaps/detergents, sodium silicate, metals & mining, sodium bicarbonate, among others. The company also benefits from adequate exposure to non-discretionary end-user products, which ensures constant demand for soda ash. TCL is now a wholly chemistry-focused firm, able to commit resources to scale up its chemical portfolio after de-merging from the consumer product business (now de-merged to Tata Consumer Products).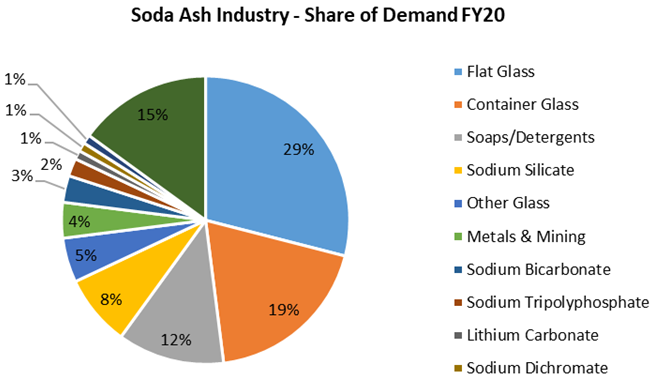 Source: Statista
Demand Revival from End User Industries and Better Price Realization to Aid Growth
Due to Covid-19 pandemic, the company's volume growth in soda ash was impacted in Q1FY21 across geographies. However, the improvement was seen from Q2FY21, and company fulfilled all its contractual obligations and agreements. Further, India business volume was again hit by second wave of Covid-19 but remained steady and above pre-covid levels. Soda ash demand is increasing globally with spot prices beginning to move upward. Much of this recovery has been driven by application sectors driven by sustainability trends like solar glass, lithium carbonate and the move from plastic to glass containers.
Demand Trends for Soda Ash Across Geographies
In India, demand recovery in soda ash and an anticipated reduction in imports are likely to bring demand and supply into balance with corresponding easing of pressure on pricing.
The management's outlook for its US subsidiary remains positive with soda ash rates moving up close to normal levels primarily driven by recovery in export markets.
In UK, demand continues to remain firm. However, pricing which is primarily contractual has come under pressure from January 2021 and will persist at these levels till at least CY21 end as per the management.
In Kenya, demand recovery in export markets and a consequent revival in pricing together with a focus on the domestic East African market to maximise overall price realisation.
Given below the volume trend of TCL for soda ash –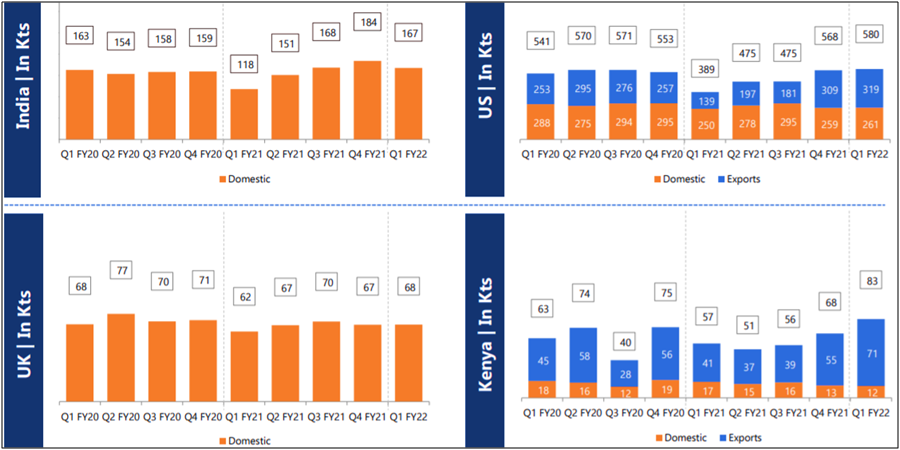 Source: Investor Presentation, June 2021
Capex Program to Drive Growth
The company is investing ~Rs. 2,700 crores to increase capacities of soda ash, sodium bicarbonate, and salt at its Mithapur site. The capex program is on schedule and the company is targeting additional capacity of 2.3 lakh MT of soda ash from current levels of 9.17 lakh MT. Further, it is also expanding capacities of sodium bicarbonate and salt by 0.70 lakh MT and 3.30 lakh MT from current capacities of 1.05 lakh MT and 11.70 lakh MT, respectively. Till June 2021, the company has spent Rs. 950 crores and is targeting completion of all on-going projects by FY24. Salt capacity is expected to be completed during H1FY23 and Sodium Bicarbonate by H2FY23. The management expects increased capacities of soda ash and salt will be the drivers of volume, revenue, and bottom-line growth.
Strong Financial Risk Profile
The company's liquidity position is high, with Rs. 3,293 crores in cash and cash equivalents as of June 2021 due to easy access to low-cost finance. In FY21, the debt-to-equity ratio improved to 0.49x from 0.6x in FY20. The net debt as of June 2021 is Rs. 3,991 crores, up Rs. 248 crores from March 2021, primarily due to small short-term borrowing in Singapore to fund working capital. The company continues to be debt-free on a standalone basis. Gearing should remain below 1x, indicating a sound capital structure.
Outlook & valuation
The company's volume has improved considerably over last one year and sequentially, despite some headwinds in domestic market due to second wave of Covid-19. In the spot market, the prices are already up and management expects the price improvement will continue going forward. The outlook for domestic chemical industry remains positive and the company is also expected to perform better in its specialty chemicals segment. The on-going capex programme is also expected to aid volume, revenue, and profit growth over long term. At the current market price of Rs. 883, the stock is valued at 9x of EV/EBITDA of FY23E consensus estimates.