Base formation, ready for up move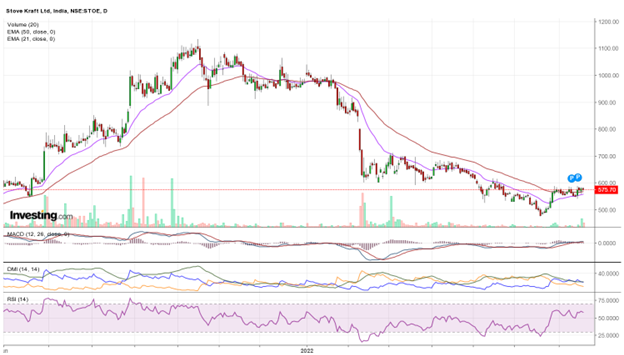 Price: STOVE KRAFT has formed the base around Rs.528 – Rs.540 level and closed well above that range. The stock has been supportive volume formation on daily charts. Did not understand this point the stock has been in consolidation range before the breakout. The stock is trading with higher lows on daily charts. The stock witnessed sell-off from high of Rs.715 levels, which brought it down to near its support of Rs.470 – Rs.475 levels. The stock has bounced from the support level with increase in volumes which indicates the strength in the counter.
Indicator: The stock is trading above key moving averages 21EMA & 50EMA on daily charts. The RSI 14 on daily charts pegged at 57.83 has given positive crossover with signal line and is trading comfortably above the signal line. The Parabolic SAR is trading below its price action on daily charts implying up trend in the stock is likely to remain intact in near term. MACD line on daily charts is in buy mode, indicating bullish momentum may continue. The DMI+ is also pointing in northward direction and is currently placed around 22.75 levels, ADX is trading at 23.10 well above 20 marks, which shows overall strength.
Volume: Price and volume pattern are moving in the same direction which reflects the true movements in the stock. Stove kraft stock has seen the buying building up with increase in volumes, which shows the movement of this stock is on bullish side.
Conclusion: Considering all the above data facts, we recommend buying for medium term. The stock has seen decent deliverable quantity to trade quantity on daily basis, which indicates bullish bias. Investor may go long on the stock at around Rs.578 levels keeping a stop loss below Rs.510 for target of Rs.711.