O2C and retail business to witness growth post relaxation of Covid restrictions while Jio to capitalize on data explosion
Company Profile:
Reliance Industries Limited (RIL) is an Indian multinational conglomerate company, headquartered in Mumbai, India. RIL's diverse businesses include energy, petrochemicals, natural gas, retail, telecommunications, mass media, and textiles. RIL enjoys global leadership in most of its businesses, being the largest polyester yarn and fibre producer and among the top five to ten producers of major petrochemical products in the world. It is also among the largest integrated petrochemical producers globally. Its consumer business (JIO & Retail), which has scaled up in the last 4-5 years, is expected to contribute ~50% of the company EBITDA by FY25. RJio has brought transformational changes in the Indian digital services space to enable the vision of Digital India for 1.3 billion Indians and propel India into global leadership in the digital economy. It has created an eco-system comprising of network, devices, applications and content, service experience and affordable tariffs for everyone to live the Jio Digital Life. Reliance Retail is the largest and the most profitable retailer in India with the widest reach. It has been listed among the fastest growing retailers in the world in the Deloitte's Global Powers of Retailing 2021 index.
Consolidated Financial Statements
| Rs in Cr | Net Sales | EBITDA | EBITDAM | PAT | EPS | ROE | P/E | EV/EBITDA |
| --- | --- | --- | --- | --- | --- | --- | --- | --- |
| FY19 | 569209.00 | 84167.00 | 14.80% | 39588.00 | 66.20 | 10.00% | 20.40 | 12.10 |
| FY20 | 597535.00 | 88894.00 | 14.90% | 39354.00 | 61.50 | 8.50% | 17.90 | 10.60 |
| FY21E | 466924.00 | 80635.00 | 17.30% | 49128.00 | 76.10 | 6.10% | 26.30 | 17.00 |
| FY22E | 657288.50 | 121598.40 | 18.50% | 57930.40 | 85.70 | 6.80% | 25.40 | 14.70 |
| FY23E | 716444.50 | 142572.40 | 19.90% | 74076.20 | 109.50 | 8.00% | 20.00 | 12.10 |
Investment Rationale
RJio platforms expected to be the biggest catalyst that will drive growth
The company indicated on five growth drivers for its digital platforms: Mobile broadband, JioFiber, Enterprise Broadband, Broadband for SMEs and Narrow band Internet-of Things. The company has high ambitions and aims to connect over 5 crore homes and business establishments through JioFiber and connect over 100 crore smart sensors through internet of things. Further Jio platforms will also provide solutions for healthcare, financial services, education etc. supported by technology such as 4G and 5G, cloud computing, big data analytics, machine learning, block chain etc.
Consequential in-roads achieved in the telecom business
RJio has witnessed healthy addition to its user base since launching its services in September 2016. Jio is now the digital lifeline of more than 44 crore customers and has become the world's fastest growing digital services company. RJio has not only revolutionized India's telecommunication industry but also digitized its hinterlands through its extensive network penetration. RJio's revenue metrics are expected to improve on the back of strong subscriber additions and tariff increase.
Collaboration with Google to augment RJio's customer base
RJio platforms received investments from thirteen investors along with strategic partnership with Facebook and Google which has helped them in accelerating its deleveraging initiative and repositioning RJio Platforms as a quasi-technology company. We expect these investments will aid in developing new products and create an ecosystem of services along with providing cross selling opportunities. RJio platforms and Google have already developed an affordable entry level smartphone along with Android-based operating system and the play store. We believe this will enable the company to target ~30 crore feature phone users in India and gain market share from incumbents such as Airtel & Vodafone Idea. This collaboration will further drive smart-phone penetration in the country and also potentially unlock new opportunities and boost data consumption in India.
Exponential growth in data consumption
The higher acceptance of digital services is reflected in the 27% growth seen in RJio's total data traffic to over 20 Exabytes in Q1FY22. RJio's network carries over 5 exabytes of data per month, among the highest globally, with average per capita data usage per month of over 15.5 GB. Mobile data usage in India is expected to quadruple to over 35 exabytes per month by 2026, with 1.2b smartphone users.

RIL presentation
RJio targets to connect 50mn homes across 1600+ cities with FTTH; currently connected to over 3mn homes. Wire-line penetration across homes stands at <10% while Fiber penetration is even lower, with fixed broadband largely running on a legacy copper-based infrastructure.
New initiatives in 5G/IOT/AI
Qualcomm and RJio successfully tested 5G solutions in India, achieving the 1Gbps milestone on Jio 5G solutions. Reliance is working with Microsoft to enhance the adoption of leading technologies such as data analytics, artificial intelligence (AI), cognitive services, block-chain, the Internet of Things (IoT), and edge computing among small and medium enterprises (SMEs). They have already operationlized cloud data centres and onboarded pilot customers. RJio intends to use Google Cloud technologies to power its 5G solutions. It also intends to collaborate with Google to launch a range of 5G computing solutions across gaming, healthcare, education and video entertainment verticals. RJio has also tied up with Whatsapp and launched recharge through Whatsapp using Whatsapp Bot framework targeting the JioPhone. These initiatives are aimed at increasing customer engagement so as to grow customer data case leading to growing data consumption and revenues.
Reliance retail on a high growth trajectory:
Reliance Retail added 123 gross new stores in Q1FY22 vs. 826 in Q4FY21 and 1,456 in FY21. Store additions were low compared to the historical pace of additions due to the lockdowns. However, the company expects an accelerated store opening pace from here-on, with 700+ stores in the pipeline to open, as footfalls are expected to increase post relaxation of covid related restrictions.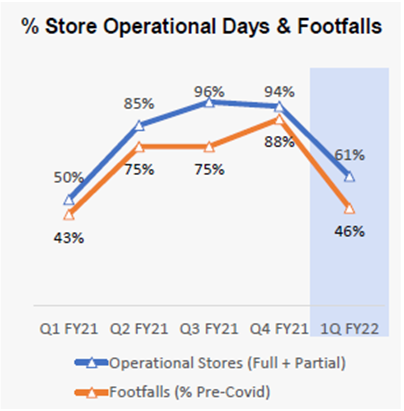 Source: RIL presentation
Also, traction in digital channels remained healthy. The contribution of digital/new-commerce channels improved meaningfully to ~20% of revenues in Q1FY22 from 4% in Q1FY21. Strong growth has been led by higher number of assortments, hyper-local delivery and focus on increasing merchant partnerships across business segments. While its online fashion platform 'Ajio' saw 4x increase (YoY) in monthly active users/order volumes (20% of retail sales), the Jiomart platform scaled up further with 25% qoq growth and is now present in 218 cities. Hyper-local delivery for fashion is now available in 450+cities and Kirana (merchant) partnerships were up ~33% in Q1FY22. The company highlighted investments in distribution centres/third-party-logistics partners (3PL) and securing of higher inventory from vendors to cater to increased demand from these channels. The company intends to grow new commerce partnerships across businesses and geographies. They will launch and scale-up JioMart Digital, which is foray in the electronics space, Urban Ladder, Zivamme and recently acquired Just Dial.
O2C business to witness improvement in margin profile:
RIL expects gas production of +18mmscmd in FY22 (from the already commissioned R-cluster and Sat-cluster), while the MJ cluster would be commissioned in 3QFY23. The KG basin is expected to achieve peak production of ~30mmscmd over the next two years. Oil & gas business witnessed sharp production revival in domestic upstream portfolio where production in 1Q FY22 was more than FY21 production which resulted in revenues at 10 quarter high while EBITDA was at 22 quarter high, supported by increased production from R-cluster, Satellite cluster and improved price realization for CBM and US-Shale.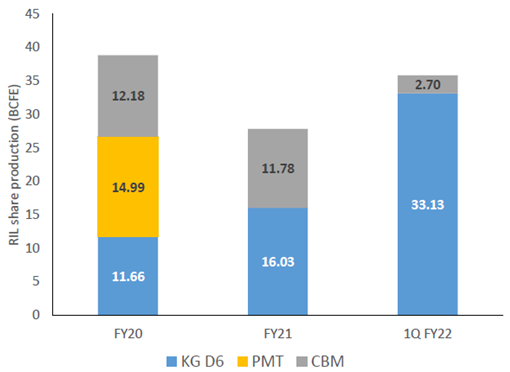 The management is optimistic about O2C business as demand and margin outlook looks good on the back of strength in global demand supporting prices and margins, improving transportation fuel cracks due to improving trends in road & air mobility and continued strength in downstream chemicals margins. RIL expects demand for PVC, PP, and Polyester to remain firm on account of strong downstream demand.
Outlook & valuation
Launch of Jio smartphone along with new digital app offerings will accelerate Rjio's growth and hence we assign a multiple of 17x FY23 EV/EBITDA to arrive at a target price of Rs 790/share (for its 67% stake). The higher multiple also captures the digital revenue opportunity, potential tariff hikes, and opportunity in the Feature Phone market. We value Reliance Retail at 34x FY23E EV/EBITDA to arrive at a target price of Rs 963/share (for its 90% stake). The premium valuation captures the company's aggressive stance to add new stores and to make inroads in the online business through the new JioMart platform. RIL remains constructive on the O2C margin outlook with improving mobility & healthy domestic pet-chem demand, thus we value the O2C business at 10x FY23E EV/EBITDA, arriving at a valuation of INR958/share and add Rs 59/share for the Oil & Gas business, valuing it at 10xFY23 EV/EBITDA. The company is also looking to sell stake in the O2C business to Saudi Aramco, enter into new business verticals such as cloud data centers, solar energy etc, which can act as new triggers going forward. Hence, we initiate our coverage on Reliance Industries with a buy rating and target price of Rs 2770.
SOTP based valuation
FY23E
Method
Multiple
Equity value/share
Rjio (67% stake)
EV/Ebitda
17
790
Retail (90% stake)
EV/Ebitda
34
963
O2C
EV/Ebitda
10
958
O&G
EV/Ebitda
10
59

Target Price

2770