Strong brands in the pipes and fittings segment with over 30 years' experience
Prince Pipes has a strong legacy of more than three decades in the polymer pipes segment. It has an advantage of being one of the leading organised players in this highly fragmented market with market share of approximately 5% in FY20. The fittings segment typically earns higher margins due to the specialised nature and precision required vis-à-vis the pipes segment. The company's strong brands enabled it to increase its market share in the fittings segment.
The company markets its products under two brand names: Prince Piping Systems and Trubore. Prince piping brands currently sells its widest range of products and this brand accounted for over 90% of its overall revenues in FY20. The company acquired Trubore brand in October 2012 and its products are currently sold in South India, primarily in Tamil Nadu. The company plans to increase sales of Trubore brand products by increasing marketing efforts and the number of wholesalers and retailers. The company's aim is to diversify their Trubore brand initially in all other states in South India and then gradually expand in North, East and West India, thereby, making Trubore brand a Pan-India brand in the next three or four years. Trubore brand accounted for less than 10% of its overall revenues in FY20.
Comprehensive product portfolio with new product launches at regular intervals
The Company has a comprehensive product portfolio and is positioned not just as a pipe manufacturer but also as an end-to-end piping systems supplier. It currently manufactures polymer pipes using four different polymers: UPVC; CPVC; PPR; and HDPE, and fittings using three different polymers: UPVC; CPVC; and PPR. It has different stock keeping units for different products under each polymer type. Its products are used for various applications in the fields of plumbing, irrigation, and SWR (soil, waste and rain) management.
In 2018, the company was amongst the first ones to expand its reach from above-the-ground applications to underground drainage (UGD) application by entering into HDPE segment with manufacturing of DWC pipes at its Haridwar unit. With tremendous opportunities in underground drainage systems, the company also aims to launch inspection chambers, manhole and chamber covers by end-FY22. This will enable the company to complete its range of offering (with its existing presence in solid wall pipes and DWC pipes) in UGD systems.
Furthermore, the company has diversified its presence into the water storage space by launching three layered overhead storage solutions under the brand name 'Prince STOREFIT'. Storefit – Paani Ka Bank range of overhead water tanks were launched in capacities of 500, 750, 1000, 1500, 2000 and 3000 litres with a 5-year warranty. The products offer unique features and benefits like UV Stabilisation, air ventilator that allow water to breathe [to the natural oxygen level] and stay fresh, avoid deformations, UV protection cover, Antimicrobial with an inner layer added with silver based antimicrobial agent which prevents bacteria growth and keeps water fresh. The company expects to leverage its multi-location manufacturing footprint (being a highly freight sensitive product) and its existing distribution network to efficiently market this product and become a meaningful player in the segment.
Exhibit 1: Multi-Purpose Plumbing products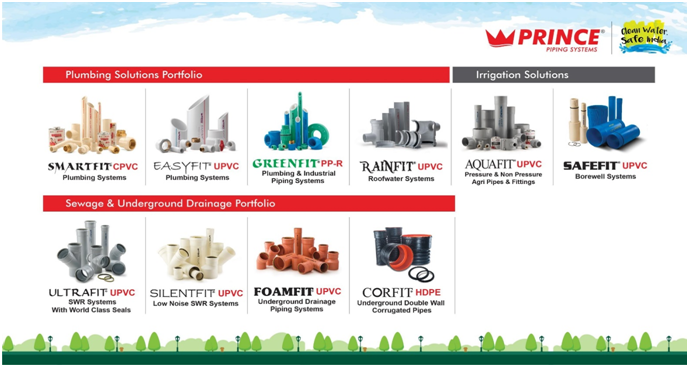 Strategically located manufacturing facilities with a core focus on quality
The size of the pipes being large results in high transportation cost. The company has a competitive advantage in this respect as it has established six manufacturing facilities (located in proximity to its buyers) in: Athal and Dadra (both located in the Union Territory of Dadra and Nagar Haveli); Haridwar (Uttarakhand); Chennai (Tamil Nadu); Kolhapur (Maharashtra) and Jobner (Rajasthan). The company uses five contract manufacturers to increase market penetration in North, West and South India. While the company has no manufacturing plants in East India, it has a unique outsourcing strategy wherein it procures PVC as well as DWC pipes from two players (one each in Bihar and Odisha) for catering to East India market.
The company has stronghold in Northern India due to early entry into that region. This has led to its strong penetration and brand equity in the region which contributed 37% to its overall revenues in FY20. Further the company has set up another plant in Jaipur in FY20, which will enable them to further gain market share in the region. We believe this region to remain the largest contributor to its overall revenues going forward as well.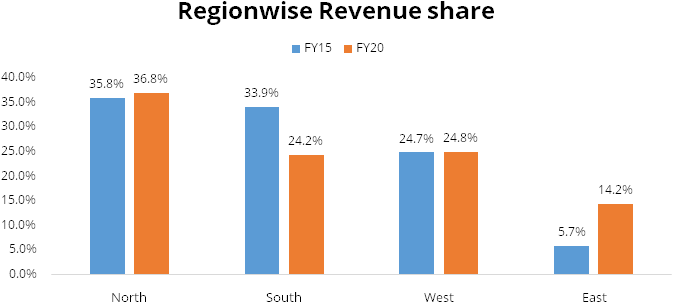 Large & growing Pan-India distribution network
The Company sells its products to distributors, who then resell the products to wholesalers, retailers, and plumbers. It sells its Trubore products directly to wholesalers and retailers. The company has a Pan-India network of distributors for Prince Piping Systems products and a network of wholesalers and retailers for its Trubore brand products in South India.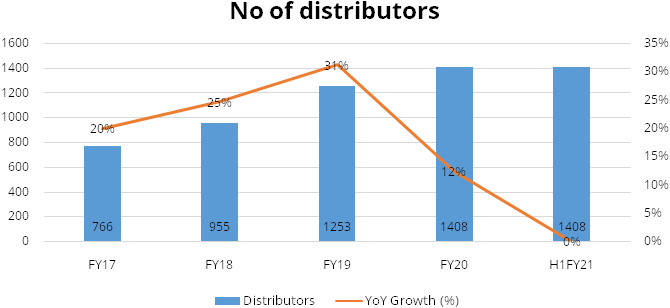 Partnership and Technical collaboration with reputed international players
The partnership with US-based Lubrizol (World's largest manufacturers of CPVC compounds) shall lead to several opportunities for the company going forward such as i) sourcing of best-in-class quality CPVC compound from Lubrizol to enable the company to market and sell superior quality CPVC pipes and fittings in the country ii) premium brand positioning in CPVC pipe segment across the value chain could have a ripple effect on the positioning of its PVC product portfolio as well Higher acceptability into projects (B2B) with FlowGuard being specified by most plumbing consultants and real estate developers iii) cross selling of CPVC pipes through its existing robust distribution network (B2C) along with its PVC piping products.
The company has done tie-up with Tooling Holland which would enable them to offer superior products, aligned to global standards and at competitive costs. Furthermore, it would also improve productivity, cost efficiency and leverage their strong forte towards research & innovation right from designing to mould manufacturing aimed at offering a superior product. The company has also done collaboration with Wavin Overseas B.V, a company headquartered in Zwolle in The Netherlands. Wavin provides the company with technology and know-how to improve manufacturing efficiency and quality of its products.
New capacity expansion would drive higher growth
The Company plans to set up a new integrated manufacturing pipe and fittings facility in Sangareddy (Telangana), with a total estimated installed capacity of ~50,000 tonnes per annum. It plans to commence production at the Telangana plant in Q4FY21. Currently, the company's clients in South India are catered to by its plants in Athal and Haridwar. The opening of the Telangana plant will bolster their distribution reach and market penetration in Southern India and will enable them to compete in these markets more effectively.
We expect logistic and operational cost savings to occur with Telangana facility able to service other South India markets. Further we believe major cost savings to accrue for PVC fittings which was earlier serviced from its Haridwar facility.