Healthcare Sector
The healthcare industry in India comprises of hospitals, medical devices, clinical trials, outsourcing, telemedicine, medical tourism, health insurance and medical equipment & pharma.
India's healthcare sector is one of the fastest-growing sectors in the past few years; the high growth rate is due to the availability of modern healthcare services, strengthening coverage, health awareness, increasing expenditure by public and private players and lastly policies introduced by the government. Till some years back it was all about private healthcare in India, but with private participation in public schemes, and the government increasing its spending in healthcare, the public healthcare segment is gaining prominence.
Healthcare in India still has a long way to go to catch up with other advanced nations, the current per capita spend on medical devices in India is at $3 vs $13 in China and $340 in the US. High government spending on healthcare services and infra will help the sector grow at a faster pace and improve the quality of service in the country.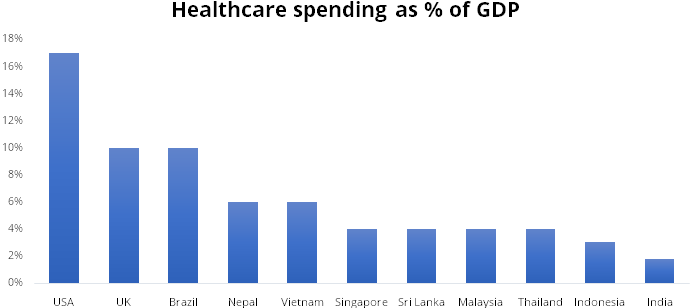 Source: Company Presentation, Stockaxis Research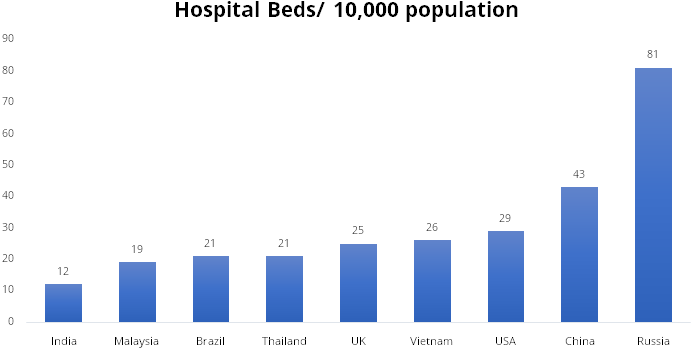 Source: Company Presentation, Stockaxis Research
Medical Devices Industry
Medical devices industry plays a vital role in healthcare sector and is an essential part in healthcare delivery. The industry consists of wide array of tool and equipment which help medical practitioners deliver quality healthcare effectively and save crucial lives. Segment-wise, these devices can be bifurcated in diagnostic imaging, consumables, Intravenous (IV) diagnostics, orthopaedic prosthetics, dental products and others (which include patient monitor, ECG, oxygenators, etc). The growing use of technology is driving a new trend in the medical devices sector with the focus on improving delivery, user experience and bringing down healthcare costs.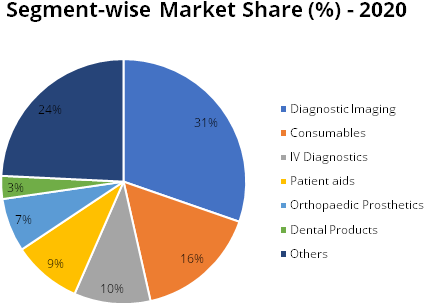 The medical devices industry in India is the 4th largest in Asia and among the top 30 in the world. As per the recent report by IBEF, the current market size of Indian medical device stands at USD 11 billion compared to USD 2.5 in 2010, thereby registering a growth of ~16%. Further, the market size is expected to grow at a CAGR of 35.4% from 2020 – 2025 and reach at USD 50 billion by 2025. This growth will be aided by rising number of medical facilities, rise in home healthcare segment, demographics (ageing population), boost in exports, various government initiatives such as Production Linked Incentives (PLI) and promotion of medical device parks.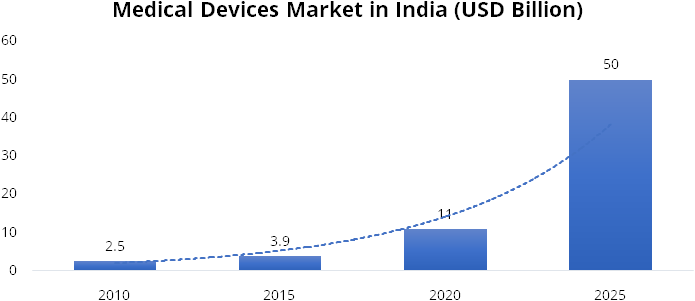 Source: IBEF, Stockaxis Research
Import and Export Scenario
Due to inverted duty structure and absence of proper regulatory framework for medical devices, India's medical devices industry is highly import dependent, importing 70% - 80% of total demand. As of 2020, India imported USD 5.6 billion of medical devices. On the export front, India has exported medical devices amounting to Rs. 155 billion as of FY2020 compared to Rs. 96 billion in FY2016, thereby registering a CAGR of 13%. India has outpaced the global market growth of 5%.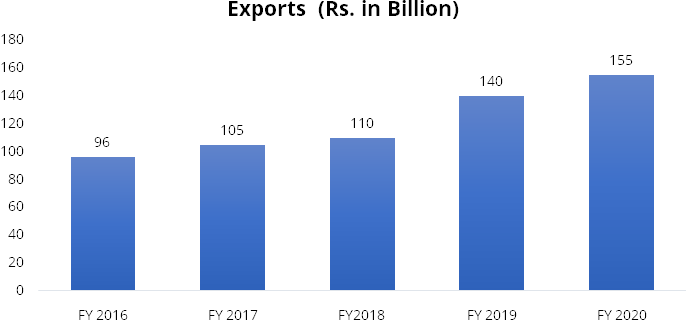 Source: Company Presentation, Stockaxis Research
Further, on the back of various government schemes and allowance of 100% FDI in the industry, the exports are expected to grow further in the coming years. The key export countries for India are the USA, France, Germany, Singapore, Brazil, Turkey, the Netherlands, Iran, Belgium and China.
Government Stimulus to Medical Device Industry
The medical device industry in India suffers from considerable cost of manufacturing via-a-vis competing economies on account of factors such as lack of infrastructure, supply chain & logistics, high finance cost, limited design capabilities, and low focus on R&D and skill development. With the changing economic and regulatory environment, the medical devices industry is expected to grow significantly. The Government of India, in recent past, has taken several initiatives to boost this emerging industry in India such as:
Production Linked Incentive (PLI) Scheme:
To compensate for the manufacturing disability in the selected segment of the medical devices, the GoI has come up with PLI scheme. In July 2020, GoI released the PLI Scheme for Medical Devices 2020, in which, an incentive at 5% of incremental sales over the base year 2019-2020 will be provided to segments of medical devices such as: i) cancer care /radiotherapy medical devices ii) radiology and imaging medical devices iii) anaesthetics and cardio-respiratory medical devices (including catheters of cardiorespiratory category & renal care medical devices and iv) implants including implantable electronic devices.
Promotion of Medical Device Parks:
It aims to support 'Make in India', reduce import dependence, strengthen the infrastructure base, reduce the cost of production for affordability and value addition in the domestic medical device industry. Financial assistance up to Rs. 400 crores will be provided for the creation of common infrastructure facilities in four medical device parks proposed by State Governments.The first such park is to come up in Andhra Pradesh; Andhra Pradesh MedTech Zone (AMTZ), a company established under the Government of Andhra Pradesh.
National Health Protection Scheme: Ayushman Bharat – Growing Opportunities in Affordable Healthcare
Medical devices industry in the country is likely to make the most among other segments of the healthcare market in the next three years, suggests a whitepaper by SKP. The whitepaper titled 'National Health Protection Scheme: Ayushman Bharat – Growing Opportunities in Affordable Healthcare' has examined the impact of Ayushman Bharat- Pradhan Mantri Jan Aarogya Yojana (PMJAY) since its launch on September 23 last year.
The paper says that among the different segment of the healthcare industry, the medical equipment segment will emerge as the biggest beneficiary with additional revenues of USD 2 billion (approx Rs 14,351 crore at the present rate of exchange). The medical consumables and disposables will constitute 20 per cent of this revenue. Currently, the whitepaper notes that "Medical Devices industry in India is at a very nascent stage." It is "significantly smaller" than other emerging and developing economies.
"With NHPS and the resultant expansion in the patient pool and bed capacity, this industry is expected to benefit substantially, particularly categories like equipment and instruments, and consumables and disposables," the whitepaper said. "With the shifting disease burden, some medical device product categories will witness a greater impact than others. These include diagnostic equipment (replacement or new purchases), syringes and needles, stents, etc. In its first 100 days, NHPS attracted a greater ratio of patients from therapies like cardiology and oncology, indicating a future trend," it added.
The international consulting firm further said, "Effective implementation of the scheme could result in an anticipated CAGR of 30%-35% over the next three years in Medical Devices industry, across Medical Equipment and Furniture."
Infusion Therapy Device Market
Infusion therapy involves the administration of intravenous fluids, medication or parenteral nutrition through a needle/catheter. It is prescribed when a patient's condition is so severe that it cannot be treated effectively by oral medications, the medications are introduced to the vein through a catheter. In 2020, the global catheters market stood at ~USD 16 billion and is expected to grow at a CAGR of 8.7% from 2020-25 and reach USD 24 billion by 2025. Product category wise Infusion therapy contributes 71% of Polymed's sales.
A cannula is a tube that can be inserted into the body, often for the delivery or removal of fluid or for the gathering of data. IV Cannula is amongst the most extensively used medical disposables as it is used in medical situations such as nutrition, surgery, blood transfusion, chemotherapy, etc. Polymed is amongst the top 3 I.V. Cannula manufacturer in the world.
Consumables and disposable medical devices segment includes disposables plastic syringes, blood bags, IV fluid set, wound management, medical apparels, etc. Key players catering to this segment are Poly Medicure, Hindustran syringes, Lotus surgical, BBraun, and Beckton Dickson.
Peer comparison
Phillips India and Siemens are top 2 medical devices players in India by revenue, followed by Poly Medicure and Trivitron. Phillips India and Siemens are 8x and 4.5x bigger than Poly Medicure in terms of revenue, as they deal into diagnostic imaging segment. What we can analyse from below table is Poly Medicure's revenue is 1.5x of nearest competitor, while operating margins and return ratio are best among peer set.
| Particulars | Poly Medicure | Trivitron | Sahajanand | Allengers |
| --- | --- | --- | --- | --- |
| Sales (Rs. in cr.) (FY19) | 611 | 407 | 328 | 293 |
| Sales 3Y CAGR | 14% | 2% | 48% | 1% |
| OPBIT Margin (%) | 23% | 6% | 19% | 12% |
| RoCE (%) | 23% | 1% | 17% | 24% |
Source: Company Presentation, Stockaxis Research