Largest Iron Ore Miner in India
National Mineral Development Corporation (NMDC) was incorporated in the year 1958 and is currently under the administrative control of Ministry of Steel, Government of India. In 2008, it has been categorised as "NAVRATNA" by the Department of Public Enterprises. It is engaged in the business of mining iron ore (which is the key raw material for steel making) and is the single, largest iron-ore producer in the country, presently producing about 32 million tonnes of iron ore from 3 fully mechanised iron ore projects viz. Kirandul Complex (Deposit-14, 11C & 11B, Bacheli Complex (Deposit-5 & 10/11A) of Chhattisgarh State and Donimalai Complex (Donimalai and Kumaraswamy of Karnataka State). Along with iron ore, it is also involved in the exploration of wide range of minerals including copper, rock phosphate, lime stone, dolomite, gypsum, bentonite, magnesite, diamond, tin, tungsten, graphite, beach sands, etc.
Consolidated Financial Statements
| Rs. in Crores | Net Sales | EBITDA | EBITDAM | PAT | EPS | ROE | P/E | EV/EBITDA |
| --- | --- | --- | --- | --- | --- | --- | --- | --- |
| FY18 | 11614.90 | 5802.11 | 50.00% | 3808.46 | 12.04 | 15.60% | 9.85 | 5.60 |
| FY19 | 12152.67 | 6923.78 | 57.00% | 4618.84 | 15.08 | 17.70% | 6.92 | 4.00 |
| FY20 | 11699.22 | 6000.96 | 51.30% | 3573.29 | 11.67 | 12.90% | 6.86 | 3.80 |
| FY21E | 15004.77 | 8276.15 | 55.20% | 6174.14 | 21.07 | 19.10% | 7.83 | 5.60 |
| FY22E | 19762.38 | 11115.52 | 56.20% | 8339.44 | 28.46 | 21.40% | 5.80 | 4.10 |
| FY23E | 17656.79 | 9608.85 | 54.40% | 7208.23 | 24.60 | 17.20% | 6.71 | 4.70 |
Investment Rationale
Largest Iron Ore Miner in India
NMDC is the largest iron ore mining company in India, with an average annual production of over 32 MT over the last 5 years. With the production of ~34 million tonnes in FY21, it contributes ~19% of domestic production (excluding captive iron ore production). Apart from sales in the domestic market, NMDC also supplies ore to Japan & South Korea under the long-term agreements with the two countries.
Further, a long-term strategic management plan, 'Vision 2025' has been formulated, which envisions expansion of iron ore production capacity from current 43MTPA to 67 MTPA. This expansion plan includes brownfield expansion of existing mines and developing greenfield mines in partnership with Chhattisgarh Mineral Development Corporation (CMDC). A joint venture of NMDC & CMDC (NCL) is in process of starting operations from Dep-13 Iron Ore Mine in the Bailadila Region.
Increase in Volumes and Prices of Iron Ore to Aid Revenue Growth
After witnessing a decline in demand in FY20, the demand for the steel in India is expected to rebound by 19.8% in 2021, the highest rate among the top-10 consuming nations in the world. Further, in 2022, the demand is expected to stabilise at ~6% (Source: The World Steel Association). The Increasing demand for steel, calls for the increased demand for iron ore, which is the key raw material in producing steel (For every ton of steel 1.6 ton of iron ore is required). Recently, NMDC has increased the prices of iron ore. Here's a snapshot of the recent pricing activity by NMDC:

Source: Company Filings; StockAxis Research
For NMDC, the yearly production and sales of iron ore stands at 34.11 MT and 33.27 MT during FY21, which is 8.3% and 5.6% higher over the same period last year (Source: Ministry of Steel, Monthly Summary). NMDC is a play on strong iron ore prices and volumes. Further, for the month of April, the production and sales stood at 3.13 (+73.88% YoY) and 3.09 (+123.91% YoY), respectively. The volume for FY22 and FY23, are expected to improve on the back of restart of production of iron ore from Donimalai mines in Karnataka. We expect 8% volume CAGR over FY21E-FY23E (See chart below).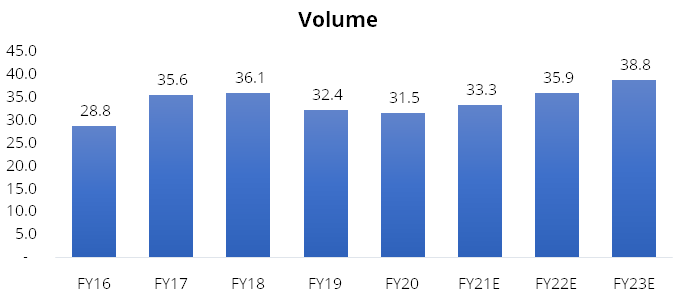 Source: Company; StockAxis Research
De-merger of the Steel Business Could Unlock Value
As part of its forward integration and business diversification strategy, NMDC is building a 3 MTPA Integrated Steel Plant at Nagarnar, in the state of Chhattisgarh, over an area of 1,980 acres, at a revised estimated cost of Rs. 23,140 crores. In August 2020, the board of NMDC has approved the demerger of its upcoming and much delayed steel plant. The demerger is in process and it is expected to be completed by August-September 2021 (Source: outlookinida). Shareholders of the NMDC will also be shareholders of the demerged company in the proportion of their shareholding.
With the demerger and subsequent strategic sale, all incremental capital expenditure for the steel plant can be self-funded by the new buyer that will also value the investment put in by the NMDC. With the steel market looking up again after facing a severe demand erosion in the first quarter of FY21, the government hopes that its share in the demerged entity would get good valuation. The demerger will also allow the NMDC to focus on its core activities of mining. Global companies who are interested in setting up footprints in India could consider acquiring the steel plant as it takes at least 10 years to set up a steel plant in India and no foreign company has so far been able to set up a Greenfield steel plant in India.
National Steel Policy, 2017 – Steel Production Capacity of 300 MT by 2030
The National Steel Policy, 2017 aims to attain a steel production capacity 300 MT by 2030. In-line with the growth in domestic steel production, the iron-ore production is also expected to grow. The growth prospects in India's steel industry, with its competitive advantages and the impetus provided by the government to the steel sector with growth anticipated in key sectors such as infrastructure, housing, railways, consumer durables, and automobiles, as well as the persistent demand for high-grade ore, should assist NMDC in improving its volume performance.
Outlook & valuation
NMDC is a play on strong iron ore prices and volumes. We expect volume growth to be 8% CAGR over FY21E-FY23E to be aided by the restart of Donimalai mines. We believe that increase in demand for steel would, in turn, help improve the volume growth of NMDC and recent price hikes taken by the company could also aid in margin improvement in the coming quarters. Further, the potential value unlock from the de-merger of the steel plant could be a positive event for NMDC. The stock is trading at EV/EBITDA of 4.1x / 4.6x of FY22E / FY23E.