One of The World's Leading, Specialized Automotive Component Manufacturing Companies for OEMs
Motherson Sumi Systems Limited (MSSL) is one of the world's leading, specialized automotive component manufacturing companies for OEMs. MSSL was established in 1986 as a joint venture with Sumitomo Wiring Systems. MSSL is a focused, dynamic and progressive company providing customers with innovative and value-added products, services and solutions. With a diverse global customer base of nearly all leading automobile manufacturers, the company has a presence in 41 countries across five continents. MSSL is currently the largest auto ancillary in India and among the Fab 50 companies of India. MSSL is the flagship company of the Samvardhana Motherson Group (SMG).
Consolidated Financial Statements
| Rs. in Crores | Net Sales | EBITDA | EBITDAM | PAT | EPS | ROE | P/E |
| --- | --- | --- | --- | --- | --- | --- | --- |
| FY19 | 63522.90 | 5348.40 | 8.42% | 1613.10 | 4.79 | 11.17% | 29.31 |
| FY20 | 63536.80 | 5201.30 | 8.19% | 1170.10 | 3.42 | 7.89% | 16.48 |
| FY21E | 59830.00 | 5025.72 | 8.40% | 1294.49 | 4.10 | 8.08% | 58.55 |
| FY22E | 73650.73 | 8690.79 | 11.80% | 3784.89 | 11.99 | 19.73% | 20.02 |
| FY23E | 84845.64 | 10096.63 | 11.90% | 4669.38 | 14.79 | 22.58% | 16.23 |
Investment Rationale
Reorganisation Will Simplify the Structure Resulting in Organic Growth Opportunities
Motherson Sumi systems Ltd (MSSL) announced a scheme of reorganisation in July 2020 to simplify the group structure, align promoter and shareholder interests and accomplish Vision 2025 (topline USD 36bn; RoCE 40%). De-merger of the domestic wiring harness business into a separate listed entity (Motherson Sumi Wiring India Ltd, MSWIL) will allow Sumitomo Wiring Systems to focus on its core wiring harness business. Merger of Samvardhana Motherson International Limited (SAMIL, promoter entity) into Motherson Sumi systems (MSSL) will bring all auto component and allied businesses under one roof to drive the next leg of growth.
MSSL's reorganisation simplifies the current group structure and aligns the interests of promoters and shareholders. With a sharp improvement in profitability at SMRP BV, SAMIL's merger is EPS accretive from 3QFY21 itself. It will also reduce leverage concerns at the promoter level which had increased over the last few years. Post completion of the reorganisation, both promoters (Sehgal family & Sumitomo, Japan) will have a lock-in period of one year in the shares of MSSL and MSWIL.
Motherson Sumi Wiring India Ltd (MSWIL) – Leadership in Wiring Harness; Will be Listed Separately
MSWIL is the market leader in the domestic wiring harness segment with 65% market share in PV and 33% in the 2W and CV space. Backed by technical collaboration with Sumitomo (global market leader in PV wiring harness) and a sharp increase in content per vehicle, MSWIL has consistently outperformed the industry. Over FY10-20, while industry volumes have grown at a CAGR of 4%, MSWIL revenues have seen a CAGR of 14%.
Emerging trends in the automobile industry like premiumisation, electrification and connected mobility will lead to increased opportunities for the wiring harness industry. Sumitomo is one of the largest manufacturers of wiring harnesses, harness components and other electric components with a presence in 31 countries and a turnover of USD 11.4bn. Sumitomo has developed lightweight harness for EVs which are capable of handling large currents. MSWIL's association with SWS would continue to remain a competitive advantage given the rising dominance of Sumitomo in the global wiring harness industry.
Diverse Customer & Geographical Spread
The Company serves major customers globally across its business divisions. MSSL targets "3CX15", which means no Component, Customer or Country to represent more than 15% of the turnover. This de- risking philosophy helps the company to balance its portfolio. From the below chart we can see that the largest customer is now 14% of the total revenue. Recently, Volkswagen upgraded its profit guidance and plans to build six EV giga factories in Europe by 2030 with a total production capacity of 240 gigawatt hours per year. The BMW AG has also updated its guidance for the financial year2020. This will benefit the company in terms of growth as it generates ~9% &~5% of revenue from Volkswagen & BMW respectively.

No geography contributes more than 25% of the revenues as part of de-risking over dependence on any one geography or economy.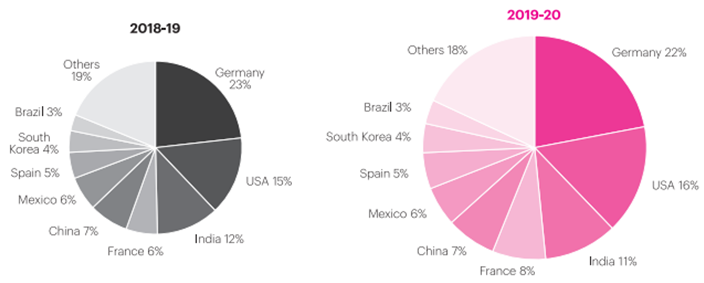 Recent Acquisitions Will Drive Growth
Motherson Sumi Systems Limited (MSSL), via its Mexican subsidiary, Motherson Rolling Stocks S. de R.L. de C.V. (MRS), has successfully completed the acquisition of assets and activities of Electrical Wiring Interconnection Systems (EWIS) performed at Bombardier Transportation's manufacturing site in Huehuetoca, Mexico. MRS is part of the Motherson Rolling Stock Division which designs and manufactures electrical cabinets, power packs and electrical distribution systems for leading rolling stock manufacturers. In the past the company had also acquired Bombardier's UK rolling stock electrical component and systems business in Derby. This acquisition will help strengthening the Rolling stock product portfolio in American region.
Samvardhana Motherson Automotive Systems Group BV (SMRPBV) acquired a majority stake in Plast Met Plastik Metal San. İmalatveTic.A.Ş.(PM-Bursa) and Plast Met Kalıp San.veTic.A.Ş.(PM-Istanbul) together known as Plast Met group (Turkey) through its subsidiary Samvardhana Motherson Reflectec (SMR). With the successful closure of this acquisition, Motherson Group now has access to significant Turkish automotive market. Plast Met is a large automotive supplier in Turkey for injection moulded parts and sub-assemblies, and also owns a state of art commercial tool room engaged in manufacture and supplying of high-end injection moulding tools to customers worldwide. Building on the capabilities of Plast Met group, Motherson will be able to support its customers in the European region more efficiently.
Outlook & valuation
We like Motherson sumi systems Ltd due to strong revenue visibility on account of healthy order book, inorganic growth opportunities, rising content per car improvement driven by advanced safety features / autonomous driving / electric vehicles, improvement in domestic demand and expected ramp-up in new facilities. Currently the stock is trading at the EV/EBTIDA of 7.6x on FY23E consensus basis.