Acquisition of Evosys
Mastek acquired Evosys in February 2020. With this acquisition Mastek now has capabilities of Cloud implementation and consultancy. We believe the acquisition is in the right direction at a time when organizations globally have hastened adoption of technology and digital transformation across businesses. Combined capability of Mastek & Evosys creates a new organization which can provide end-to-end services and tap into this huge market. We see a lot of synergies that could result in co-sell and cross-sell to a much bigger customer network.
Rationale on acquisition
1) Diversification: Evosys provides much required diversification to Mastek on revenue and geographical front. On geographical side, Evosys opens up access to continental Europe and Middle-east, and reduces concentration from UK. On the revenue front, Mastek has a steadier annuity revenue model, while Evosys is a transactional revenue model.
2) Increase in addressable market size: Evosys is a strong player in cloud migration with eastablished sales channel and partnership with Oracle, while Mastek is into digital integration and application development. There are no overlap of capabilities, which makes 'Joint Go-To Market Strategy' meaningful, where both Evosys' and Mastek's offerings combine to achieve bigger deals.
Robust growth in Evosys
Evosys delivered robust growth in operating performance. Revenues grew at 34% CAGR for FY17-20, while EBITDA grew at 131% CAGR during the same period. Margins saw robust improvement from 4% in FY17 to 19% in FY20.
| US $ in million | FY17 | FY18 | FY19 | FY20 |
| --- | --- | --- | --- | --- |
| Revenue | 27.70 | 42.40 | 59.70 | 66.10 |
| Growth% | | 53% | 41% | 11% |
| EBITDA | 1.00 | 4.00 | 13.70 | 12.40 |
| Margin% | 4% | 9% | 23% | 19% |
Emerging Leader in Enterprise Digital Transformation
Digitising and digitalising businesses are critical to staying relevant in terms of, consumer preferences. Digital transformation is all about integration of new innovative digital technologies such as Machine Learnings (ML), Robotics, BlockChain, Artificial Intelligence (AI), Internet of Things (IoT), Big Data & Analytics, Cloud Computing, Mobility and Social Media in all the business functions to improve operational efficiency and deliver better value and outcome to customers.
Mastek offers cutting edge next-gen digital solutions to businesses, both Business-to-Business (BtoB) and Business-to-Consumer (BtoC) organizations for their digital transformation. It helps businesses implement solutions for modern commerce which helps to improve customer experience. Commerce transformation is an important part of digital transformation.Mastek provides digital commerce services for exceptional experience to the end-customer.
Strong presence in UK Government and Private sector
Mastek started as a sub-contractor for major system integrators; today, Mastek works directly as the vendor for UK government departments. UK contributed 74% of revenues in FY19 and 72% in FY20. Mastek's contribution towards UK public and private sector is largely towards Digital contracts. Mastek works with several public sector departments like Home Office, National Health Services (NHS), Ministry of Defence etc. Mastek is among the top 10 suppliers for UK Government projects in the Digital Outlook and Specialist (DOS) framework.
The UK IT sector continues to be dynamic in adopting technology to impact business, public services and society and is at the forefront of many innovations. As per the Tech Nation report, investments in the UK IT sector surged to £10.1 billion ($13.2 billion) in 2019, marking an increase of 44% over 2018 and the highest level in UK history, mainly driven by the rapid expansion of digital technology growth across the UK regions. There is acceleration in digital transformation projects taken up by the UK public sector to bring in efficiency and productivity whilst servicing customers. Moving away from the traditional legacy projects, there is increasing implementation of digital projects, platform-based services and cybersecurity-related software and services. The UK government's External Software and IT services (SITS) market spend has been declining over CY14-CY17 due to moderation in legacy spends. Digital is 23% of the Total SITS Spend for the UK region which is growing at 30%.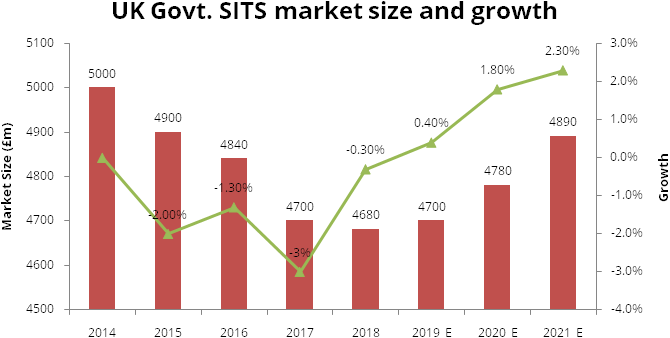 2009 crisis and current outlook on political volatility
In 2009-2010, there was change in government in the UK. Because of elections, there was delay in order inflows and after that the new government had put on hold to many of the large programs. There was freeze on spending by the new conservative government. UK government was the biggest customer of Mastek, and all these political volatility led to slow down of most of the projects. The risk of change in government is nowhere close, as the next UK general election is schedule to be held in May 2024.
For Q2FY21, UK Government is the biggest contributor to overall revenue at 35%. Management is confident of business being insulated from the political uncertainities as UK Governemnt spending are critical in nature and part of national infrastructure, which is not treated as discretionary spend. Management expects to win new logos in the government space and indicated strong deal pipeline in the HMRC (Her Majesty's Revenue and Customs) and UK healthcare segment.
To check the sensitivity of revenue and profitability for volatility in UK government revenue, we have calculated the impact, assuming if UK government revenue declined by 5% each for FY21 and FY22. We would see overall revenues getting impacted by Rs. 28 cr and Rs. 98 cr for FY21 and FY22 respectively, while PAT would get impacted by Rs. 3 cr. for FY21 and Rs. 11 cr. for FY22. Overall EPS will reduce from Rs. 74.6 & Rs. 83 to Rs. 73.3 & Rs. 78.5 for FY21 and FY22 respectively.
Bear case
| Particulars | FY21 E | FY22 E |
| --- | --- | --- |
| UK Government business degrowth YoY | -5% | -5% |
| Revenue | 1,594.8 | 1,725.3 |
| PAT | 183 | 196 |
| EPS | 73.3 | 78.5 |
Structural changes in the IT industry
We believe that to navigate businesses through the current crisis, digitization and use of technology will be of prime importance. There is high demand for services like i) digital transformation, ii) cyber security, and iii) cloud.
It is evident that companies that previously digitized their operations have been more resilient. The pandemic has positively impacted the IT industry, with more and more organizations globally having realized the importance of technology and increased their spending on digital transformation. Consequently, in the medium to long term, it is very likely that businesses will continue to spend on technology related initiatives with a greater focus on automation, remote working, cloud-based applications, optimization of legacy technology costs, etc. On the cost side, work from home, reduction in discretionary spends like branding, marketing, re-negotiation of rents and no travel costs are improving margins.