India's Largest Ceramic/Vitrified Tiles Manufacturer and the 8th Largest in the World
Company Profile
Incorporated in the year 1985, Kajaria Ceramics Ltd. (Kajaria) is India's largest ceramic/vitrified tiles manufacturer and the 8th largest in the world. It started production in the year 1988, with an annual capacity of 1 million sq. meters (MSM) per annum, today, Kajaria has the annual capacity of 70.4 MSM, distributed across its eight plants located across Uttar Pradesh, Rajasthan, Andhra Pradesh, and Gujarat.
Apart from tiles, KCL's step-down subsidiary Kajaria Bathware Pvt. Ltd. operates a sanitaryware plant in Morbi, Gujarat, and a faucet manufacturing facility in Gailpur, Rajasthan. The sanitaryware plant has a capacity of 7.5 lakh pieces, while the faucet plant has a capacity of 1 million pieces. Further, it has also entered the plywood business through Kajaria Plywood. It showcases its tiles pan-India, through its extensive network of 1,500 dealers, providing customers with the widest choice in tiles.
Investment Rationale
Market Leadership Position
Kajaria is India's largest ceramic tiles manufacturer and commands a market share of ~25% in the organised market and 10% of the total market. Its total market share has doubled over the past decade and had registered the volume growth of ~12% CAGR vs. the industry's ~5% CAGR. Manufacturing presence across regions, strong distribution network, and large and premium portfolio has aided Kajaria in achieving industry leadership position and most respected tile brand in India. Further, we believe constant innovation and strategy to differentiate products in terms of design, pattern and size could help Kajaria to sustain and increase its market share further. Below chart shows market share of national brands as of March'20. National brands contribute 45% of the industry and balance of the industry is represented by other regional brands/unbranded players present in Morbi/Himmatnagar in Gujarat.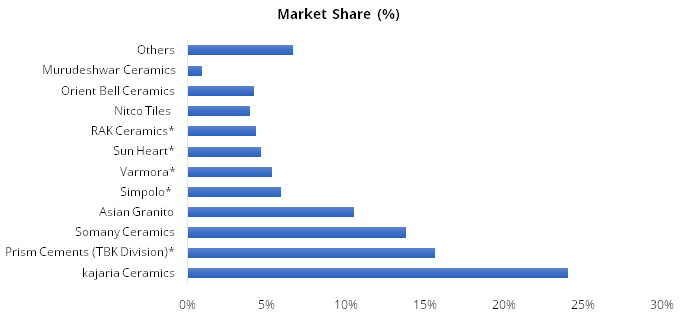 *Estimated
Source: Investor Presentation; StockAxis Research
Wide, Pan-India Distribution Network and Strong Brand Presence
Kajaria has strong distribution network spread across India. The company has grown its distribution network from 900 in FY14 to 1,500 currently, a growth of ~67%. Despite the headwinds faced by the ceramic tile industry as a result of sluggish residential real estate activity, Kajaria's revenues were driven by pent-up retail demand from tier II and III cities where the company had previously expanded its distribution presence.
Over the last five years (From FY15), the company has accelerated its advertisement and sales promotion expenses. As of FY20, these expense as a % of sales were 3.19% (highest in FY18 of 3.88%). The continuous spending on sales promotion and advertisement had aided the company to create strong brand recall and position itself as a premium brand in the tiles segment, which in turn, has resulted into industry-leading volumes in the past few years. Over 2014-2019, the industry volume has grown at a CAGR of only a per cent, while Kajaraia has been able to post CAGR of ~7% during the same period.
Diversification – Bathware and Plywood
To complete the entire basket of bathroom products, Kajaria expanded its horizons from tiles into sanitaryware and faucets. Kajaria Bathware is a subsidiary of Kajaria Ceramics, with 85% stake and remaining 15% stake owned by Aravali Investment Holdings, Mauritius, a wholly-owned subsidiary of WestBridge Crossover Fund, LLC. The Company commissioned a 7-lakh piece per annum facility at Morbi, in August 2014; its 1 million pieces faucet facility at Gailpur (Rajasthan) commenced commercial production in July 2015. In FY20, it expanded the sanitaryware capacity to 7.50-lakh piece per annum. It offers premium range of products under the brand name "Kerovit." On account of Kajaria's robust, pan-India distribution network and marketing, sanitaryware/faucets segment has been able to grow at a faster pace. Further, in FY19, the company entered plywood business through Kajaria Plywood (a subsidary) and sells the outsourced products under the brand name KajariaPLY, thereby capitalising on its brand. Though plywood division is currently small, going forward, Kajaria expects strong market penetration.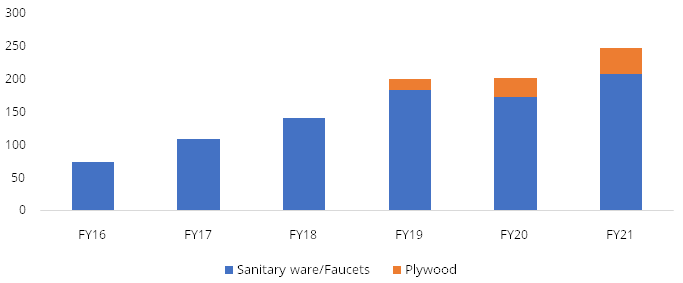 Source: AxeEquity; StockAxis Research
Large Scale Operations with Diversified Customer Base
Kajaria has experienced consistent revenue growth over the years, owing to its established position in the Indian tile industry and strong brand recognition. As a result, the company's operations have grown to a sizeable scale, with revenues of Rs. 2,808 crores in FY20. Furthermore, Kajaria has a well-diversified customer base with established presence in both retail and institutional segments, with retail accounting for ~90% of revenues. Stronger retail demand and penetration in tier II and III markets supported a sharp rebound in the company's sales during Q2FY21, despite the pandemic-induced lockdown having a negative impact on sales in Q4FY20 and Q1FY21.
Shift Form Unorganized to Organized
Regulatory developments such as ban by NGT on all industrial units that run on captive coal gasifier plants in Morbi region and stricter implementation of GST/e-way bill has resulted into higher compliance costs for unorganized players. Further, the issue of labour unavailability and liquidity challenges faced by many small players have resulted in consolidation and augur well for the market position of organised players. The management believes that in FY22E, the company is likely to witness a volume growth of 20%-25% followed by ~15% volume CAGR from FY23 – FY24 on the back of continued demand from Tier – I, II, and III cities.
Buoyancy in Exports to Keep Domestic Tiles Market Robust
India is the second-largest tile manufacturer, after China. Amid Covid-19 pandemic, there is anti-China sentiment across major countries which has given a boost to Indian exports. Various anti-dumping duties levied on Chinese tiles by some European and American counties have shifted the demand to India and due to which Morbi region is witnessing the strength in exports. The recovery in sales from Morbi region works favourably for big and organised companies such as Kajaria due to comparatively lower competitive pressure in domestic market from Morbi region. The Indian exports are expected to grow double-digit despite anti-dumping duty by GCC on Indian imports as anti-China sentiment as well as global pent-up demand is likely to offset the impact.
Outlook and Valuation
Kajaria is India's largest ceramic/vitrified tiles manufacturer and the 8th largest in the world. Kajaria is expected to benefit improving demand in the housing sector. Further, increase in exports could also benefit big and organized player like kajaria on the back of lower competitive pressure in domestic market from Morbi region. Kajaria has consistently generated FCF since FY16, owing to a healthy margin, strict management of working capital, and low capex. The management of the company expects to gain market share by achieving 20% - 25% volume growth in the tiles segment in FY22 and ~15% volume CAGR from FY23 – FY24 on the back of continued demand. At the current market price of Rs 951, the stock is trading at 33.9x of FY23E earnings estimates.