Major Software Services Player in Auto ER&D
KPIT Technologies Limited (formerly KPIT Engineering Limited) was formed by the merger-demerger of Birlasoft (IT services) and KPIT Software. It is a global technology company that specialises in delivering Product Engineering solutions and services to the automotive and mobility industries. The company provides technology solutions to automotive OEMs in areas such as powertrains, communications, autonomous, and diagnostics along with Software IP, software integration, feature creation, and verification and validation services. KPIT Tech has a large customer base with 12 of the top 15 global automotive OEMs as customers. According to Zinnov, the automotive industry is one of the largest in terms of R&D spenders with USD 158 billion in annual investments, of which top 30 global automotive OEMs and tier-1 firms accounting for 80%.
Consolidated Financial Statements
| Rs. in Crores | Net Sales | EBITDA | EBITDAM | PAT | EPS | ROE | P/E | EV/EBITDA |
| --- | --- | --- | --- | --- | --- | --- | --- | --- |
| FY19 | 641.26 | 71.11 | 11.09% | 54.19 | 2.02 | 5.62% | 19.82 | 13.18 |
| FY20 | 2156.17 | 287.31 | 13.33% | 146.59 | 5.43 | 13.95% | 6.47 | 2.16 |
| FY21E | 2035.00 | 300.95 | 14.79% | 135.93 | 4.96 | 11.75% | 36.30 | 15.26 |
| FY22E | 2380.00 | 378.60 | 15.91% | 213.78 | 7.80 | 16.23% | 23.08 | 11.84 |
| FY23E | 2763.00 | 441.32 | 15.97% | 265.46 | 9.68 | 18.74% | 18.59 | 9.90 |
Investment Rationale
Key Customer Focus to Drive Growth
The client base of the company is strong with 12 out of the 15 top automotive OEMs and 9 tier-I suppliers. Its top 25 (T25) clients account for ~85% of its revenue and the current revenue run rate has a potential room for the growth with potential market share gains.
Digitisation and innovative business models, driven by new age industrial players and technology firms venturing into the digital mobility sector, are disrupting the automotive industry. To counter this, traditional automakers have increased their R&D spending to capitalise on modern age technology such as autonomous driving, electrification, and connectivity. Since the customers of the company are multinational automobile market leaders with multibillion-dollar R&D budgets, each of the T25 customers could result in growth opportunities for KPIT. Its top customers are turning their investments into digital projects like connected, electrification, digital cockpit, and autonomous vehicles and KPIT is well positioned in these new areas, with a high chance of gaining market share.
Deals Wins and Pipeline show that Electrification and Automation are being Prioritised
Electric vehicle demand is growing around the world as a result of high carbon emissions from traditional vehicles, prompting governments around the world to incentivise electric mobility. Automobile manufacturers are prioritising developments in emerging technologies such as electric powertrain and autonomous. KPIT is involved in conventional as well as in electric power train and its capabilities in these areas are aiding demand recovery. Deal pipeline of the company is healthy and has been improving from covid-lows and is at ~80% of pre-covid levels with improved decision-making environment. During Q4FY20 and Q1FY21, the company closed two large deals with the total contract value of ~USD 110 million:
KPIT has been chosen as a strategic tech partner by a leading automotive tier I and system supplier for Autonomous Driving and ADAS. The contract is for 5 years, with a transaction value of >USD 60 million.
A leading automotive tier 1 awarded KPIT a multi-million-dollar strategic deal for an electrification programme. The contract is for more than 5 years, with a transaction value of USD 50+ million.
These deals support the hypothesis that OEMs would maintain high levels of digital R&D spending to combat current and emerging rivalry in the areas of autonomous and electrification. KPIT is likely to benefit from multi-billion-dollar investments (General Motors – USD 27 billion, Ford – USD 29 billion, Volkswagen – 87 billion, BMW – 30 billion and Daimler – 70 billion) planned by some of the world's largest automakers for their electric vehicle strategies in the United States and Europe.
Expansion into Adjacent Segments such as Commercial Vehicles and New Mobility
KPIT is centred on the mobility industry, and has built several strategic partnerships in the passenger car vertical (76% of revenue). KPIT's passenger car vertical remains strong, with considerable potential in the areas of electric powertrain, autonomous driving, digital cockpit, and diagnostics.
Further, the company has identified several adjacent segments within the mobility industry for diversification such as commercial vehicles (CV) and new mobility. For KPIT, commercial vehicle is relatively a new vertical. CV manufacturers are embracing autonomous and connected technology, which presents a strong opportunity for KPIT. New mobility services are transforming urban transportation. App-based mobility services, such as car and ride sharing, as well as Mobility as a Service provide new ways to extend and complement existing mobility. It is also a new vertical for the company where it is creating futuristic solutions which could aid in its growth in the coming years.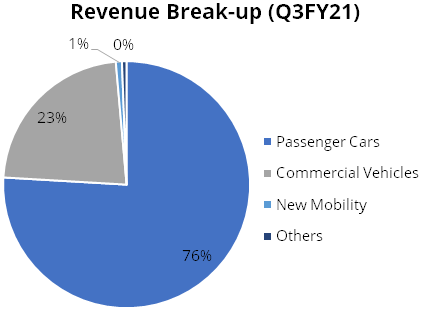 Source: Investor Presentation
Financial Performance
In Q3FY21, KPIT posted 6.5% revenue grow on a sequential basis; likely to have been contributed by its large deal with-in electrification. The company is hopeful about sales growth in the fourth quarter. Its deal pipeline remains high. On account of the high growth rate and positive operating leverage, EBITDA margins should continue to increase. Because of the benefits of operating from home, the company is considering closing a couple of facilities in India, which will be a margin driver in the future. Higher usage, higher offshore, and lower depreciation are some of the other margin levers.
Also, cash generation has been strong on account of better working capital and with expectation of margin expansion, cash generation is expected to grow. KPIT is not expected to invest in large acquisitions; with high cash position coupled with no significant investment, the company might increase shareholders payout, which stood at 18.34% in FY20.
Outlook & valuation
On the back of factors such as: I) The company's activities are in line with current developments in new age technology, electrification, and autonomous. II) Expansion in adjacent segment such as CV and new mobility III) Healthy deal pipeline and improving decision making IV) strong relationships with top global automotive OEMs and tier 1 suppliers and; V) Increased R&D expense by global auto companies; we believe the future of KPIT is very bright. We expect the company to reap significant benefits from these levers of growth in near-to-medium term. The stock is currently trading at PE of 18.6x of FY23E earnings.