Expertise in software development within BFSI domain
Company Profile
Incorporated in 2011, Intellect Design Arena is engaged in the business of software development and delivers financial technology products for the BFSI (banking, financial services and insurance) domain. Intellect Design Arena has a comprehensive portfolio of products across Global consumer banking (product name: iGCB), central banking, Risk & treasury management (product name: iRTB), Global transaction banking (product name: iGTB) and Insurance (product name: SEEC). The company is headquartered in Chennai and has a global presence across the world and it serves 240+ clients spread across 91 countries. The company has its major focus on advanced markets like Americas, Japan, Australia, Singapore, Europe, whereby 58% of revenue mix is generated from developed markets.
Rationale for investment
Established player in software product development within BFSI domain
The company has established itself in the BFSI products business globally by beginning the Intellect suite of software products in 2004, while being a part of Polaris Consulting Services Ltd. Intellect Global Transaction Banking (iGTB), the transaction banking specialist is ranked #1 in the world for Transaction Banking by IBS Intelligence. The company has 14 products across various sub-segments of BFSI such as corporate banking, retail banking, treasury and capital markets, and insurance. The company's products have been well recognised and rated by various leading institutions and has been conducive in winning top notch digital transformation deals against global competition. Further the company has robust relationship with large international banks by providing critical information technology (IT) products to their business centres across the globe.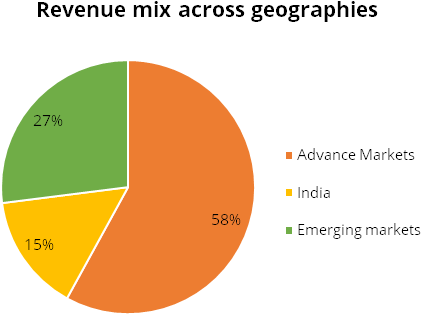 Diversified product profile aids in de-risking the portfolio
The company has diversified product offerings across the sub-segments of the BFSI vertical. Its suite in transactional banking for corporate banking product constitutes major chunk of revenue mix and is noticing incremental traction in other products majorly due to digital centric service oriented architecture and focused solution that service specific customer needs. The company is emerging as the leader in this category and now boasts of over 90 clients. Further the company has multiple revenue streams and models which enables its earning potential to be well diversified, de-risked and sharpened to take advantage of every form of market opportunity and trend. This in turn, will ensure both an assured and repeated revenue stream, as well as growth, driven by logo acquisitions, entry to new markets and replication of their success with the top customers. The company's repeat revenue from existing customers stood at 85%. The company has seen steady growth in license linked revenue which constitutes cloud/SaaS, AMC and license revenue.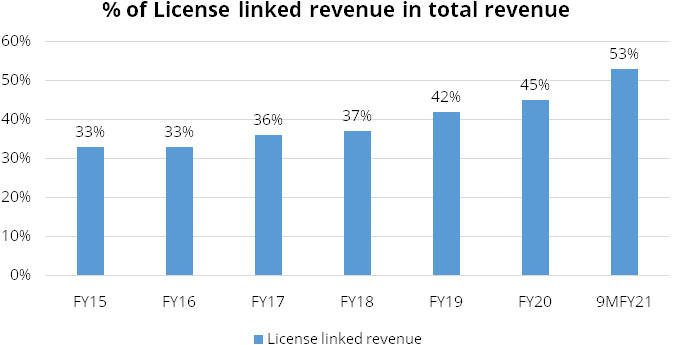 Healthy demand prospects for product companies in BFSI segment
BFSI is the largest vertical, contributing to more than 50% of revenue within IT services and solutions. On an average, banks and financial institutions spend about 7-8% of revenue on IT, which is the highest among all verticals. We believe BFSI segment shall continue to remain the biggest technology spender, taking into consideration its dynamic nature and high regulatory requirements in the industry. Hence, revenue prospects for software firms in BFSI is expected to remain healthy, driven by continuing high spending, increasing adoption of digital technologies, and expected increase in penetration. Further the company has created multiple IPs across banking functions and has been creating its brand across these lines of businesses.
Continuous deal wins to provide impetus to growth
In Q3FY21, the company has won 10 deals, of which 6 were large deals. The company has won a mega destiny deal (iGCB) from OTTO GmbH (largest e-commerce operator in Germany) enabling entry into Germany market. Further iGCB also entered North America (Canada) and won its first cloud subscription deal with a mid-tier bank, the deal was won against strong international and local competitors. Further the company closed a multi- million-dollar upgrade deal for the most innovative and fastest growing bank in Africa for their Core Banking, Lending & Cards transformation and Insurance (SEEC) also added its tenth customer (from Australia). Recently one of the largest banks in Vietnam (Vietcom Bank) has done strategic partnership with iGTB by deploying digital transaction banking enterprise suite (DTB). This Enterprise Suite delivers superior channel experience to grow the bank's corporate customer base, create customer stickiness with the ability to quickly respond to customer changes, in-built configurable product setup for faster responsiveness as the market evolves.
Focus on sales incentives strategy to promote large deal wins
The company has aggressively invested in sales and marketing from past 5 years and its major aim is to have strong front-end team. Further the company has invested approx. $300 million to propel its market presence and improve its brand awareness. Currently, the company's sales team structure constitutes i) regional sales personnel for smaller markets ii) direct sales personnel for advanced markets iii) client partner approach for large customer's iv) system integrator model. The company's sales incentives strategy is linked to overall TCV, with higher inclination to licensed linked revenue deals.
Unique client acquisition strategy has aided in increasing order book
The company understands the BFSI domain thoroughly and has done significant investments in terms of participating in industry events such as SIBOS and also developing leadership program in transaction banking. The company's new products have been successful as it understands client's requirements and it does positioning considering competitive landscape, strength/ weakness of peer product and Bank tiers.
Outlook & Valuation
We believe the company is well placed to capitalize on incremental growth opportunities given its upgraded and matured product suites in BFSI domain, strong order book execution capabilities and continuous deal wins. Further we expect the company to deliver robust growth supported by domain specialization and long standing client relationship. The stock is currently trading at PE of 16.7x FY23E EPS and we initiate our coverage on Intellect Design Arena Ltd with a Buy Rating.