Strong momentum in large deal wins
Infosys reported order wins of US$1.74 billion in Q1 FY 2021, which grew 6% QoQ. Infosys won 15 large deals in Q1 (13 in North America and 2 in Europe). Across verticals, financial services won 6 deals. Management indicated that the company's deal pipeline was very healthy and includes digital transformation and vendor consolidation opportunities.
Strategic partnership with Vanguard
Infosys and Vanguard announced a strategic partnership, which involves digital transformation and migration of record keeping services to cloud-based platform. According to news reports, the deal could be worth $1.5 billion, which will be largest deal in the history of Infosys. Infosys will assist Vanguard in providing record keeping business, including software platforms, administration and associated processes.
Revenue growth
Increase in revenues was mainly attributed to large deal wins, which is improving year-on-year.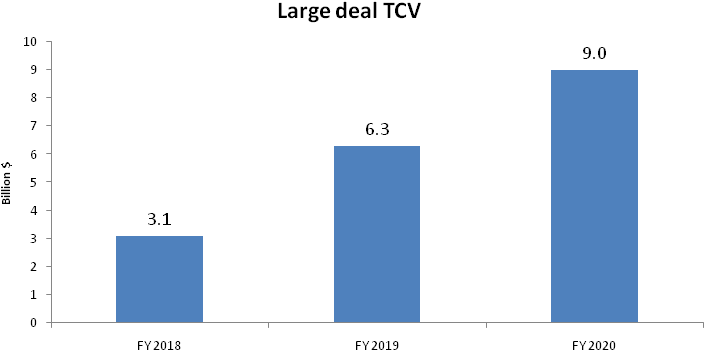 Client addition
Infosys reported 0.8% growth QoQ in revenues from its top 10 clients. The largest account saw a 7% QoQ increase in revenues. Given the pandemic, we believe the company's top clients' performance was strong. There was strong addition of clients except in US$ 100 million+ category, which saw a reduction in the number of clients by 3 (from 28 in the last quarter to 25 during the quarter).
Client base in terms of business size
| Particulars | Q2FY19 | Q3FY19 | Q4FY19 | Q1FY20 | Q2FY20 | Q3FY20 | Q4FY20 | Q1FY21 |
| --- | --- | --- | --- | --- | --- | --- | --- | --- |
| US$1 mn+ | 633 | 651 | 662 | 680 | 693 | 705 | 718 | 729 |
| US$10 mn+ | 205 | 214 | 222 | 228 | 228 | 232 | 234 | 236 |
| US$50 mn+ | 58 | 59 | 60 | 59 | 61 | 61 | 61 | 60 |
| US$100 mn+ | 23 | 23 | 25 | 27 | 27 | 28 | 28 | 25 |
Robust Margin improvement
Infosys delivered 22.7% operating margins in Q1 FY2021, which is an expansion of 220 bps YoY and 150 bps QoQ. Higher operating margins were achieved after rewarding employees with higher variable pay during the quarter. Margin improvement was led by cost control initiatives like i) hiring freeze and improved bench utilization, ii) discretionary cost cutting like travel, marketing and rate negotiations, iii) automation and onsite mix.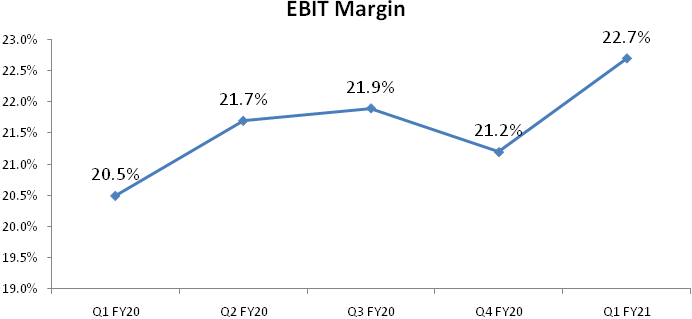 For Q1 FY21, there was 230 bps margin improvement QoQ because of lower travel and visa cost, while 110 bps improvement was because of lower SG&A (selling, general and administrative expenses), which was mainly offset by increase in salary cost and higher onsite mix. We believe some of these changes are structural in nature and are not going to reverse very soon, as work from home is here to stay for the long term.
Structural changes in the IT industry
We believe that to navigate businesses through the current crisis, digitization and use of technology will be of prime importance. There is high demand for services like i) digital transformation, ii) cyber security, iii) cloud.
It is evident that companies that have previously digitized their operations have been more resilient. The pandemic has positively impacted the IT industry, with more and more organizations globally having realized the importance of technology and increased their spending on digital transformation. Consequently, in the medium to long term, it is very likely that businesses will continue to spend on technology related initiatives with a greater focus on automation, remote working, cloud-based applications, optimization of legacy technology costs, etc. Several sectors are also seeking technology-based solutions immediately to tackle the health and economic crises – notably in healthcare, life sciences, banking, telecommunications and essential retail.
On the cost side, work from home, reduction in discretionary spends like branding, marketing, re-negotiation of rents and no travel costs are improving margins. Voluntary attrition rate has been at a multi-quarter low at 11%.
Robust growth in Digital revenue
Infosys has strong digital capabilities and offerings that enable clients to achieve business transformation by adopting digital technologies. Digital services and solutions contributed 39% of revenue in FY2020 as compared to 31% in FY2019. For Q1 FY2021, digital revenue grew by 25% YoY in constant currency (CC) terms and now contributes 44.5% of total revenue, as compared to 35.7% for Q1 FY2020 and 41.9% for Q4 FY2020.
To benefit from increased demand for cloud, Infosys has recently launched 'Infosys Cobalt' – a set of services, solutions, and platforms for enterprises to accelerate their cloud journey. Infosys Cobalt helps businesses redesign the enterprise, from the core, and also build new cloud-first capabilities to create seamless experiences in public, private and hybrid cloud.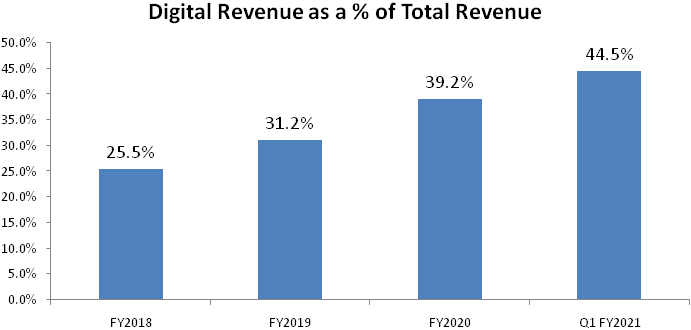 Recent acquisitions to power digital offering
In September 2020, Infosys acquired Kaleidoscope Innovation, a full-spectrum product design, development and insights firm innovating across medical, consumer and industrial markets. Kaleidoscope designs microsurgical instruments, devices used in minimally invasive surgery, drug delivery devices for ophthalmic therapies and user-centric wearables. It also offers usability testing in support of regulatory submissions, including the delivery mechanism for aortic stents. This acquisition will help Infosys improve its capabilities in the design of smart products and strengthens digital offerings in medical devices.
During the month of September, Infosys also acquired GuideVision, a leading ServiceNow elite partner in Europe. GuideVision is an enterprise service management consultancy specialised in offering strategic advisory, consulting, implementations, training and support on the ServiceNow platform. GuideVision's end-to-end offerings, enables over 100 enterprise clients to simplify complex business and IT processes. This acquisition will strengthen Infosys digital capabilities towards cloud-powered enterprise trasnsformation.