Low Insurance Penetration in India
India's non-life insurance coverage is significantly lower at 0.97% (premium as % of GDP) as compared to its peers like Thailand at 1.7%, Singapore at 1.67% and Malaysia at 1.62%. The reasons for low penetration are low awareness and low propensity to spend on insurance, which does not deliver immediate benefit. However, due to aggressive campaigning by insurance companies and online aggregators, government's focus on different insurance schemes, deregulation of the sector, easy payment options and higher incomes have led to increased adoption of non-life insurance. With only 10% of the economic losses being insured in India, we believe that the sector will continue to grow at double digit growth rates going forward led by the structural changes like rapid urbanization, high GDP growth, favourable dynamics, rising incomes and higher loss aversion. Private insurers are expected to grow at a faster rate than public insurance, and thereby gain market share.
Non-life Insurance Penetration across the Globe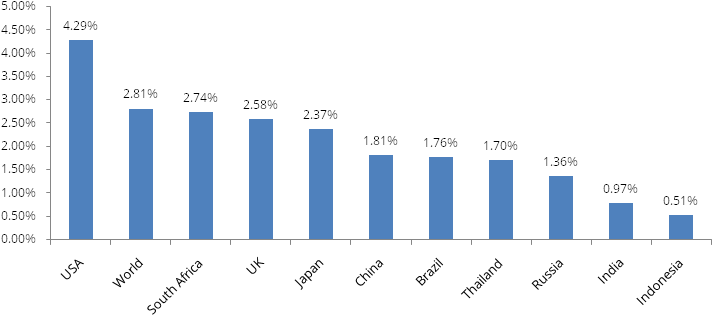 Motor Insurance:
Despite being more advanced than other forms of non-life insurance in India, motor insurance remains underpenetrated relative to global levels. According to CRISIL Research, only 60% of cars older than three years are insured in India as against the global benchmark of 90%, and only around 25% of two wheelers are insured as against a global benchmark of over 90%. This leaves enough headroom for growth in the Motor Insurance category. The growth will be led by renewal premiums of old vehicles due to awareness of regulatory requirements and increase in sales of new vehicles. The segment will also get a boost from the government as the cumbersome third-party motor insurance rules are simplified.
Health Insurance:
Health insurance in India is also expected to pick up pace going forward driven by growing proportion of ageing population, rise in incidence of lifestyle related diseases/critical illness/pandemic, higher income levels and higher awareness. Currently health insurance is at an inflection point, as covid-19 pandemic has accelerated the need for health insurance. Till FY18, only 35% of the Indian population had some or the other form of health insurance as against 90% in some of the advanced economies.
Industry Tailwind
As India continues to grow, the need for non-life insurance will continue to grow at a robust pace led by rising penetration and growing awareness. The accessibility to insurance has increased significantly in the recent past led by aggressive penetration by private insurers, web-based aggregators and government's efforts to ensure insurance cover to those who cannot afford it.
The insurance industry is going through structural changes which will continue for the longterm. The industry will gain from both new policies and renewals. While the industry will grow at an accelerating pace, insurers which have an established brand and right underwriting skills like ILGI will benefit and grow faster than the industry.
Acquisition of Bharti AXA General Insurance
The Insurance Regulatory and Development Authority of India (IRDAI) on November 27 gave an in-principle approval to the acquisition of General Insurance business of Bharti AXA General Insurance Company Limited by ICICI Lombard General Insurance Company Limited. The stock exchanges and the Competition Commission of India (CCI) had already approved the proposed acquisition by ILGI. The consolidated entity will have a market share of 8.7% in the non-life business.
We believe a lot of synergistic benefits will be visible over 1-2 year period as Bharti AXA is a strong franchise and the merger will benefit the policyholders through deeper customer connect touch points and an enhanced product suite.
Market Leader with a Strong Brand
ILGI's market share stood at 12% among private players and overall industry share stood at 7% in FY20. The leadership position has been strengthened by its strong brand and partnerships, robust and diversified product profile, strong promoter pedigree and decent underwriting track record.
Diverse Product Portfolio with robust Distribution Network
Strong distribution across India has helped the company reach a diverse set of customers, including large and mid-sized corporates, SMEs, central and state governments, and individuals. With its distribution strength, the company can reach out to a diverse mix of prospective customers in urban as well as rural India. Key distribution channels are direct sales, individual agents, corporate agents - banks, other corporate agents, Motor Insurance service providers (MISPs), brokers and digital.
Strong risk management framework
The insurer, helped by its huge data, has managed its risk in an efficient manner over the past decade and a half. This data has helped the company get into profitable segments and close down or avoid loss-making segments. It also has a high-quality panel of reinsurers including GIC Re, Scor Re, Munich Re, Hannover Re, Swiss Re, Lloyds, Fm Global, and XLCatlin, which it uses to comply with the reinsurance requirements and also transfer risk to maintain product-wise retention limits on a per-risk and per-event basis.
Technological Edge
During FY2020, around 96.5% of the policies were processed electronically. It uses technology extensively from providing quotes for policies to settling claims. It also uses various mobile applications, chatbots, and telematics interfaces to help customers and channel partners. The company engages millennial customers through its digital platforms and third-party platforms and helps them speed up the process of price discovery, issue of policy, support and claims settlement.