Strong and resilient retail banking portfolio – major growth driver
ICICI bank's retail portfolio has been a major growth driver, which constitute 65.6% of outstanding advances as on 31st December 2020. Focus on retail loans led to increased in its share as a % of total mix from 39% in 2014 to 63% in March 2020.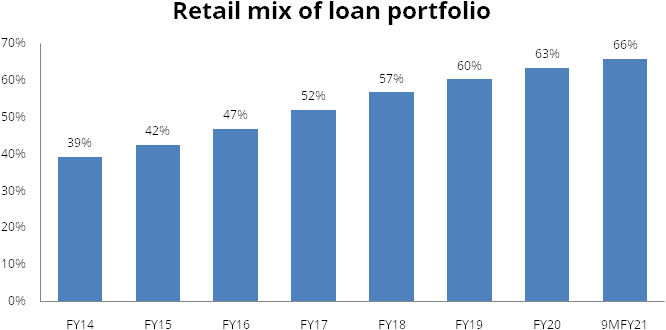 The household credit to GDP ratio stands at 12% for India v/s 68% for the US and 61% for China, which shows multi-decade opportunity size. Retail portfolio is largely secured and built on proprietary data and analytics in addition to bureau checks and well-priced in relation to risk.
Retail portfolio constitutes mainly mortgage loans (49%), auto loans (14%), business banking (7.6%), rural loans (14.7%), credit cards (4%) and personal loans (10%). Total mortgage portfolio includes home loans at 70%, top up loans given to existing home loan customers at 6%, office premises loans at 5% and loan against property at 19%. ICICI Bank has reported best mortgage disbursements in recent months, driven by digitization of entire underwriting process with instant loan approvals and expansion of footprint outside tier1 cities. All other segments have reported strong growth in Q3FY21, in most of the segments; growth has surpassed pre-covid levels.
After covid-19, digital adoption has increased and ICICI Bank with its full digital stack has been able to service and onboard new customers digitally. The share of digital origination at the bank has increased significantly. Digital transactions too have increased significantly, surpassing pre-COVID-19 levels. The volume of mobile banking transactions increased by 59.5% YoY in Q3 FY21. The bank has recently launched products like WhatsApp banking and has expanded its mobile banking app iMobile to non-ICICI Bank customer. The bank received very encouraging response from non-ICICI Bank customers with ~0.5 mn activations since its launch just 3 months back.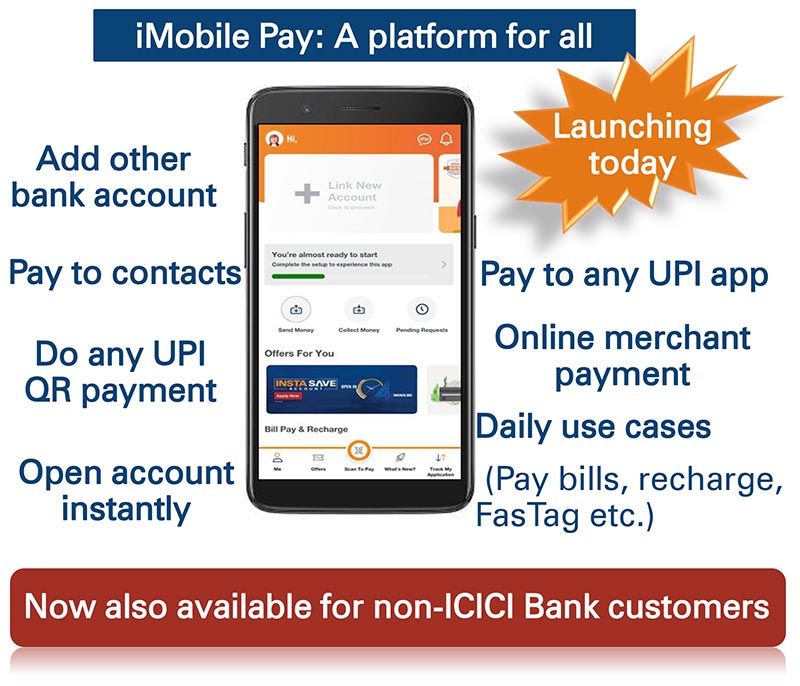 Source: Company Presentation, Stockaxis Research
ICICI Bank has faced virtually no outages in its digital platforms unlike its large peers that have recently faced regulatory pressure. This is because the bank has made adequate investments in digital platforms, leading to better customer wallet share. The bank has introduced ICICI STACK, a comprehensive strategy, as a core strategic pillar. The bank plans to use digital tools such as Customer 360 degree view/ iGenome for customer profiling, cross-selling products and services across the customer life cycle, thereby reducing cost of customer acquisition and improving profitability.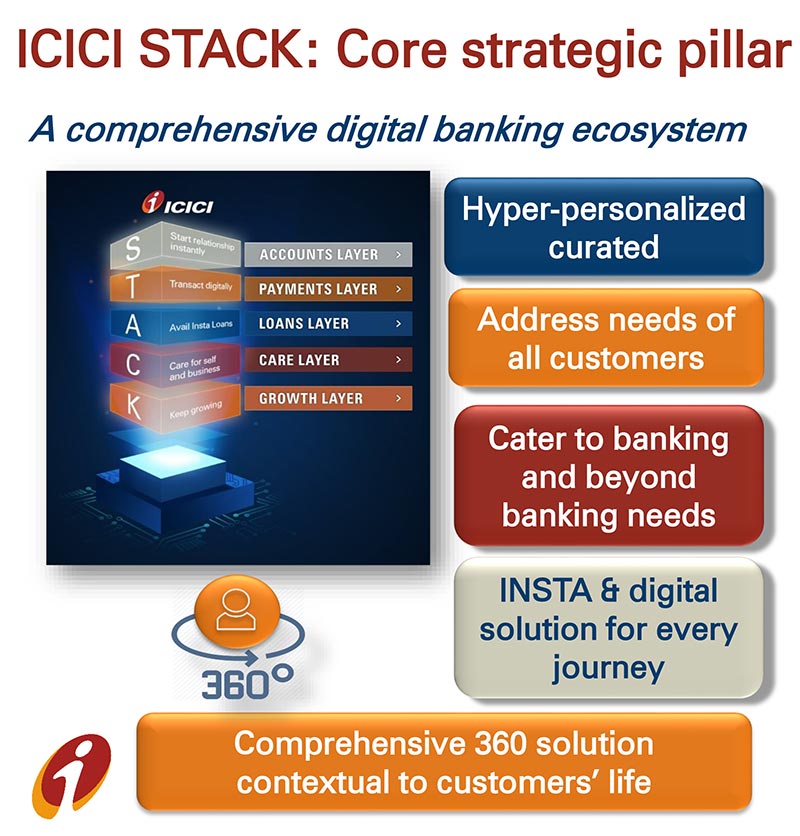 Source: Company Presentation, Stockaxis Research
ICICI Bank focuses on providing the right & full bouquet of product offering such as Equity, SIP, Protection, PPF, NPS, etc and enabling opportunities for cross-selling. The focus on retail will help to create a low-cost deposit franchise. Overall, the bank's focus is on building a retail franchise with a strong digital edge.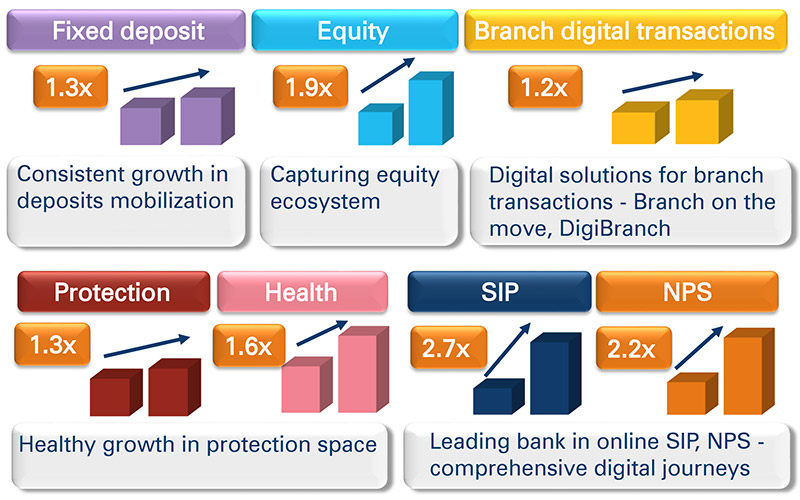 Source: Company Presentation, Stockaxis Research
Business Banking and SME - huge growth opportunity
SME portfolio includes borrowers with turnover less than Rs. 2.50 billion. Credit opportunity for business banking stands at Rs. 12.5 trillion, which shows significant growth opportunities. SME portfolio has grown consistently over the years and currently constitutes ~3.9% of total advances as on 31st December 2020, from 3% as on 30th June 2019, it has increased its overall portfolio weight by ~90bps in 6 quarters. The bank focuses on well diversified portfolio across sectors and geographies along with parameter based lending, digital channels, granularity, collateral and robust monitoring. Primary collateral in the business banking portfolio in the form of charge on current assets and backed by self-occupied residential or commercial or industrial property. Over 90% of business banking book is fully collateralized with a collateral cover of >100%.
Business banking and SME customers have become far more digitzed than ever before. The bank launched BIZCIRCLE a networking app, which is AI powered platform to digitize, connect and serve SMEs. 75% of transactions are on digital channels, with 70% of customers active on digital banking. Business banking book has 62% self-funding ratio and 85% of the Business banking book has collateral of 100%.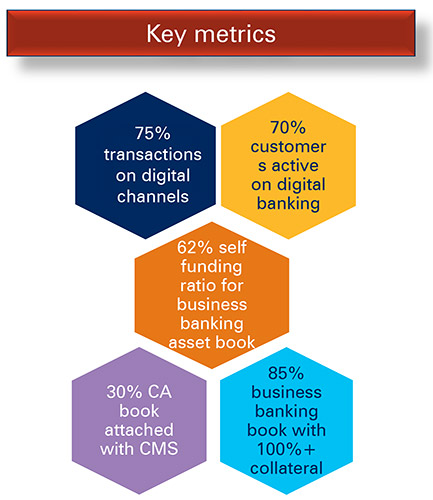 Source: Company Presentation, Stockaxis Research
Business banking and SME book has shown very robust growth of 39.4% and 24.6% for Q3FY21 as compared to Q3 FY20, while QoQ book grew by 12.4% and 16.1% respectively.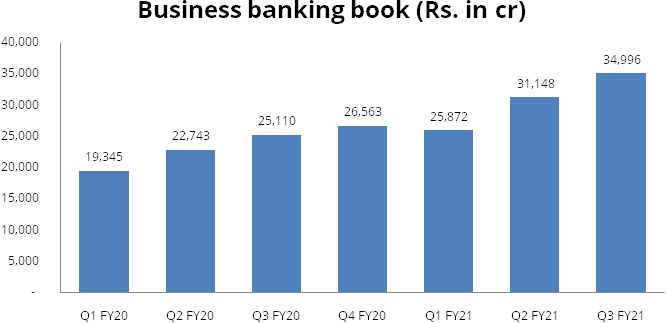 Rural Business – Reimagined focus
ICICI Bank rural business has become a focus area, given significant potential for growth. The bank is targeting entire rural ecosystem on the back of its 'phygital' infrastructure. The bank has segmented the addressable opportunity into 6 micro-markets i.e. agri, dealers, self-employed, institutions, corporates and micro entrepreneurs. This diversification aids risk reduction as risk is uncontrollable due to the monsoons.
This portfolio stands at Rs 67,378 cr. as at 31st December 2020, which is 10.3% of domestic loan book and 14.7% of retail loan book. Rural portfolio is diversified across 26 states and is 96% secured backed by liquid asset like gold, FD, agri commodity. Gold loans and kisan credit cards comprise 3% each of the total loan book; overall the book has grown 1.8x over the last 3 years by catering to almost 19.5mn customers of which 15mn are under-banked. Rural economy presents strong opportunity; therefore bank is focused on building unique solutions in this segment.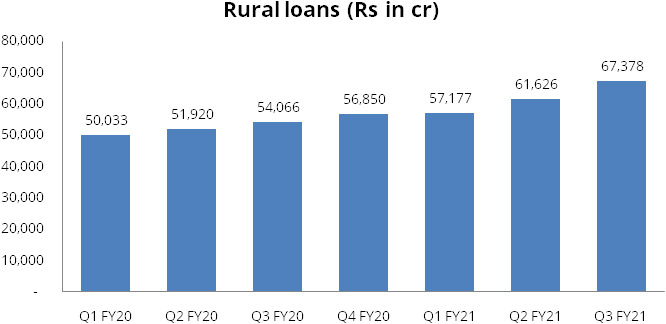 Corporate – focus on Return of Capital (portfolio quality) and Return on Capital (earning quality)
In corporate banking, objective remains on maximizing risk calibrated core operating profit through portfolio quality and earning quality. The bank focuses on granular exposures and higher rated corporates and provides full suite of banking products to corporate clients and their ecosystems.
Pick-up in economic activity, growth focused budget, push towards infrastructure spending, consolidation in corporate credit market towards large lenders, and revival in capex cycle has renewed a sense of optimism around the growth possibilities within the corporate banking space. The bank's corporate book showed strong resilient during covid and grew 6.5% YoY and 8.1% QoQ for Q3FY21, it currently stands at Rs. 1.7 lakh crore, which is 24.3% of bank's total loan portfolio. ICICI Bank corporate book growth has been subdued and lagged its large peers. Slow growth is because of the bank's conscious effort to reduce exposure to certain sectors like power, construction etc. Power sector exposure as a % of the banks total exposure came down from 5.1% during March 2017 to 2.6% in December 2020.
Risk calibrated approach has led to substantial improvement in portfolio quality which is visble from reduction in gross additions to corporate NPAs from Rs. 2473 cr. in Q3FY20 and Rs. 1268 cr. in Q2FY21 to Rs. 77 cr. in Q3 FY21, while BB and below book saw a huge decline from 9.2% as at 31st March 2017 to 1.6% as at 31st December 2020, similarly A- and above book witnessed huge upside from 56.2% as at 31st March 2017 to 72% as at 31st December 2020. This has helped in reducing concentration risk, as exposure to top 10 groups as a % of total exposure reduced from 16.8% at 31st March 2017 to 12.2% at 31st December 2020.
Strong digital capabilities
ICICI Bank is using technology to accelerate growth across business verticals. The management is focused to build a strong bank with best in class digital capabilities. The bank has launched video KYC in June 2020, to onboard new savings account, salary accounts, personal loans and credit cards. As on December 2020, ~41% of salary account customers and ~46% of the credit card customers were onboarded using video KYC and over 90% of savings account transactions are through digital channels which includes internet banking, mobile banking, POS, touch banking, and debit cards.

Source: Company Presentation, Stockaxis Research
ICICI Bank has launched BizPay360, a smart bulk payment solution on corporate internet banking. It provides instant digital activation, one click single & multiple payments, detailed reports, planning for future payments etc.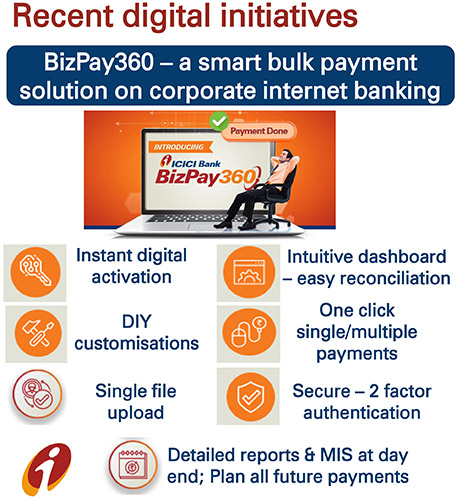 Source: Company Presentation, Stockaxis Research
ICICI bank has recently launched 'Infinite India' an online platform for foreign companies setting up operations in India. The platform provides quick and easy incorporation and integrated banking operations.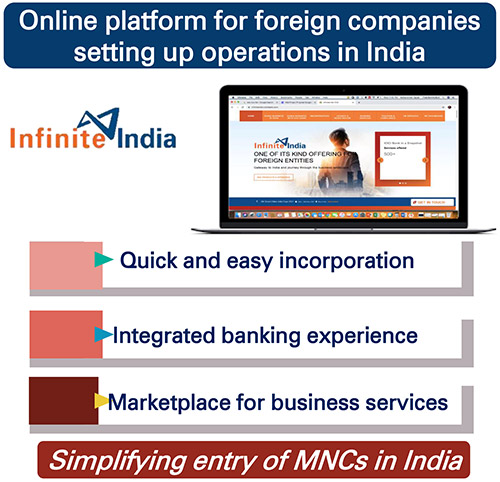 Source: Company Presentation, Stockaxis Research
ICICI bank has launched 'ICICI Bank MINE' a new-age banking experience for millennials with 200+ banking and informational services for daily banking and investments right from the smartphone. It's a personalised experience where customer can set their own options and limits on debit card with personalised debit card image and recommendation on offers and much more.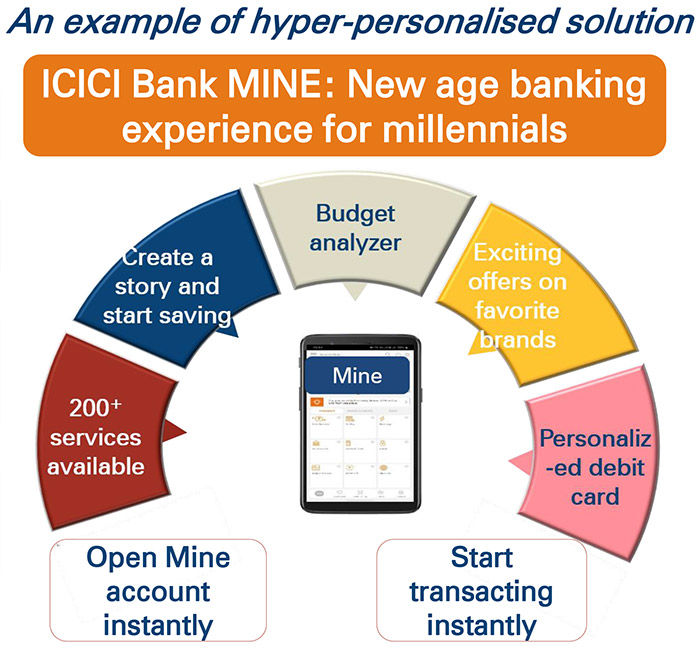 Source: Company Presentation, Stockaxis Research
The Bank incroduced a facility called 'ICICI Bank Cardless EMI' which enables pre-approved customers to buy their favourite gadgets or home appliances using their mobile phone and Permanent Account Number (PAN) instead of physical wallet or cards.
All the above digital intiatives showed results as Digital channels like internet, mobile banking, PoS and others accounted for over 90% of the savings account transactions in 9M-2021.
Best in class Asset Quality
ICICI Bank has almost completed its clean-up process as reflected in gross NPA and net NPA which have been consistently reducing year after year and quarter after quarter, even after absorbing covid-19 shock. Gross NPA and net NPA stood at 8.84% and 4.77% at 31st March 2018, which has drastically come down to 4.38% and 0.63% respectively as at 31st December 2020.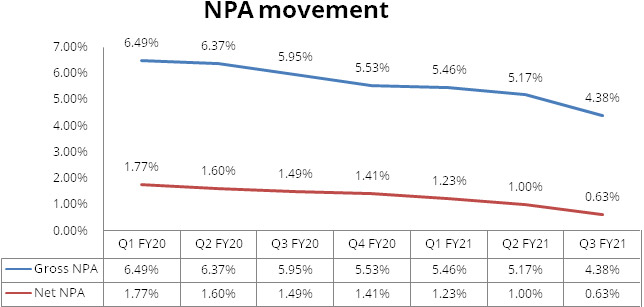 Improving asset quality is also visible from improving rating profile of overall loan book. Rating profile wise A- and above book stood at 56.2% as at 31st March 2017, which has increased to 72% at 31st December 2020. The improvement has been consistent year after year. Similarly, BB and below book saw substantial improvement from 9.2% at 31st March 2017 to 1.6% at 31st December 2020.
Rating profile of total loan book
| Rating category | Mar 31, 2017 | Mar 31, 2018 | Mar 31, 2019 | Mar 31, 2020 | Sep 30, 2020 | Dec 31, 2020 |
| --- | --- | --- | --- | --- | --- | --- |
| AA- and above | 37.2% | 42.4% | 45.1% | 44.4% | 47.3% | 49.2% |
| A+, A, A- | 19.0% | 20.1% | 22.0% | 25.8% | 24.3% | 22.8% |
| A- and above | 56.2% | 62.5% | 67.1% | 70.2% | 71.6% | 72.0% |
| BBB+,BBB, BBB- | 28.7% | 27.5% | 28.2% | 26.6% | 25.6% | 24.3% |
| BB and below | 9.2% | 4.0% | 2.2% | 1.4% | 1.5% | 1.6% |
| Non-performing loans | 5.4% | 5.4% | 2.3% | 1.5% | 1.1% | 1.9% |
| Unrated | 0.5% | 0.6% | 0.2% | 0.3% | 0.2% | 0.2% |
| Total | 100.0% | 100.0% | 100.0% | 100.0% | 100.0% | 100.0% |
ICICI Bank's Q3FY21 results witnessed best in class asset quality with net NPA ratio was 0.63% at December 31, 2020; on a proforma basis, including loans not classified as non-performing pursuant to the Supreme Court's interim order and contingency provisions for the same, the net NPA ratio would have been 1.26% compared to 1.12% at September 30, 2020 and 1.41% at March 31, 2020. Provision coverage ratio (PCR) on a proforma basis was 77.6% at December 31, 2020; in addition to PCR, the bank holds additional provision buffer of ~Rs. 16,400 cr. (2.3%), of which ~Rs. 9,984 cr. is covid-19 related, these provision buffers will help in keeing credit cost under check.
Restructing was in control at ~Rs. 2,550 cr. (0.4% of loans) which provides comfort on overall impact of covid-19. The bank is carrying provisions of ~Rs. 385 cr. on the same.
The bank has adopted conservative aproach towards it provisioning policy to prevent balance sheet from any future shock. During Q3FY21, the Bank has changed its provisioning policy on non-performing assets to make it more conservative. The contingency provision made on a prudent basis for loans overdue for more than 90 days at December 31, 2020 but not classified as non-performing pursuant to the Supreme Court's interim order, also reflects the revised policy. The change in policy resulted in higher provision on advances amounting to Rs. 2,096 crore during Q3FY21 for aligning provisions on the outstanding loans to the revised policy.
Subsidiaries gaining momentom
ICICI group is the fastest growing financial service conglomerate in the country. ICICI group has strong presence across entire financial service spectrum including Life Insurance, General Insurance, Broking, Asset management.
ICICI Lombard General Insurance
ICICI Lombard General Insurance is the 5th largest player in the general insurance sector in India as on March 31, 2020 (Source: GI Council Report) and a leader among private general insurers. It offers a range of products across non-life/general categories, including motor, health, crop/weather, fire, personal accident, marine, engineering and liability insurance, through multiple distribution channels.
ICICI Lombard reported strong 9MFY21 results where GDPI growth and combined ratio was much better than industry. Management is rightly focused on sustained profitability, prudent risk management and multi-channel distribution mix. We believe pandemic will lead to increased penetration of health insurance segment. ICICI Lombard is currently trading at 36x / 31x FY22E / FY23E earnings.
ICICI Prudential Life Insurance
ICICI Prudential Life has consistently been amongst the top companies in the Indian life insurance sector. In FY2015 ICICI Prudential Life became the first private life insurer to attain assets under management of Rs. 1 trillion, while the AUM as on 31st December 2020 stood at Rs. 2.1 trillion. The company offers long term savings and protection products to meet different life stage requirements of the customers. The company have developed and implemented various initiatives to provide cost-effective products, superior quality services, consistent fund performance and a hassle-free claim settlement experience to the customers.
We believe that the company has strong growth potential in protection business and annuity business, supported by improved persistency, reduction in cost and robust solvency ratio. Covid-19 has improved the need for protection and provided growth opportunities in the medium to long term. Currently, the stock is trading at 1.9x FY23E embedded value.
ICICI Securities
ICICI Securities (I-Sec) is India's leading retail led equity franchise, distributor of financial products, and investment banker. I-Sec is a technology-based firm offering a wide range of financial services including institutional broking, retail broking, investment banking, private wealth management, and financial product distribution. I-Sec operates www.icicidirect.com, India's leading virtual financial supermarket, meeting the three need sets of its clients- investments, protection, and borrowing. Through its three lines of businesses - broking, distribution of financial products, and investment banking, I-Sec serves customers ranging from the retail and institutional investors, corporate, high net-worth individuals and government.
ICICI securities delivered strong 9MFY21 led by growth in retail equities. With strong rally in equity markets, higher ADTVs & market volatility, higher market share across equity segment and increased demand for insurance products, we expect robust growth in earnings to continue. We like the business model as there is low credit risk with almost zero inventories. Currently, stock is trading at 11.3x / 10.3x FY22 / FY23 E earnings.
ICICI Prudential Asset Management
ICICI Prudential Asset Management Company Ltd. is a leading asset management company in the country focused on bridging the gap between saving & investments and creating long term wealth for investors through a range of simple and relevant investment solutions. ICICI Pru AMC is one of India's largest and most profitable mutual fund houses with ~Rs. 4 trillion in assets under management.