Investment in downstream assets through organic route to improve earnings profile
Hindalco Industries Limited, the metals flagship company of the Aditya Birla Group, is the world's largest aluminium rolling and recycling company, and a major copper player. It is also one of Asia's largest producers of primary aluminium. In India, the Company's aluminium manufacturing units comprise the full value chain-from bauxite mining, alumina refining, coal mining, captive power generation and aluminium smelting to downstream value addition of aluminium rolling, extruding and foil making. Hindalco's copper facility in India comprises a world-class copper smelter, downstream facilities, a fertilizer plant and a captive jetty. The copper smelter is among the world's largest custom smelters at a single location. Novelis Inc., Hindalco's wholly-owned subsidiary is the world's largest producer of aluminium beverage can stock and the largest recycler of used beverage cans (UBCs). Novelis provides innovative solutions to its customers in the beverage cans, automobile and speciality products segments. It operates an integrated network of technically advanced rolling and recycling facilities across North America, South America, Europe and Asia. In April-20 Novelis had acquired Aleris which has 13 manufacturing plants across North America, Europe and Asia. The acquisition of Aleris provides Novelis further product diversification with the addition of high-end aerospace and expanded speciality capabilities. It insulates Hindalco-Novelis from global price volatility and sharpens focus on the downstream business.
Consolidated Financial Statements
| Rs in Cr | Net Sales | EBITDA | EBITDAM | PAT | EPS | ROE | P/E | EV/EBITDA |
| --- | --- | --- | --- | --- | --- | --- | --- | --- |
| FY18 | 115182.80 | 13388.93 | 11.62% | 6082.92 | 27.29 | 11.09% | 7.86 | 6.57 |
| FY19 | 130542.00 | 15224.00 | 11.66% | 5496.00 | 24.80 | 9.56% | 8.30 | 5.54 |
| FY20 | 118144.00 | 14096.00 | 11.93% | 3767.00 | 16.99 | 6.46% | 5.64 | 4.30 |
| FY21E | 129958.40 | 18194.18 | 14.00% | 6115.25 | 27.55 | 9.53% | 11.98 | 6.17 |
| FY22E | 144903.62 | 20286.51 | 14.00% | 7663.23 | 34.52 | 10.75% | 9.56 | 5.21 |
| FY23E | 151424.28 | 21275.11 | 14.05% | 8465.27 | 38.13 | 11.26% | 8.65 | 4.35 |
Investment Rationale
Investment in downstream products for Indian operation
Hindalco will invest US$1.1bn in Indian operations over the next 5 years from FY2021 to FY2025. More than 3/4th of the investment would be in aluminium business. It includes US$0.2bn on 500kt alumina refinery expansion, scheduled for commissioning in Q4FY21. US$0.65bn of capex is dedicated on doubling of downstream capacity to 600kt and building recycling capacity in Aluminium operations. The company will not expand its upstream capacities (current capacity: 1.3mnt) even beyond FY25 due to high cost of domestic coal and low Return on equity. At present, global demand for aluminium is ~90 MT, while India demand was ~3.7 MT in CY20. By 2030, aluminium consumption is expected to be more than 7.2 MT, a demand growth of 7 percent CAGR. Dominant product segments globally like Flat rolled aluminium products and Extrusions are under-represented in India, which is likely to witness growth going forward. In copper business, company guided capex of US$0.2bn towards, putting up 25kt of inner grove tubes mainly used by AC & refrigeration, heat exchanger and plumbing industry, 100kt of recycling facility and expanding continuous casting roads capacity by 58% to 570kt. It plans to put new copper smelter of 250kt beyond FY25. Refined copper demand is likely to grow by around 7 to 8 percent in the next 8-10 years from FY22E. The government's push for rail electrification, metro network and high-speed railways is expected to drive significant demand for copper alloy in catenary wire system.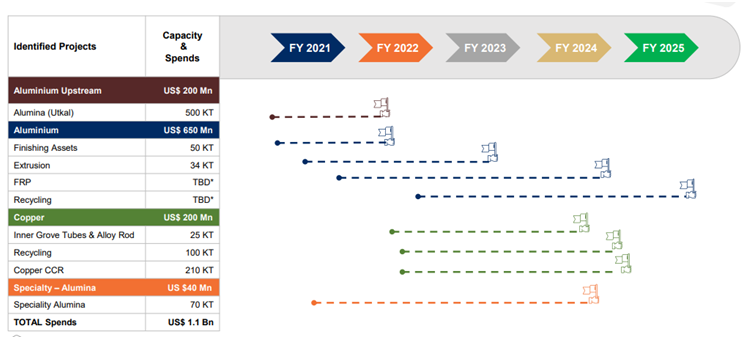 Capex Plans by Novelis
Hindalco plans to invest $990 mn for organic growth capital over next 5 years. Currently, Novelis and Aleris put together have capacity of around 4 MT which will increase to 4.5 MT. In 2019, the global Flat rolled aluminium product market was around 28 million tonnes, and is likely to witness a compounded annual growth rate of around 3 percent through 2025. North America has consistently witnessed higher share of aluminium cans in beverage type packaging from 30 percent in 2014 to 67 percent in 2019 and this trend is likely to be higher going forward. The global demand for aluminium automotive sheet is likely to witness 10 percent CAGR from CY2020-25. After the expansion, aluminium cans will continue to dominate the volume mix of around 54 percent, 21 percent from auto, 22 percent from specialties and 3 percent from aerospace.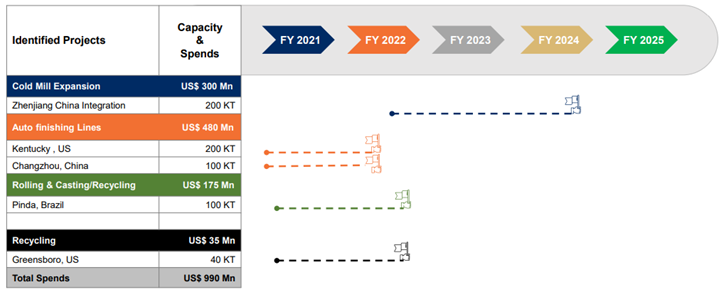 Debt Reduction plans
As on 31st December 2020, Hindalco had consolidated gross debt of $9.86 billion with a consolidated debt to EBIDTA of 3.1x. By 31st March 2021, it plans to bring the debt to $9.20 billion. On a consolidated basis, Hindalco plans gross debt reduction of $2.9 billion from June 2020 through CY2022. At Novelis levels, Hindalco plans to reduce gross debt by $2.6 billion (total gross debts at Novelis levels as on 31st December 2020 was $6.5 billion) which include refinancing as well. In FY21, bridge loan amounting to $1.1 billion will be paid, of which $500 million has already been paid and the rest $600 million will be repaid in the March 2021 quarter. This bridge loan pertains to acquisition of Aleris. Novelis has already repaid a short-term loan amounting to $900 million in the September & December 2020 quarters. Out of the $1.7 billion repayment due in FY2022, $1.1 billion will be refinanced and the balance $600 million will be repaid out of cash flows. At India levels, Hindalco plans a debt reduction of $0.3 billion. In FY22, bonds amounting to $810 million are due, of which $540 million will be refinanced and the balance $270 million will be repaid in 2022. As per the management, consolidated net debt to EBIDTA is likely to come down to 2.5x in by FY23 from 3x in FY21.
Capital Allocation Framework
The capital allocation policy provides a clear road map for growth and capital distribution for the next five years. At the consolidated level, Hindalco expects free cash flow generation of US$1-1.2 billion per annum, post its normal working capital and maintenance capex. Free cash flows will be allocated in the following manner:
50 percent growth capex-
30 percent towards debts reduction-
8 to 10 percent towards distribution of dividend to shareholders
the balance amount will be transferred to the treasury.
Allocation towards growth capex is likely to be around $2.5 to $3 billion over the next 5 years. Management has ensured that all new investments will fetch return above the cost of capital. The company has no large inorganic growth plans through acquisitions.
Outlook & valuation
The outlook of the management looks positive for the next 5 years, based on the demand situation that is likely to evolve over a period of time. Investment into downstream assets through the organic route will provide Hindalco with a better earnings profile and ensure lower volatility from LME prices. With investments largely in downstream and value-added products, return on investment will be higher along with shorter gestation period. Also, Novelis business outlook is strong driven by recovery in auto demand and cost synergies from Aleris. With some global funds following the ESG mandates, Hindalco remains committed to the ESG policy and has undertaken to become net carbon neutral, zero waste to landfill, water positivity and no net loss on biodiversity by 2050. At the price of 330, Hindalco is trading at EV/EBITDA of 4.35X on the basis of FY23E.