Healthy order book aided by large deal wins
During FY20, the company was engaged in multiple new engagements and large deal closures and they secured fresh orders worth $748 million (compared to $646 million during FY2019) a 20% increase in order book. Further, in pandemic-infused Q1FY21 the company secured fresh business of $186 million on the back of the three material deals. The first deal was in the Banking & Finance vertical where they signed a $30 million plus multi- year deal specifically catering to infrastructure and testing based services. Whereas the other two deals were in the Travel verticals, the first of these two was $15 million deal to be executed over 18-months in the travel tech space. And the other deal was a part of a vendor consolidation exercise at a large airport which was focussed more around Cloud and Infrastructure.
Furthermore, beyond the three deals the company has also signed two other significant deals in July 2020 (one of which is a $30 million deal). The company has healthy executable orders of $465 million over the next 12 months (18% higher than last year) that sets the roadmap for next stage of robust growth.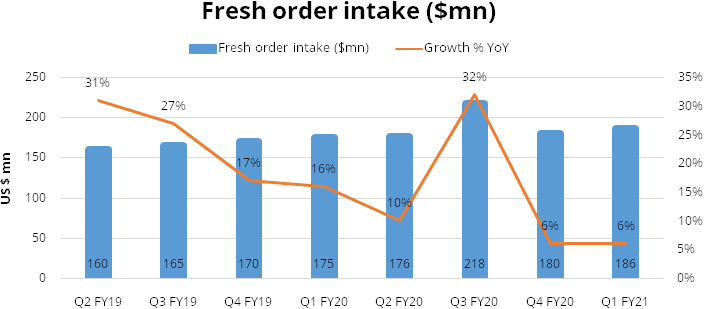 Investing in new platforms and technologies to provide impetus to growth
The company continues to bolster its offerings portfolio in Digital engineering, Cloud, Machine Learning, Artificial intelligence and block chain. During FY20 the company made a strategic investment in WHISHWORKS IT consulting, a Mulesoft and Big Data specialist, thus augmenting its powerful offerings combination in the Digital integration and Digital process automation space. The company has major focus on honing its cloud capabilities, even though it has very small base, cloud revenues have shown robust growth in recent years. We expect the company to maintain this momentum going forward supported by strong partner ecosystem of Salesforce, AWS Cloud platform. The company's investment in two subsidiaries: Incessant and RuleTek turned out to be game changers as they possess both execution capabilities and architecture consulting.
The company has focussed initiatives around automation, artificial intelligence, integration and data science, thus the team has been leveraging Artificial intelligence in multiple client engagements enabling business value to its clients. The company is a Pega Platinum partner and has the world's largest number of Pega certified consultants, who provide Case Management, CRM, RPA and Decision-based solutions.
Scaling up Healthcare & Hi-tech verticals to provide next levers of growth
The company is tuning themselves to ramp up its healthcare and Hi-tech segments. On the healthcare front, the company saw substantial traction within a material healthcare client in Q4FY20, which led to ramping up the business to 100 employees within the quarter itself. The business traction within that client relationship continues to be very robust and we expect further ramp ups in that client relationship in the subsequent quarters. Provided that Hi-Tech and Healthcare being their new growth drivers, the company recently hired new sales heads based in the markets under a new overall global sales leader. Within Healthcare, the company will focus on the provider segment and aim to lead with its Pega capabilities.
Lowest client concentration amongst peers
The company's client mix is balanced with top 5 clients constituting 26%, top 10 clients constituting 38%, top 20 clients constituting 52% whereas others constituting 48% as of Q1FY21. The company's strong performance in the recent past has been on back of head hunting new clients and swiftly increasing its client base. Going forward, we expect the company to increase its focus on mining a select group of accounts and also future client acquisition strategies will be more concentrated towards identifying accounts with significant potential to scale up. Further we believe there is tremendous scope for the company to drive growth among these strategic accounts.
| Client Size | Q1FY20 | Q2FY20 | Q3FY20 | Q4FY20 | Q1FY21 |
| --- | --- | --- | --- | --- | --- |
| Between 1mn- 5mn | 66 | 70 | 74 | 80 | 81 |
| 5mn-10 mn | 17 | 16 | 17 | 15 | 15 |
| Above 10 mn | 8 | 9 | 9 | 11 | 11 |
| Total | 91 | 95 | 100 | 106 | 107 |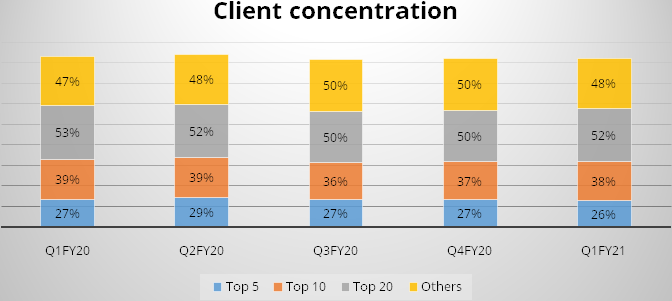 Balanced revenue profile across segments
The company has broad based revenue profile with focus on application development and maintenance services in Insurance (30% of turnover in FY20), Banking & financial services (16% of turnover in FY20), Travel & transport (28% of turnover in FY20) and Manufacturing, media and others (26% of turnover in FY20). Further, the company has a geographically diverse revenue profile, which enables them to shield against downturn in any single region.
Insurance vertical major growth driver
Insurance is largest vertical (30% of revenue) and it caters to clients across all the three sub-segments of insurance: a) Life and annuities b) Specialty Insurance and c) Property & Casualty. The company differentiates itself through insurance domain skills, industry knowledge and customer centricity. The Life & Annuities segment is witnessing traction and has seen increased investments in digital engagement platforms for sales especially for agents and brokers. Further there is also need to improve underwriting capabilities, which is driving investments in analytics and data.
The company has accelerated adoption of digital within the Property & Casualty space majorly supported by i) customer interaction through digital channels, ii) need to reduce operational expenses, and iii) rise in data consumption from third-party non-insurance entities. The company is a platinum partner for Duck Creek and has been in the top three integration partners for them. They have long lasting relationships of over 10 years with many of its clients.
Further the company has stronghold in the Specialty insurance segment and has reported robust growth in their "Advantage Go" platform. The insurance technology platform of Advantage Go has almost doubled over last four years and they will continue to strongly invest in this business as it is highly differentiated, high value and high profit asset. Advantage Go has been named as one of the "Hot 100 Insure tech platforms" by Intelligent Insurer magazine. The ability to lead client conversations by referencing this platform underlines the company's deep domain knowledge.
Banking & Financial service business: A stronghold in Asset Management space
The company's BFS business constitutes 16% of the FY20 revenue and has a superior mix of financial services clients (~60% of revenue) as compared to banks. The company has a healthy portfolio of strategic clients in both investment management and retail banking business and marquee financial institutions in the public sector. The company is concentrating majorly on the capital markets as well as asset and wealth management space, where it has the proficiency, experience and client references to wrestle with larger peers. The company is growing and strengthening existing business, including expanding their footprint to achieve larger wallet share. The company's forte lies in combining digital integration space with back-office & middle-office automation.
The company is focusing on large deals, thereby capitalizing on their competitive strengths. They have a healthy large deal pipeline and we expect the company to become more aggressive in acquiring large tier-1 banking accounts. In Q1 FY21, the company signed a $30 million plus multi- year deal, specifically catering to infrastructure and testing based services. The deal was won by a combination of company's domain knowledge as well as significant intervention from the business leadership team.
The company's leadership team has rich experience in BFS vertical which will help fortifying client relationships within related accounts. Further BFS vertical is a highly competitive space, but we believe that company has sufficient headroom to build wallet-share within new accounts.
Travel Transportation & Hospitality
The TTH segment is divided into six sub-segments: i) Airlines ii) Airports iii) Hospitality iv) Travel distribution v) Travel technology and vi) Surface transport. This vertical grew in past years supported by smart application of agile methods, digital customer experience and reduction of product lifecycles. The Covid-19 pandemic proved to be a dampener for the airlines segment and has caused severe stress over the past two quarters. The company expects stable revenues in travel vertical led by wallet share expansion amongst existing large clients. The company has announced two deal-wins in Q1FY21. The first of these two was $15 million deal to be executed over 18-months in the travel tech space. And the other deal was a part of a vendor consolidation exercise at a large airport and had a very big component of rebadge which was focussed more around Cloud and Infrastructure.
Rejig in top level management brought in breath of fresh air
The company underwent a change in senior management in June 2017, with the induction of Sudhir Singh as CEO designate and then as CEO. This was succeeded by a significant revamp in the senior leadership and all of the new hires came from a background of tier-1 organization. Management overhaul enabled the company to change its rewards and recognition philosophy by focusing on nurturing a culture that encourages value creation and promotes innovation. Further the philosophy became largely focussed on large deal wins and remarkable execution of deal wins.
Sales incentives scheme revamped to promote large deal wins
The company offers its employees a competitive compensation as well as opportunity to work on new technologies & projects. The company considers TCV of $20 million as large deal and to encourage the employees to focus on large deals, it increased the incentive and bonus that came for signing a large deal, by a factor of 4x. Secondly the pay-out period of this reward was reduced. The company also started recreating the management team by hiring people, preferably only from Tier 1 firms and at relatively high compensation structures into the team.