Pioneer in sugar industry
Company Profile
Balrampur Chini Mills Limited ('BCML') is the second largest sugar manufacturing company in India with a significant strength in the manufacture of downstream products like power (co-generation) and ethanol. Led by Mr. Vivek Saraogi, the company is managed by a team of experienced professionals with deep sectoral understanding. The company was among the earliest in the industry to reduce its dependence on sugar and moderate exposure to sectoral cyclicality. The company enhanced its production efficiencies and moderate effluents/ emissions by investing in cutting-edge technologies. Moreover, the company has distributed high yielding seeds among farmers to boost yields and it will continue to invest in operational integration – sugar plus ethanol plus co-generation – whereby the end product of one vertical becomes the raw material for the other, thus enabling the company to maximise value for every cane stick crushed. The company was among the first companies in India's sugar sector to invest in ethanol manufacturing capacities and by supplying ethanol for onward blending, it helped moderate CO2 emission in a meaningful way.
Investment Rationale
Pioneer In sugar industry with established market position
The company is a large integrated sugar producer in India. It has the capacity to crush 76,500 tonne per day (TPD) of sugarcane, and exportable (surplus) power capacity of 168.7 MW and distillery of 520 kilo litre per day (KLPD). BCML is the second largest player in terms of scale on a PAN-India basis. It has ten sugar factories eight in eastern UP and two in central UP and being present in UP, has access to a larger market.
Improvement in Sugar recovery rates
The company has been continuously engaging with the farmers to produce early variety of cane which has higher sucrose content and resultantly higher sugar recovery rates. Increasing use of early variety of cane is expected to result in an improvement in sugar recovery rates from 9.8% witnessed in FY15 to 11.4% in FY20. Higher recovery rates can lower cost of production considerably making the company's credit profile less susceptible to increase in cane prices or fall in sugar prices. Therefore, sugarcane yield per acre is also higher for early variety of cane which will boost capacity utilisation of the company and support the performance in cogeneration and distillery businesses as well.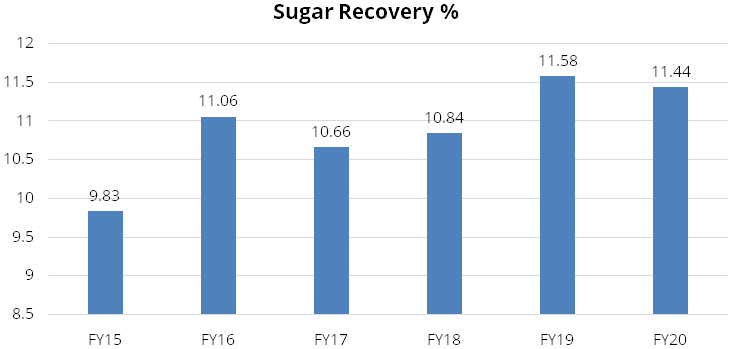 Sugar prices in international market have inched up from 14 cents in December 2020 to 17 cents currently and we expect international sugar prices to remain firm as Brazil has faced severe dry weather condition thereby leading to shortage of supply in global market. Fair & Remunerative Price (FRP) is the minimum price that sugar mills have to pay to sugarcane farmers, while for sugar season 2020-21 it is fixed at Rs 2850 per ton of sugarcane, linked to a basic recovery of 10% as compared to Rs 2750 per ton for last year. Minimum Selling Price (MSP) of sugar was increased to Rs 31 per kg in February 2019 from Rs 29 per kg in June 2018. Due to attractive MSP, sugar mills are now able to realize significantly higher prices for sugar in the domestic market, despite the country having one of the highest sugar inventories. MSP is the ex-factory price (excluding GST and transportation charges) below which no sugar mill can sell sugar in India.
New distillery to aid earnings
The company has recently announce new distillery at Maizapur unit with a capital expenditure of Rs 425 crores for a 320 KLPD distillery. It is a multi-feed raw material facility with ethanol production directly from cane Juice during the crushing season and grains during the off season. Further this new distillery is expected to come into operation by December 2022, after which ethanol segment's revenue contribution in the overall revenue mix shall increase to 30% and above. Further the company had commissioned 160 KLPD distillery capacity in January 2020, which has led to increase in its distillery volumes.
To incentivise and increase ethanol supply from sugar mills, different ethanol prices are fixed based on the raw material used to produce it. Importantly, the government has fast-tracked its plan to achieve 20% ethanol blending to 2023 from 2025 earlier, thereby providing more impetus to produce ethanol.
We believe higher crude prices will always support sugar industry as it will enable higher diversion towards ethanol, thereby leading to lower sugar surplus. Moreover, higher realisation of B heavy ethanol would prompt the companies to divert more sugarcane towards the production of B heavy ethanol.
Comparative price of Ethanol (Rs/litre)
| Tender period | C-route | B-route | Syrup |
| --- | --- | --- | --- |
| Dec 20-Nov 21 | 45.69 | 57.61 | 62.65 |
| Dec 19-Nov 20 | 43.75 | 54.27 | 59.48 |
Remarkable and improving operating efficiencies
The company's superior operating efficiencies arise from its fully integrated nature of operations, better sugar recovery rates and higher capacity utilisation leading to better absorption of fixed costs. The company's cogeneration as well as distillery capacity is adequate to utilise all the bagasse and molasses produced through the crushing operations thereby resulting in fully integrated facilities.
Outlook & valuation
We believe the company will capture incremental growth opportunities going forward supported by i) sharp rise in sugar prices in international market ii) change in product mix towards distillery business iii) increase in distillery capacities to divert sugarcane for ethanol iv) improving operating efficiencies and diversified revenue profile. The stock is currently trading at PE of 11.3x FY23E EPS and we initiate our coverage on Balrampur chini with a Buy Rating.