Established business with strong track record
Company profile
Bajaj Finserv Ltd is a diversified financial services group with a Pan-India presence in life insurance, general insurance, and lending. It is the holding company for Bajaj Finance Ltd (BFL) with 52.74% stake in the company. It also holds 74% each in Bajaj Allianz General Insurance (BAGIC) and Bajaj Allianz Life Insurance (BALIC, among top 5 private sector life insurers in India on new business in FY20). Incorporated in 1987, Bajaj Finance Ltd has a diversified product suite comprising of key businesses such as vehicle loans, consumer durable loans, personal loans, mortgage loans, small business loans etc. Established in 2001, BAGIC is the 2nd largest private general insurer in India in terms of gross premium and has consistently performed amongst the private players. BALIC, established in 2001 has a deep, Pan-India distribution reach.
Consolidated Financial Statements
| Rs in Cr | NII | PPOP | PAT | EPS | BV |
| --- | --- | --- | --- | --- | --- |
| FY19 | 36064.00 | 9842.00 | 5372.00 | 202.00 | 1492.00 |
| FY20 | 45008.00 | 12422.00 | 5994.00 | 212.00 | 1967.00 |
| FY21 | 51450.00 | 15831.00 | 7367.00 | 281.00 | 2251.00 |
| FY22E | 58521.00 | 18859.00 | 10607.00 | 347.00 | 2586.00 |
| FY23E | 68955.00 | 20705.00 | 12095.00 | 516.00 | 3173.00 |
Rationale for Investment
Bajaj Finance has strong market presence in the Indian retail finance operations
Bajaj Finance has emerged as one of the largest retail asset financing NBFCs in India and continues with its two-pronged strategy of building scale and maximising profit. The company has demonstrated track record of profitable growth with segments such as mortgages, small business loans, and commercial lending through building scale, while consumer durable loans, personal loans, and 2- and 3-wheeler financing are focused on maximising profit. The company will capitalize on growth opportunities led by proposed launch of marketplace apps & innovative new digital initiatives, structurally higher profitability driven by better margins and lower credit costs, majority of stressed loans are written-off, restructured or provided for and continuous improvement in liability profile.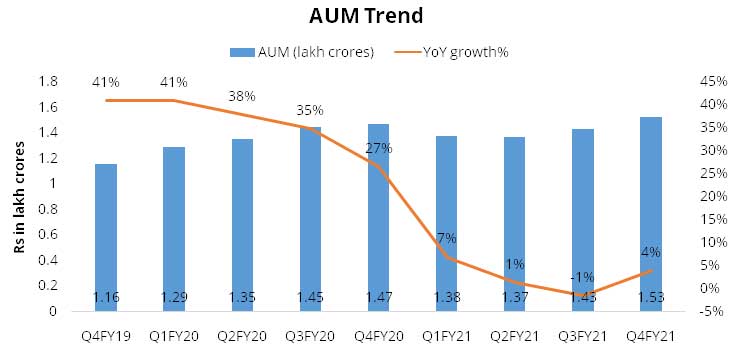 General insurance – healthy & profitable retail franchise
BAGIC has established a profitable franchise in the non-life insurance sector with a persistent market credibility since inception. BAGIC has a strong focus on growing its retail business which includes motor insurance, health insurance for individuals, other personal insurances, insurance for commercial entities like shops, SMEs etc. BAGIC also participates in annual tender-driven businesses like crop insurance and government health schemes. BAGIC has delivered superior financial performance led by i) robust and prudent underwriting practices & higher operating efficiency ii) generation of cash flows through strong retention of premium and judicious investments of the proceeds; and iii) focus on high quality customer service. BAGIC is experiencing strong growth in motor segments as well as it is doing better in crop & engineering insurance. BAGIC's superior underwriting capability has led to industry leading combined ratio consistently over time; which stood at 96.9%.
Life insurance – fastest growing amongst peers
BALIC is third largest agency amongst private players and remains prudent by focusing on a balanced product mix and investment in retail growth engines. BALIC focus is to maximize customer benefits while gaining market share in retail space and increasing New Business Value (NBV). It has diverse suite of products across various need segments namely i) Guaranteed Pension Goal (Annuity), Smart Wealth Goal (ULIP), Flexi Income Goal (Par), Smart Protect Goal (Term), Guaranteed Income Goal (Non Par) have witnessed strong response from the customers. Despite the impact of COVID-19, BALIC consistently reported industry beating growth & improvement in quality parameters (including balanced product mix, NBV, persistency, etc). The second wave of spread of Covid-19 might lead to increased demand for guarantees, protection and retirement products due to risk aversion and resultant market volatility. BALIC was fastest growing among the top 10 private players in FY21 and its market share increased from 4.6% to 5.5% among private players.
Focus on digital initiatives & technology modernisation
The company has invested deeply in data analytics, machine learning models and artificial intelligence (AI) to better service customers and drive the business. Some of the initiatives taken by the company are as follows: i) BAGIC launched "Digi Sampark Programme" to stay connected with customers thereby enabling extended reach to customers, hence BAGIC's digital policy issuance increased to 96.7% in FY21 from 85.6% in FY20 ii) BALIC's "Smart Assist" along with voice calling feature; implementation of CRM (iAhead) with 360 degree view of customers at all digital touch points; iii) Integrating the fragmented healthcare delivery ecosystem with technology and financial services on a digital platform to bring quality healthcare closer to consumers' reach through launch of "Aarogya Care".
Outlook & valuation
We expect the company to capitalize on growth opportunities supported by healthy capitalization, surplus liquidity on its balance sheet and resilient asset quality. Further due to BFL's prudent provisioning, we expect it to enter FY22 with a clean slate and much stronger balance sheet. BALIC and BAGIC have healthy solvency ratios and robust operating metrics coupled with strong structural tailwinds which shall provide impetus to growth going forward. The long term tailwinds such as a large protection gap and expanding per capita income are key growth drivers for the life insurance sector thus we expect strong players like Bajaj Finserv to gain disproportionally from this opportunity supported with the right mix of products and services. We initiate our Buy rating on the stock with a SOTP based PT of Rs 13,000.
SOTP Calculation
| Particulars | Holding | Value Per share | Rationale |
| --- | --- | --- | --- |
| Life Insurance | 74% | 1651 | 2x FY23E EV |
| General Insurance | 74% | 2744 | 38x FY23E PAT |
| Bajaj Finance | 52.7% | 11855 | 6.4x FY23E BVPS |
| Less: Holding Co. Discount | 20% | 3250 | |
| Target Price | | 13000 | |