Strong market presence in the Indian retail finance operations
Bajaj Finance has emerged as one of the largest retail asset financing NBFCs in India and continues with its two-pronged strategy of building scale and maximising profit. The company has demonstrated track record of profitable growth with segments such as mortgages, small business loans, and commercial lending which are focused on building scale, while consumer durable loans, personal loans, and 2- and 3-wheeler financing are focused on maximising profit.
The Company's loan book continued to remain strong as a result of its deeply embedded risk culture and robust risk management practices. Over FY2015-20, the company posted an AUM CAGR of ~35% and this growth has been broad-based spread across various product segments. Further the company's robust growth has been supported by large cross sell opportunity, product innovation, increasing geographical penetration (2,641 locations, distribution network consisting of 1,14,000+ points), customer acquisition and focus on existing customers. We believe the company ensures lower credit risk across portfolios by creating larger cross-sell opportunities and this strong cross-sell momentum is generated through a combination of a large franchise of mass affluent customers and multiple product offerings coupled with superior customer experience.
Exhibit 1: Personal Loan Cross sell AUM book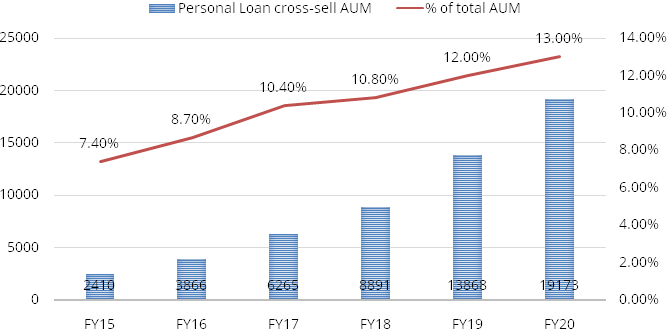 Consistent growth in Consumer finance business
The company is amongst the largest personal loan lenders in India and continued to be the dominant lender for consumer electronics, furniture and digital products. The company's product offering consists of consumer durable loans, lifestyle product loans, digital product loans, EMI cards, personal loans, retail spend financing, e-commerce consumer finance and life care financing. Consumer financing business constitutes 36% of the loan book as on September 2020. The company's growth has been sustained by an expanding distribution reach, innovative credit outreach and cross-selling opportunities. The company was also the largest financier of Bajaj Auto motorcycles and three-wheelers in FY20 (it financed purchase of 1.1 million motorcycles in FY20).
As part of its product expansion strategy, the company also extended its loan offerings in the healthcare segment & also introduced a 'Healthcare EMI Card' thus facilitating hassle-free processing of loans to customers. This initiative has resulted in health care offerings contributing over 19% of lifestyle finance business. Personal loans cross-sell (PLCS) (To cross-sell is to sell related or complementary products to an existing customer) and salaried personal loans AUM posted robust growth which was fuelled by growing customer franchise, investment in the effective use of advanced analytical capabilities, robust risk management and customer-centric loan processing capabilities. The company has been financing EMI card customers on e-commerce platforms for their various purchases and it has become a strategic business in the last 2-3 years. Further the company also expanded its online relationships from 19 to 33 partners in FY20.
Exhibit 2: AUM mix as on September 2020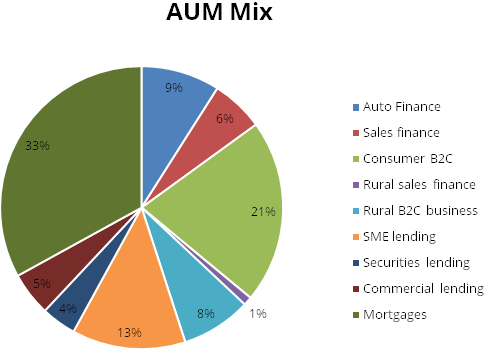 SME financing & Partnerships business shall drive growth
SME financing and commercial lending now comprise 13% and 9% of consolidated AUM respectively as on September 2020. SME lending includes secured and unsecured loans to its customers. Unsecured lending is done through two product offerings: (i) business loans to small and medium enterprises and to self-employed persons, and (ii) professional loans. The company has launched two new products in the SME lending business in FY19, namely used car financing and secured enterprise loans. Commercial lending comprises of six products: loan against securities, loans to financial institution group lending (These clients are typically financial institutions which include banks, insurance companies, technology companies, specialty finance, and asset management firms), working and growth capital loans to auto component manufacturers, loans to light engineering industry and loans to speciality chemical industry verticals.
The company offers various products to its customers in partnership with various financial service providers such as life insurance, health insurance, extended warranty, comprehensive asset care, co-branded credit card, co-branded wallets and financial fitness reports. The company's co-branded credit cards business in partnership with RBL Bank continued to grow in a robust manner and its co-branded credit cards stood at 18.7 lakhs cards-in-force (CIF) as on September 2020. The company's co-branded wallet business in partnership with Mobikwik continued to grow by offering EMI cards in digital format and it had 16.8 million users as on September 2020. Both partnerships augur well to generate granular and sticky fee income.
Consistent high growth due to expansive distribution channel
The Company has not only diversified risk across millions of customers and product categories but has also diversified its risk and portfolio in about 2,641 urban and rural locations in India. We believe that the company's geographically distributed portfolio aids in decreasing concentration risks to the minimal. Further we believe that one of the major reasons behind the consistent growth in AUM is continuous expansion in distribution channel, Consumer businesses are tough to grow and ordinarily have strong entry barriers as they require a significant support from a distribution standpoint. Competition has remained benign for the company despite the company consistently delivering highly profitable growth (which should ideally attract competition) mainly due to high upfront investments in distribution, technology and processes to compete in the relatively low-ticket size, high volume business.
As of Q2FY21, the overall distribution network stood at 114,400+ touch points, almost 3x over the last three years. Over FY13-FY19, the company expanded its distribution network at 34-63% annually. However, it slowed down to 25% in FY20.
The rural-lending vertical was launched in 2014 with 7 branches to start with in Maharashtra. Incrementally, the company has equally focused on scaling up the rural presence, whereby the current rural presence is 43% of the total branch mix.
Exhibit 3: Branch mix (%)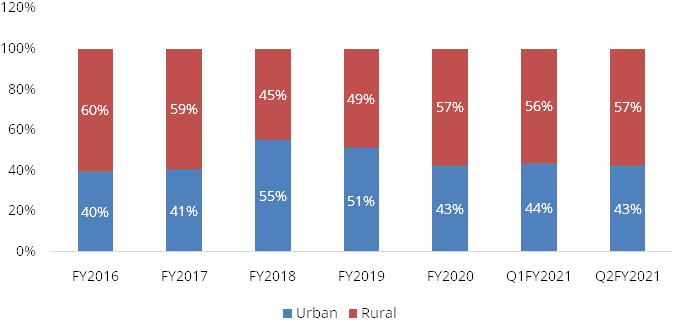 Major focus on fee income generation
The company has been pioneer in delivering industry-leading NIMs on a sustainable basis. Moreover, the company has equivalent focus on augmenting profitability through fee income generation. The company's major part of the fee income is earned through distribution income and other activities which are not in co-relation to the asset growth. Generally, we believe a fee income growth which is not co-related with the balance sheet growth is more sustainable in nature and can camouflage for weak asset growth during tough times. The company has a superior fee income generation capability in comparison to its peers.
Distribution of insurance and other financial products, EMI cards have also aided in strengthening the fee income stream. As of Q2FY21, the EMI franchise stood at 20.6 million cards while Bajaj Finserv Mobikwik app has 16.8 million users who have linked their EMI card to wallet.
Exhibit 4: Fee Income Trends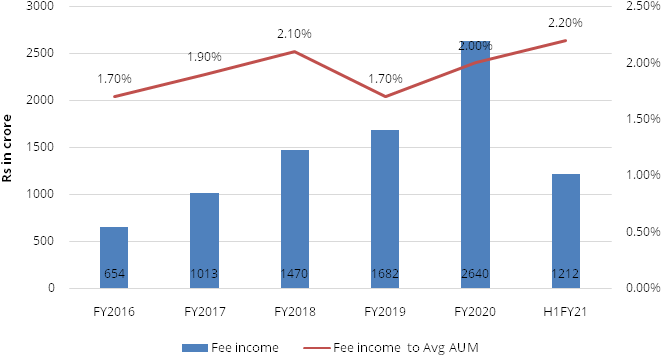 Focus on Analytics & technology modernisation
Productivity has increased due to the effective use of technology and analytics. The company has invested deeply in data analytics, machine learning models and artificial intelligence (AI) to better service customers and drive the business. Facial recognition technology, natural language processing (NLP) and optical character recognition (OCR) have been deployed in offices and some branches, with the aim of providing a differentiated and frictionless customer service experience. The company is planning to launch a financial service core proprietary ecosystem by Q2FY22 with an aim to provide an insurance mall (compare, review and buy across 800 insurance products), broking account, mutual fund and health & wellness products – all combined in one.
The company has been investing in an e-store which should be live soon and should enable customer origination, considering the customer trend of increasing online and digital purchases, over the past 3-4 years. Moreover, the company is looking to harmonize the offline ecosystem and help merchants with SIS (store-in-store) with a table to enable it for all of its merchant partners over a three-year horizon. Further the company has deeply invested in Application Programme Interface (API) to integrate specialised applications with customer facing interfaces like web portals, app infrastructure and BOTS on to a micro services architecture supported by platform as a service (PaaS) infrastructure.
Prudent Asset Liability management
The company's strategy is to create a balanced mix of wholesale and retail borrowings. It continued to prudently manage its asset liability with a strategy of raising long-term debt and maintaining a judicious mix of borrowings between banks, money markets, external commercial borrowings and deposits thus enabling the company to effectively manage their NIM.
The Liquidity Coverage Ratio requirement mandates NBFCs to maintain a minimum level of high-quality liquid assets to cover expected net cash outflows in a stressed scenario. The company's liquidity buffer management framework exceeds these requirements and demonstrates its strong orientation towards liquidity management. As on 31 March 2020, the Company had a consolidated liquidity buffer of Rs 15,725 crore which will enable to prudently manage liquidity risk.
\
Exhibit 5: Cumulative Mismatch as on September 2020