Strong Retail Player
Profile:
Avenue Supermarts Limited (DMart) is a national supermarket chain, with a focus on value-retailing. The Company offers a wide range of products with a focus on Foods, Non-Foods (FMCG) and General Merchandise & Apparel product categories. As of December 31, 2020, the Company had 221 operating stores with Retail Business Area of 8.17 million sq. ft. across Maharashtra, Gujarat, Daman, Andhra Pradesh, Karnataka, Telangana, Tamil Nadu, Madhya Pradesh, Rajasthan, NCR, Chhattisgarh and Punjab.
Value retailing to a well-defined target consumer base
D-Mart follows Everyday low cost - Everyday low price (EDLC-EDLP) strategy which aims at procuring goods at competitive price, using operational and distribution efficiency and thereby delivering value for money to customers by selling at competitive prices on daily basis. The company strategy is to target lower-middle, middle and aspiring upper-middle income consumers as getting value for money is the most compelling factor in daily shopping decision-making for these income groups. The majority of the products stocked by the company are essential products forming part of basic lifestyle rather than discretionary products. This allows to maintain consistency in footfalls throughout the year and are least affected by seasonality or remain temporarily depressed due to macroeconomic conditions.
Cluster based store expansions to continue
DMart follows a cluster-based approach. It has deepened store network in southern and western India and is gradually expanding network in other parts of India. This approach allows the company to create store clusters within a region and helps better to understand local needs and preferences and tailor its offerings according to the demand. Such clusters have also led to increased penetration and presence in under-served markets with higher cost efficiency due to economies of scale achieved through supply chain and inventory management with concentrated brand visibility due to focused implementation of marketing and advertising initiatives.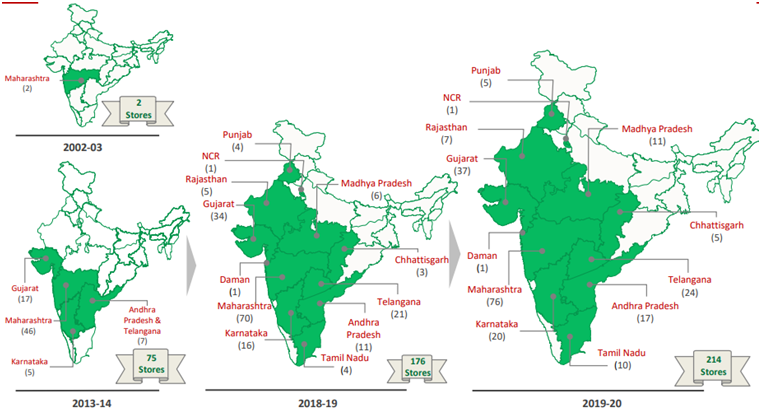 Owning Stores helps to reduce operating cost
DMART pre-dominantly operates on an ownership model or on a long-term lease arrangement model rather than a rental model. The company takes a particular property on lease for a period of more than 20-30 years which allows them to minimize operating costs thus offering long term competitive advantages like avoiding escalation in rental expenses thus keeping fixed cost low. DMART's rental costs are just 0.4% (negligible) vs average 5-6% of net revenues for other retail players like Future Retail/Spencer Retail. Despite having lower gross margins in comparison with its peers, Company has higher EBITDA margins than its peers due to tight control on operating costs. Over the last 2-3 years however, company has shown an interest towards adding stores on the long-term lease basis to accelerate the pace of store expansion. DMART's Fixed asset turnover has remained consistently higher than peers at ~4x given its lower operating cost due to negligible rental expenses and higher discounts. Also inventory turnover ratio has been ~14x from FY16-20. The company has maintained a higher ROCE and ROE at an average of ~23%/ 17% respectively over FY16-20.
DMART Ready is next growth opportunity
Dmart is addressing e-retail business (DMart Ready) through its subsidiary, Avenue E-Commerce Ltd through which it offers customers the choice to self-pick-up their online orders from any of the designated pickup points or get them delivered at their residence (for a nominal delivery charge). DMART Ready provides its consumers agility and convenience on a day-to-day purchase, widen its reach in regions where it doesn't have presence through Brick & Mortar format owing to high real estate and other costs. Unlike other online players, DMART wants to expand its e-commerce business gradually analysing every aspect of the online business model so as to get a deeper understanding of the store economics as, in grocery e-retailing attaining breakeven is difficult due to higher revenues from lower margin products, higher cost of technology and administration and delivery expenses. In Q3FY21, DMART has launched DMart Ready in select pin codes of Ahmedabad, Bangalore and Hyderabad. In addition, at some of its brick-and-mortar stores, company has leased some part of the space to Avenue E-Commerce Limited (AEL) to commence E-Commerce operations in those cities. Post Covid-19 environment is creating opportunities to launch DMart Ready in more cities. However, DMART will continue with their approach of small trials, reviews and controlled acceleration for DMart Ready.
Outlook & Valuation
We believe DMART is well placed in the domestic retail industry given its strong execution capabilities, disciplined EDLP/EDLC strategy, adding new stores, penetrating into new market. At the CMP of 3,123, Avenue supermarket ltd is trading at the PE multiple of 211.2 on the basis of TTM EPS.
Consolidated Financials
| Particulars (in cr) | 2016 | 2017 | 2018 | 2019 | 2020 | 9MNFY21 |
| --- | --- | --- | --- | --- | --- | --- |
| Revenues | 8,661 | 12,758 | 15,033 | 20,005 | 24,870 | 16,731 |
| EBITDA | 664 | 981 | 1,353 | 1,633 | 2,128 | 1,131 |
| EBITDAM | 7.66% | 7.69% | 9.00% | 8.16% | 8.56% | 6.76% |
| Profit Before Tax | 492 | 760 | 1,204 | 1,422 | 1,745 | 940 |
| Net Profit | 320 | 479 | 806 | 903 | 1,301 | 686 |
| PATM | 3.70% | 3.75% | 5.36% | 4.51% | 5.23% | 4.10% |
| Adj EPS Priority | 5.70 | 7.67 | 12.92 | 14.46 | 20.09 | 10.58 |
Key Ratios - Consolidated
| Particulars | 2016 | 2017 | 2018 | 2019 | 2020 |
| --- | --- | --- | --- | --- | --- |
| ROE (%) | 23.56 | 18.34 | 18.57 | 17.71 | 15.67 |
| ROCE (%) | 24.22 | 21.91 | 24.18 | 25.78 | 20.84 |
| Fixed Asset Turnover | 4.0 | 4.4 | 4.4 | 4.3 | 4.1 |
| Inventory Turnover(x) | 14.4 | 14.9 | 14.4 | 14.6 | 14.2 |