Sole manufacturer of quartz sinks in Asia:
Globally, quartz sink manufacturers are limited to only four players, namely, Blanco, Franke, Acrysil, and Schock. The company is the sole manufacturer in India and Asia with global standard of quality, durability and visual appeal. The technology and know-how acts as a strong moat for the company and remains an entry barrier for other players to participate in the growing demand for quartz sinks in the domestic as well as in international markets. The company is well poised to leverage its position in the global quartz sink market and meet the growing demand in various countries around the globe.
Strategic partnerships:
In November 2018, the company entered into an agreement with German brand, GROHE for the supply of quartz kitchen sinks. GROHE has a global presence in more than 130 countries and is a dominant player in Bathroom Solutions and Kitchen Fittings. The supply agreement with Acrysil will mark GROHE's foray into the quartz kitchen sinks segment. GROHE has been part of the Japanese LIXIL Group Corporation since 2014. As per the management commentary, the agreement has the potential to bring in additional revenues to the tune of Rs. 50-60 crores over the next three years.
Further, in August 2020, the company entered into a strategic partnership with IKEA Supply AG (Switzerland) for manufacturing and supply of composite quartz kitchen sinks globally. This partnership will be a game-changer for the company as IKEA has 400+ stores in 52 countries. This will accelerate growth for the company by leveraging its strong product offerings to a wider geography. The management is hopeful of more such tie-ups in the future as it looks to expand its international presence in the core business of quartz sinks.
Premium product portfolio in building materials space:
Acrysil prides itself in being the custodian of renowned brands – Carysil, TekCarysil and Sternhagen. Presently, 90-95% of sinks industry is dominated by stainless-steel sinks and approximately 5-10% uses quartz sinks. With improvement in lifestyles manifesting in luxury apartments, there is a strong possibility of growing demand for quartz sinks. However, stainless steel sinks are still a dominant market and hence, Acrysil has extended its product range to include stainless steel sinks as well. Acrysil envisages to be a premium category player in stainless steel sinks, kitchen appliances, bathroom fittings, etc. The company manufactures two kinds of steel sinks - press sinks and quadro sinks - which are designer sinks catering to the high-end segment. During the previous year, the company introduced quartz antibacterial sinks and stainless-steel integrated worktops. It has set up Special Purpose Machines (SPM) to ensure seamless installation of stainless-steel countertops which will boost the market in India and overseas. Further, the newly commissioned Physical Vapour Deposition (PVD) plant provides a metallic finish to stainless steel kitchen sinks enhancing the styling of these sinks.
In the bathroom suites segment, the company offers quartz wash basins and 3D tiles under the brand Sternhagen. The company has launched a range of products from Sternhagen luxury brand for bathroom interiors, for both domestic as well as international markets. Apart from these, Acrysil offers kitchen appliances like chimneys, hobs, microwave ovens, cook tops, wine chillers, barbeque grillers etc. These products are mainly traded goods sold under the brand name 'Carysil' except for certain models of chimneys that the company manufactures.
Strong distribution network:
The company has a market presence in 55 countries across the world. It has a foothold in major countries such as Germany, the United States, the United Kingdom, South Africa, and Australia. The company strives to spread its wings to 70 countries in the next three years by exploring uncatered geographies.
The company is present in the UK market through Acrysil Products ltd (formerly known as Homestyle Products Ltd). In Acrysil Products Ltd, Acrysil owns 100% through Wholly owned subsidiary Acrysil UK Limited. The company sells products like quartz sinks, steel sinks, taps and accessories, and other traded products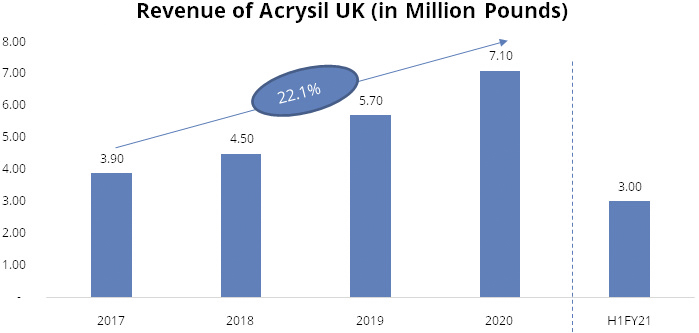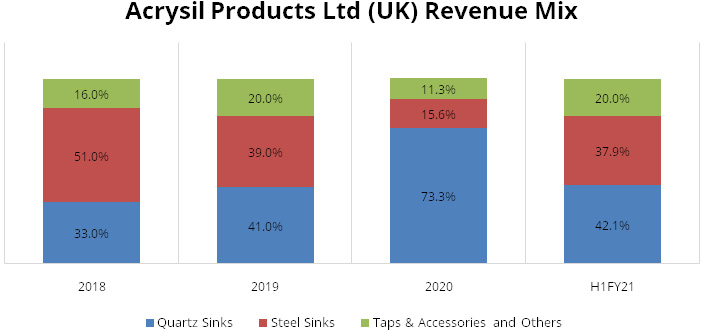 To increase penetration in USA, the company has incorporated a wholly-owned subsidiary, Acrysil USA Inc. to deal in kitchen, bathroom, and tile products. It would look to leverage its existing customers, develop new customers, and extend market penetration in the USA.
Until FY 2012, the company was largely focused on exports. However, the management saw huge potential in the domestic market and introduced premium products under the brand 'CARYSIL'. In order to strengthen its brands in the domestic market, the company increased its dealer network from 400 to 1,500 and distributor network from 30 to 82 from FY 2013 to FY 2020. It also has ~80 franchise galleries. Further, it plans to add ~100 new galleries and ~34 distributors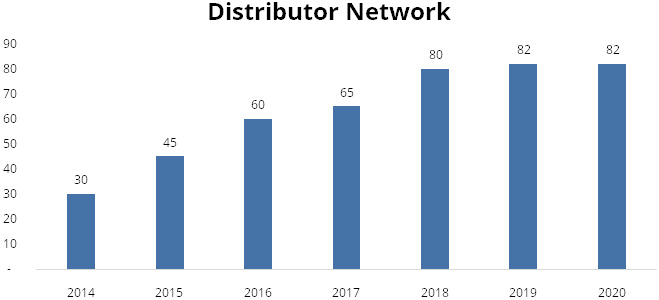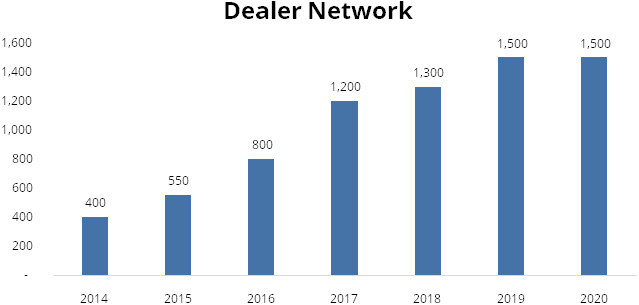 Capacity expansion:
Over the years, the company has expanded the capacity of quartz sinks to meet the growing demand of consumers and to benefit from economies of scale. As a result, in March 2020, the company's capacity stood at 5 lakh sinks p.a. Further, in order to meet incremental demand from the export and domestic markets, the company has invested ~Rs. 15 crores from internal accruals to expand its quartz sinks manufacturing capacity by 20% (1 lakh units p.a.) to 6 lakh units p.a. by March 2021. The company also has enough land bank to scale capacity from 6 lakh units p.a to 8-9 lakh units p.a.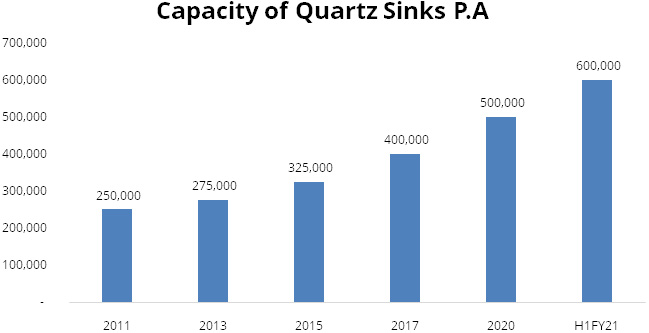 Strong brand image:
The company has been continuously investing in brand promotion on TV and in print, along with exposure through sponsorship of events like Times Food and MasterChef Australia. To strengthen the "STERNHAGEN" Brand, Acrysil has signed an agreement with Farah Ali Khan a well-known jewellery designer and Indian Gemmologist.
Business dynamic improving:
Acrysil's business has not been impacted much by Covid-19 as work-from-home has led to increased demand for home improvement products like sinks, chimneys, etc. Further, there is an interesting transition in customer behaviour towards e-commerce sales leading to a surge in online sales. In this backdrop, Acrysil is targeting to make 'Carysil' a prominent brand by increasing its presence in major markets like the US, UK, and Europe as it forms the majority of the company's export sales.