Key Strengths and Strategies
Strong Network Effects
The company has Customer Generated Content (CGC) which includes reviews, ratings, and images posted by the customers on Zomato's platform. In FY21, 1.27 crore customers generated 6.18 crore units of CGC on the platform. This content helps the company to attract the customer organically; During FY21, 68% of the new customers were acquired organically. These customers value the content of the listed restaurants and further add their own reviews and images, which leads to a cycle of more new customers.
According to the management, more content leads to more customers, who then lead to more content. Furthermore, as the number of consumers increases, so does the number of food orders placed with the restaurants, resulting in additional restaurants becoming available for meal delivery. More restaurants on the platform expand the range of options available to customers, resulting in increased customer numbers. Finally, increasing the number of food delivery orders lowers the delivery cost, which lowers client prices, resulting in even more food delivery orders.

Source: Company RHP
These network effects increase the stickiness and loyalty of both customers and restaurant partners, creating an interlinked virtuous cycle.
Widely Recognized and Strong Brand
Zomato is a well-known and well-remembered brand in India's big and small cities. Its services comprise both meal delivery and dining out, giving it a competitive advantage in the minds of consumers. The company's management feels that the Zomato brand is synonymous with food, and that its customers link it with all things related to food. Zomato branded apparel, such as t-shirts, jackets, bags, and boxes, is carried by its delivery partners, further increasing Zomato brand recognition on the streets.
Constant Focus on Unit Economics and Growth
Zomato has made considerable expenditures in marketing and promotions to speed customer acceptance of meal delivery in India and promote the brand, which has resulted in the category creation and customers returning to the platform for repeat purchases on an organic basis. Advertisement and sales promotion expenses per order have decreased over time as the % of repeat consumers has increased.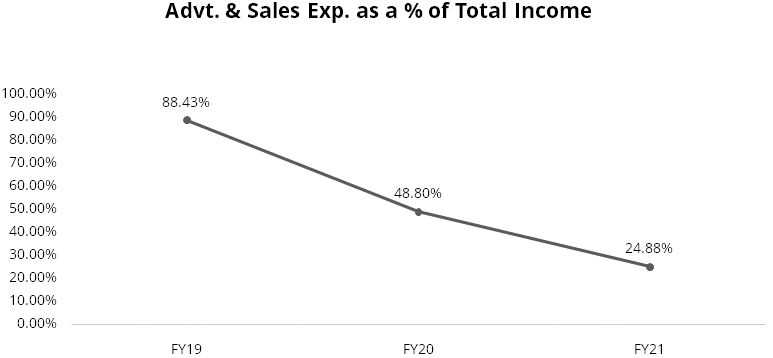 The company has also witnessed an improvement in unit economics in FY21 compared to FY20:

Source: Company RHP
Reasons for the improvement in unit economics in FY21 could be:
Increase in number of restaurant partners, who for their survival have partnered with Zomato and leverage the digital technology. This increase in restaurant partners resulted in more commission and other charges (Rs. 62.8 in FY21 vs. Rs. 43.6 in FY20),
More customer delivery charges (Rs. 27 in FY21 vs. Rs. 15.2 in FY20), and
Lesser delivery cost (Rs. 45.7 in FY21 vs. Rs. 52 in FY20).
Timely Delivery and Quality Service
Zomato's presence in India allows it to serve millions of individuals each month and interact with them in several different ways. These interactions have repeatedly demonstrated that fast delivery is one of the most important factors in providing a positive meal experience to users. Zomato has been working with its partners on the back end to minimise the average delivery time throughout the years. Zomato's commitment to customer satisfaction ensures that purchases placed on its platform are delivered on time. All of this bodes well for Zomato's ability to retain its loyal client base and receive repeat orders.
Widespread and Efficient Hyperlocal Delivery Network
With 169,802 Active Delivery Partners in March 2021, Zomato maintains one of India's largest hyperlocal delivery networks. Food delivery is complicated because food is a perishable product that necessitates cautious handling while maintaining high levels of hygiene and on-demand service in real time. Machine learning optimises the matching of orders and delivery partners utilising Zomato's precise and real-time demand forecasting, fleet optimization, and intelligent dispatch technologies.
Invest in New Products and Technologies
For the benefit of its clients, Zomato will invest in new products, technology, and services. The management stated that they are actively experimenting in this field, and that they recently invested USD 100 million in Grofers (Grocery delivery platform) to buy a minority stake. The company plans to introduce online grocery through its app which is likely to go live soon. It intends to keep innovating in order to provide clients with more personalisation and new experiences. Zomato has already made machine learning a priority and intends to do more so in the future.