Key Strengths and Strategies
Leading global player in Private market data and intelligence provider industry
The company has in-house developed platform 'Tracxn' which uses algorithms backed by artificial intelligence to extract extensive data sets which are not readily available in public domain. The data includes company profile, valuations and financials, M&A target information, market trends & customer preference related data, management information, etc. These data sets are helpful for businesses in understanding customer preferences and increase there sales by analysing trends. For venture capital, private equity firms these data sets assist in taking best possible investment decisions. In FY22 and by June, 30 FY22 company has extracted and added information of 1652 and 1275 new entities (approximately) respectively to its platform. It has maintained a database of 14,00,000 competition maps, over 3,90,000 funding rounds and 1,20,000 acquisition rounds. Company has prepared profiles of over 50,000 investors including venture capital, private equity firms, and over 22000, completed assessment of companies that are expected to become unicorns (companies with high valuations), in future. As of June 30, 2022 company has published over 10,000 reports across diverse sectors.
Key operations and financial performance of the business
| Parameters | June,30, FY22 | FY22 | FY21 | FY20 |
| --- | --- | --- | --- | --- |
| Operational parameters | | | | |
| Customer accounts | 1139 | 1092 | 855 | 642 |
| users | 3271 | 3117 | 2358 | 2075 |
| entities profiled | 1838928 | 1759902 | 1345311 | 937698 |
| Financial parameters | | | | |
| Revenue from operations(in Rs Crores) | 18.4 | 63.45 | 43.78 | 37.33 |
| contract price (in Rs Crores) | 18.88 | 69.58 | 51.04 | 40.46 |
Diverse and growing customer base including fortune 500 companies
Company has diverse base of 1092 customer accounts, present in over 50 countries as of March, 31st 2022. Company's customer accounts have increased at a CAGR of 30.42%, from 642 customers in FY 20 to 1092 customers in FY22. Some of these customer accounts include Fortune 500 companies and there affiliates such as Unilever Industries Private Limited. The diverse customer base helps the company to de-risk its dependence on any specific company, sector or industry for its revenue growth.
The customer base of the company is divided into three broad segments:
Private market investors and investments banks- These customers majorly comprise of venture capital, private equity firms, individual investors and investment banks, that rely on company's platform for making investment decisions, deal sourcing, etc. Company's client base under this segment includes- Accel Management India LLP, Artiman Ventures, growX ventures Fund I, Elevation Capital Limited and Kae Capital Management Private limited.
Corporates- Under this segment the platform of the company is used for making various strategic business decisions, investment decisions, M&A activity related decisions, for understanding the market and customer demands and for overall growth of the company. Certain client base of the company includes s Unilever Industries Private Limited, Wipro Limited, Lixil Corporation, and Yamaha Motor Solutions India Private Limited.
Others- These includes government agencies, start-ups, incubators, educational institutions, etc. Certain customer base includes Bank of Baroda and Tech City Ventures, UK.
Break-up of Customer Accounts Geographically
| Geography | FY22 | FY21 | FY20 | June 30, 2022 |
| --- | --- | --- | --- | --- |
| America | 242 | 207 | 145 | 247 |
| APAC (excluding India) | 118 | 92 | 58 | 119 |
| EMEA | 276 | 241 | 166 | 276 |
| India | 456 | 315 | 273 | 497 |
| TOTAL | 1092 | 855 | 642 | 1139 |
As of June 30,2022 23.44% of their customers have been associated with the company for over 3 years. Also, no single country contributes more than 31.60% in the revenues of the company.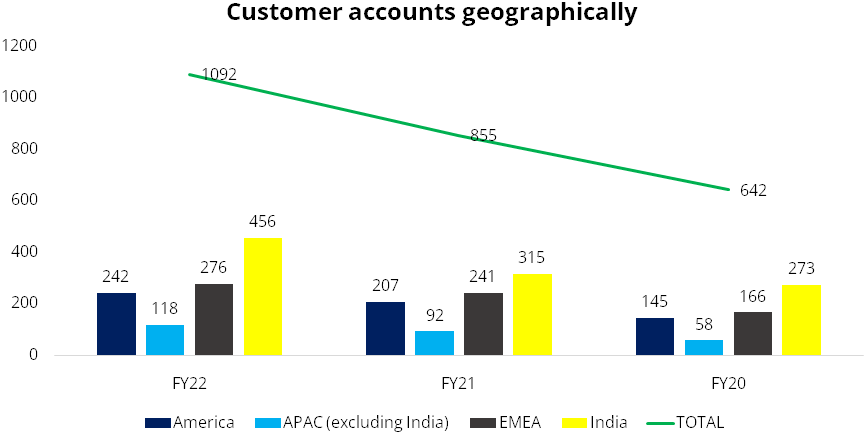 Customer Accounts across Categories
| Categories | 30,June 22 | FY22 | FY21 | FY20 |
| --- | --- | --- | --- | --- |
| Private Market Investors and Investment Banks | 588 | 571 | 456 | 338 |
| Corporations | 312 | 309 | 246 | 191 |
| Others | 239 | 212 | 153 | 113 |
| TOTAL | 1139 | 1092 | 855 | 642 |
Aims to grow additional services on Technology platform developed in-house
Company has its own software platform 'Tracxn' which is primarily a data and market intelligence platform with a vast database of over a million of entities information, which is readily available by using various in-built tools and features of the platform. It has 40,000 different business models. In addition to this there are other tools embedded in this platform such as CRM tool, customer dashboard builder, tools for sourcing, tracking companies & portfolios , advance search engines, etc. These advance features add value to customers research by facilitating availability of extensive data sets, for better decision making. The technology over this platform is designed in such a way that capitalises use of artificial intelligence for keeping data accuracy levels high. The Tracxn platforms use cloud servers that provide backups for data protection & perseverance and ensure minimum downtime. The platform has very advance technological support which has web-crawling and data engine which reads 550 million web domains at the back-end. It adds over 2,00,000 entities on a daily basis to the data base.
Focus on expanding business to achieve higher growth levels in upcoming times
Company has received an overwhelming response from venture capital, private equity firms and investment banking firms. Going forward company's major focus remains on increasing the new customer base and successfully continuing with the existing customer base through advancements in the data extraction tools and quality enhancement along with price differentiation policies. Marketing channels will enable the company to increase its client base through corporate events where company can better elucidate the features and significance of its platform -Tracxn to engage with more corporate clients. According to company it may enter into agreements for acquiring new businesses and technologies which the company feel will add value to its existing business and will help the company to perform better than its present levels.
Strong industry tailwinds will facilitate company's growth
Over the years number of private companies in the markets globally has grown drastically and research has become a core department for decision making in itself. Large investments flow into the market and the users of research and private market data are willing to go at deeper levels. With growing willingness to invest in private companies the investments firms are the highest users of this data and will lead the growth in this industry. As per companies RHP Tracxn technologies stands among top 5 players of the market globally in private market data industry, which will benefit the company in long run. India is a growing market and company's highest number of customer accounts are associated with this market. Also, the company's business model is an asset light model where employee cost is the most expensive part. But, the amount of remuneration is still lowest in Indian markets therefore it can be estimated that company will continue to grow maximum clients in this market in coming years.
Experienced Promoters, Board of Directors and senior management team backed by marquee investors
The promoters of the company have significant experience with software & technology and have previously worked with venture capital firms Accel Partners and Sequoia capital which helps them to provide higher efficiency in the business operations. The shareholders of the company are some of the renowned investment firms – Ratan Tata, the NRJN family trust, Elevation Capital, Accel partners, Sequoia capital, Prime Venture Partners, KB Investments, etc . which adds strong support to the business.
Objects of the offer
The offer is an 'Offer for Sale' of the 38,672,208 equity shares of face value of Rs 1 in the price band of Rs75-80/ share. Company intends to garner Rs310 Crores. The bid size is 185 shares and in multiple thereof.
The company wants to achieve the benefits of listing the Equity shares as it will enhance the brand value and provide liquidity to the existing shareholders. The offer is an offer for sale hence selling shareholders are solely entitled to the entire proceeds from the issue. The company will not receive any proceeds.