Key Strengths and Strategies
One of the Leading Real Estate Development Companies in South India:
The company is among the top five residential real estate companies in South India in terms of number of units launched between the calendar years 2012 and the third quarter of 2021 across Tier 1 cities of South India including Bengaluru, Chennai, and Hyderabad. (Source: Company RHP).
As of September 2021, Bengaluru and Chennai accounted for 91% of the company's total saleable area in competed projects. In addition, the company has 31.37 msf saleable area under ongoing projects, projects under development, and forthcoming projects in Bengaluru and Chennai
Capabilities in Project Identification and Strong Execution Track Record:
The company has released pre-sales volume of 1.56 msf of saleable area (or 1,260 units) and 3 msf of saleable area (or 2,525 units) in H1FY22 and FY21, respectively. Its pre-sales volume has grown at a CAGR of 22.6% between the FY17 – FY21. The company has been able to strengthen its market position amidst consolidating industry environment since demonetisation and introduction of RERA. The management believes that its brand recall, track record of quality execution, and deliveries have been instrumental in its sales and performance. As per the company RHP, its overall execution timeline has improved consistently over the years benefiting from improvements in project management and control, technology, and automation as well as strengthened implementation and monitoring.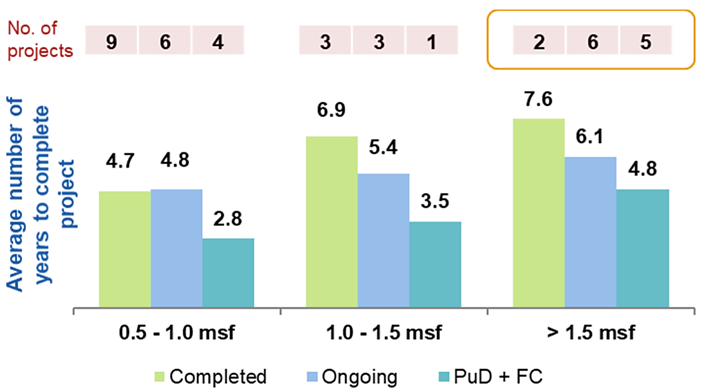 Source: Company RHP
Established Strategic Relationships:
The company has established relationships with domestic as well as international financial investors, from whom the company has been able to procure financial investments for its projects. Investors who have invested in the projects include SUN Apollo India Real Estate Fund I LLC, Mitsubishi Corp, Amplus Capital Advisors, ASK Real Estate Special Opportunities Fund, India Realty Excellence Fund II LLP managed by Motilal Oswal Real Estate Investment Advisors II and Kotak Affordable India Fund. Some of these investors have made multiple investments in completed and ongoing projects. The company also has well-established relationships with several lenders, including public and private sector banks and NBFCs, across its projects.
Scalable and Asset Light Business Model:
The company's business model relies on its brand strength, project execution, and management capabilities as well as its established relationships with landowners, development partners, financial investors, architects, and contractors. Leveraging these capabilities and relationships, it is transitioning from a real estate development model to a combination of real estate development and real estate services-based business model. The management believe that this transition will help improve margins and profitability as well as return on capital, given low capital-intensive nature of newer business model. As part of this model, its focus is on DM or joint development agreements with landowners/developers or JVs, which requires lower upfront capex compared to direct acquisition of land parcels.
It has grown its DM business, under which it enters into agreements with other developers and landowners and provide turn-key approach to development involving product design, project development, branding, sales and marketing, CRM efforts and thereby handling collection, construction, overall completion, and handover to customers. Its DM portfolio comprises of 11 ongoing projects, 1 project under development and 2 forthcoming projects, representing ~32% of its total saleable area, as of September, 2021. The DM business allows the company to earn fee income (ranging 10% to 16% of total project revenue), based on its brand name and project execution, management, and sales capabilities, while requiring low capital investment.
The management believes that the asset light business model will result in efficient utilisation of capital resulting in lower debt and regular fee income, allowing it to have higher RoCE. It also expects the asset light nature of business model will minimise initial costs.
Could Benefit from Regulatory and Industry Development:
The RERA (Real Estate Regulatory and Development Act) 2016 came into effect in May 2017. The implementation of the RERA has resulted in increased compliance requirements. These regulations and resultant increase in compliance risks provide a growth opportunity for larger and well-established real estate developers and create barriers to entry for smaller real estate developers. Smaller developers having relatively larger debt exposure are facing liquidity constraints, as post implementation of RERA, pre-launches and advances from pre-sales cannot be used to cover approvals, preliminary and preoperative costs. Due to the increased compliance and regulatory risk, home-buyers also prefer to buy from larger and well-established developers.
To control their risk exposure, lenders and other financial institutions too prefer to offer funding to well-established developers. We believe RERA will lead to large scale consolidation in real estate industry and a rise in the market share of large developers with a long-term presence, strong brand, financial, and execution capabilities.
Develop and Monetise Project in Kolkata:
Shriram Properties owns a land parcel of 314 acres (aggregate development potential of about 33.54 msf of Saleable Area) at Uttarpara, Kolkata which it intends to use for development of an integrated township project, 'Shriram Grand City'. Additionally, it has entered an agreement for sale for acquiring ~73 acres in the same location, of which it intends to use ~25 acres of land for development of roads and associated infrastructure for the proposed integrated township project.
As of September, 2021, the company has obtained approval for development of 26.42 msf of residential area and 7.12 msf of non-residential area in this township. The proposed project comprises of 4.32 msf of ongoing projects and 6 msf of projects under development. In this project ~21.45 msf of saleable area is intended to be in the mid-market and affordable housing category and commercial developments.
The management believes that the company is positioned to capitalise on this opportunity, as the project is proposed to be developed in a phased manner as a mixed-use development comprising of residential, office, commercial, senior citizen homes, schools, recreational, shopping, health, and hospitality facilities. As part of the residential development, the company has financial investor for 2.3 msf of saleable area of affordable housing under the project name "Sunshine One." The management may consider a variety of strategies to unlock value from undeveloped area in this land parcel, including sale of undeveloped land or grant of development rights to third party developers.