Key Strengths
Precision Engineering Expertise with Complex Product Manufacturing Capability
The company develops and manufactures a wide range of mission critical assemblies and precision components with close tolerances (5-10 microns), through its precision machining, assembly, and specialized fabrication facilities, for onward usage by its customers in the clean energy, nuclear, and space and defence sectors in India, and abroad. These capabilities are further supported by an extensive and stringent testing and quality control mechanism undertaken at each stage of the production process. Towards this end, it uses high precision quality inspection equipment such as 3D co-ordinate measuring machines, laser measuring, optical alignment instruments, non-contact measuring, and other such non-destructive testing equipment to ensure ideal quality, as requested by its customers.
It also has experienced personnel who undertake procedures and inspections such as radiography, ultrasonic, magnetic particle and dye penetrant at its testing facilities. Its capability in measuring and maintaining quality and measurement records at each level of the process is a key enabler. In order to enhance its product offerings, the company has leveraged its adaptability and manufacturing agility by continually investing in manufacturing facilities including in R&D, over the years. Its operations are supplemented by R&D, a critical part of its business capability that is undertaken primarily for the manufacturing processes.
Wide Product Portfolio
As on December 2020, the company's major product portfolio includes three kinds of products in the clean energy sector, fourteen kinds of products in the nuclear sector and six kinds of products in the space and defence sectors. MTAR strives to understand its customers' specific business needs and provide products to meet their requirements and accordingly, its ability to provide quality products as per the customer specification, and consistent customer servicing standards, have enabled it to increase its customers' dependence.
It has also invested in the development of roller screws, which is an import substitute, and is involved in developing the associated technology. Once this development has been completed, the company will be the first manufacturer of roller screws in India, while this product shall be used for a wide variety of applications in the nuclear, space and defence sectors.
Strong, Trusted and Long-Standing Relationships
MTAR Technologies caters to nuclear, space & defence and clean energy sectors and has strong and long-standing relationships with its clients. In clean energy, the company is involved in the manufacturing and specialized fabrication of critical assemblies to customers such as Bloom Energy, Andritz, among others. Globally, Bloom Energy is one of the largest and the fastest growing player in the hydrogen fuel cell segment and MTAR has been associated with it for over nine years; MTAR is the only supplier to Bloom from India as of FY20.
Further, MTAR has played a prominent role in defence sector over past four decades. The company has been supplying hi-Precision machined, fabricated systems to most of the leading programmes of DRDO labs (ADA, GTRE, DRDL), DPSUs (BDL, BEL, HAL) and other defence R&D and Defence public sector Units (DPSUs) establishments of the Indian Defence and international players like ELBIT Israel, Rafael Israel etc. Within the nuclear sector, its long-standing relationship of over 16 years with NPCIL bears testimony to the company's ability to manufacture and supply specialized products. Within the space sector, it has established relationship with ISRO to whom the company has been supplying a wide variety of mission critical components and critical assemblies for its various missions for over three decades.
Modern Technology at State-Of-The-Art Manufacturing Facilities
The company operates through seven, state-of-the-art manufacturing facilities, including one export-oriented unit (EOU), situated in Hyderabad, Telangana. The presence of major defence organizations in Hyderabad not only provides MTAR, an access to the critical R&D and high-volume projects, but also allows for ease of coordination, specifically in terms of its collaborative R&D efforts, as well as for subsequent close monitoring of manufacture and quality control processes, thereby giving it an advantage over the other players located in other regions. It has consistently undertaken expansion of manufacturing facilities through internal accruals with a view to capture increasing demand in the future.
Significant end-to-end capabilities of the manufacturing facilities:

Manufacturing of precision components with close tolerances to the extent of 5-10 microns supported by a series of high-end machines such as 7 axis Mill-turns, 5 axis vertical machining centres, 4.5 axis machining centres, milling centres, turning centres, grinding centres, tool room machines, deep hole boring and honing machines, among others;
Assembly and testing capabilities supported by 10,000 class clean rooms with facilities for high as well low temperature, vibration, flow and helium leak tests;
Specialized fabrication facilities supported by conventional and orbital welding facilities, vacuum brazing, water jet and plasma cutting facilities to meet American Society of Mechanical Engineers standards / American Society for Testing and Materials standards; and
Surface treatment, heat treatment facilities and special processes facilities.
With in-house expertise, it has also designed and built certain sophisticated special purpose machines instead of importing comparable machines. Additionally, its facilities consist of machining abilities that can manufacture products ranging from few kgs. to several tonnes in weight. The company does not have dedicated production lines to manufacture identified products as a result of which, it has a greater flexibility in terms of utilization of their capacity.
Edge Over Competitors on Account of Technology Competence, High Quality Products and Strong Customer Relationships
Over the years, the company has established long-term relationships with its customers which leads to recurrent business engagements with them. MTAR has been playing a key role in the co-development of quality products for key national programs such as Chandrayaan and Mangalyaan missions. Additionally, it is engaged in developing Channel Health Assessment System and the detailed design, engineering, manufacturing and assembly is under process at one of its manufacturing facilities. It is difficult to replace MTAR given the steep learning curve and investment in advanced manufacturing facilities and precision requirements.
Further, given the company's strong relationship with its international customers, MTAR shall be one of the preferred suppliers in any potential defence offset transaction that such customer may be a part of. The company's customer retention levels reflect its ability to provide high quality products. The company's product offerings and high quality along with leadership in key product segments could help in increasing share of business amongst its existing customers as well as increase customer base.
Strong and Diversified Supplier Base for Sourcing of Raw Materials
Over the years, the company has developed a robust supply chain for the sourcing of a wide variety of specialized raw materials used in the manufacture of mission critical precision products. The essential raw materials used in its manufacturing facilities are various kinds of alloys steels and bought out items. While it sources the materials from third party suppliers depending upon the requirement of a project that it undertakes, in certain instances, especially involving the critical and sensitive raw material and bought out items for the manufacture of certain products are directly procured and supplied by its customers, mostly belonging to the space and defence sectors. The materials utilized for products catered to the clean energy and nuclear sectors and other consumables and bought-outs are mostly sourced from third party suppliers, both domestic and global.
Strong Margins
The company's net operating revenue has grown at a CAGR of 16.8% between FY18 – FY20. During 9MFY21 the net revenue has grown 16.5% compared to 9MFY20. The gross margins of the company have also grown consistently over the years from 63.7% in FY18 to 66.2% in FY20. The EBITDA of the company has growth at a CAGR of 34.9 during FY18 – FY20 and stands at 27.1% in FY20 and 29.9% during 9MFY21. The financial position of the company illustrates growth of its operations over the years as well as effectiveness of the administrative and cost management protocols implemented by the company.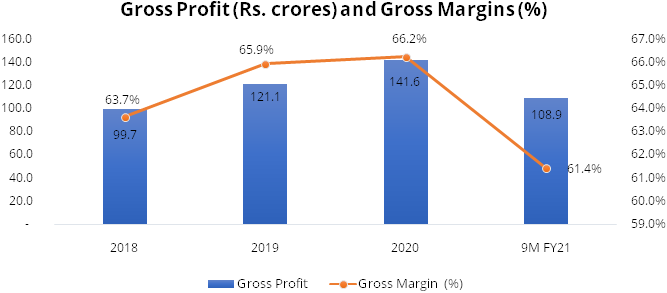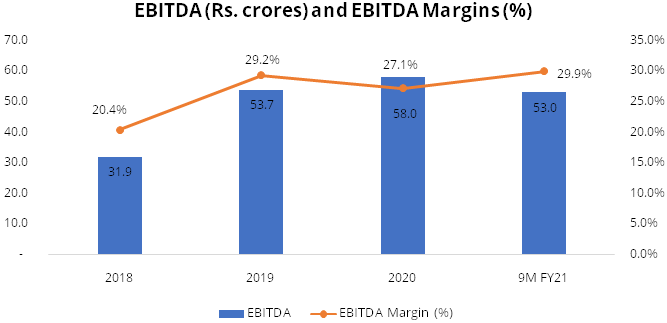 Growing Order Book
The aggregate order book as on December, 2020 was Rs. 336.2 crores, comprising orders from clean energy sector, nuclear sector and space & defence sectors amounting to Rs. 80.2 crores, Rs. 93.2 crores and Rs. 160.6 crores, respectively. Historically, the order book was Rs. 201.8 crores, Rs. 243.7 crores and Rs. 345.1 crores, as on March 2018, 2019 and 2020, respectively.