Company Description
Keystone Realtors (popularly known as Rustomjee) is one of the prominent real estate developers (in terms of absorption in number of units) in the micro markets (Mumbai) that they are present in (Source: Anarock Report). It commands a market share of 28% in Khar, 23% in Juhu, 11% in Bandra East, 14% in Virar, 3% in Thane and 5% in Bhandup in absorption (in units) from 2017 to 2021. As of June 30, 2022, it has 32 Completed Projects, 12 Ongoing Projects and 21 Forthcoming Projects across the Mumbai Metropolitan Region (MMR), including a comprehensive range of projects under the affordable, mid and mass, aspirational, premium and super premium categories, all under its Rustomjee brand. As of June 30, 2022, it has developed 20.22 mn square feet of high-value and affordable residential buildings, premium gated estates, townships, corporate parks, retail spaces, schools, iconic landmarks, and other real estate projects.
It strategically introduces differentiated offerings and corresponding amenities based on the needs of the location and community to maximize its revenue.
Its projects include features for entertainment for the family, such as an approximately 150,000 square feet clubhouse at its Virar Global City project, a 6.22 acres podium at its Thane project, an 11.7 acres amusement park at its Virar Global City project, Leon's World, which is an interactive play space for children and adults at its Rustomjee Urbania project.
As of June 30, 2022, it had 1,542 channel partners who present the Rustomjee portfolio to their customers and drive customer's traffic to its projects, in addition to its in-house competencies.
Strengths and Strategies
Well established brand in the Mumbai Metropolitan Region:
The company is one of the prominent real estate developers in the micro markets of Mumbai such as Juhu, Bandra East, Khar, Bhandup, Virar and Thane, and it can garner premium pricing in the MMR micro markets where its projects are located. The company's 2.5 decade long presence in the MMR region, construction quality, execution and delivery capabilities, has enabled it to establish the Rustomjee brand in this region. Over the last decade, its reputation as a re-development expert based on its vast experience undertaking re-development projects has led to the sourcing of additional projects.
The company also offers post-handover and post-development services such as furnishing, interior designing and execution services, addressing miscellaneous customer needs such as leasing out apartments and managing lease renewals and maintenance, and facility management services. We believe that company's ability to identify and capitalize on emerging trends in real estate has enabled them to establish prominence in several micro markets in the MMR.
Asset - light business model:
The company has adopted asset-light business model which is unique to it in real estate industry. It does not invest in land, instead it goes for joint development & other means. The company intends to leverage its strength and experience in redevelopment by focusing opportunities in Mumbai city's central locations and major suburbs. It intends to limit the capital deployment and reduce the time from acquisition to launch for swifter monetization of redevelopment projects.
The company proposes to pursue the asset-light model by continuing to enter into joint development agreements, joint venture arrangements and re-development. As of June 30, 2022, 95.6% and 92.8% of the Developable Area of its Completed Projects and Ongoing Projects, respectively and 77.7% of the estimated Developable Area of the Forthcoming Projects, respectively, were based on the joint development and joint venture or re-development model. The company believes that undertaking projects through joint ventures will provide it with the ability to source premium land at strategic locations with the minimal initial investment, helping it to focus on and execute projects with landowners with existing relationships.
The following table below gives the split between company's joint developments projects and projects done on acquired land.
Developable area (As of June 30, 2022)
Completed projects
Ongoing Projects
Forthcoming Projects
Particulars
Area (million sq ft)
% of total area
Area (million sq ft)
% of total area
Area (million sq ft)
% of total area
Joint Development Agreement (JDA) / Joint Venture (JV) / Development Manager (DM) /
19.32
95.55%
8.6
92.84%
20.49
77.73%
Redevelopment / Slum Rehabilitation Act (SRA)
Land ownership
0.9
4.45%
0.66
7.16%
5.87
22.27%
Total
20.22
100%
9.26
100%
26.37
100%
Demonstrated project execution capabilities with in - house functional expertise:
The company has adopted an integrated real estate development model, with capabilities and in-house resources to execute projects from its initiation to completion. Company has developed in - house competencies for every stage of the property development life cycle, commencing from business development, which involves identification of land parcels and the conceptualization of the development, land acquisition, approvals, to execution, comprising planning, designing and overseeing the construction activities, marketing and sales culminating in property delivery. As of June 30, 2022, Keystone realtors have developed 32 projects, over 280 buildings, 20.22 million square feet area (including infrastructure) and homes to over 14000 families.
Between April 1, 2020 and June 30, 2022, they were able to complete and deliver 16 buildings with aggregate Saleable Area of 1.90 million square feet and 1,799 units. Completed Developable Area has increased from 9.76 million square feet from the inception till Fiscal 2015 to 10.29 million square feet over the Fiscal 2016 to 2022 and was 0.17million square feet in the three months period ended June 30, 2022, as indicated in the table below
| Period | Completed Developable Area |
| --- | --- |
| | (million square feet) |
| Up to Fiscal 2015 | 9.76 |
| Fiscal 2016 | 1.78 |
| Fiscal 2017 | 0.49 |
| Fiscal 2018 | 2.95 |
| Fiscal 2019 | 2.86 |
| Fiscal 2020 | 1.03 |
| Fiscal 2021 | 0.87 |
| Fiscal 2022 | 0.31 |
| Three months period ended June 30, 2021 | - |
| Three months period ended June 30, 2022 | 0.17 |
| Total | 20.22 |
(Source – RHP)
Commanding premium pricing & major share in various micro – markets of Mumbai city:
The Company is amongst the top five developers in terms of supply both in units and in value from 2017 to 2021 (Source: Anarock Report). Branded developers in Mumbai (MCGM area) which consists of micro markets of South Central Mumbai, Western Suburbs and Eastern Suburbs usually command a premium of 10%-20% over micro-market average capital price, on account of brand trust, better amenities and quality, among buyers . (Source: Anarock Report). Rustomjee being of the leading real estate developers are able to command over 50% price premium in the markets of Juhu, Bandra East and Khar, as compared to the average price of the Western Suburbs micro-markets (Source: Anarock Report).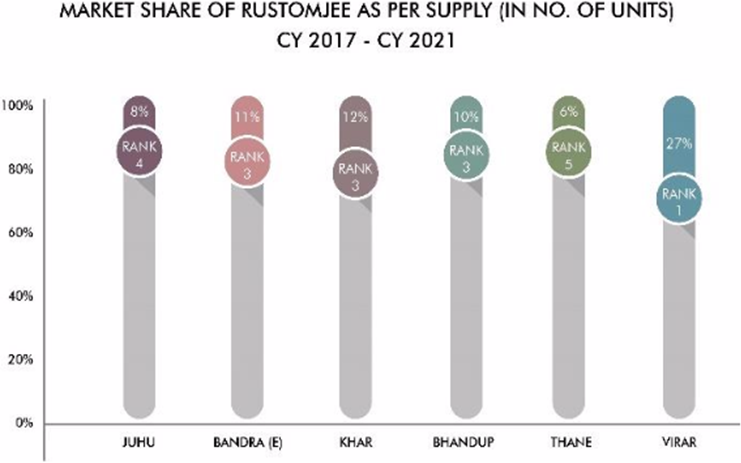 The above graph illustrates that Rustomjee Elements in Juhu, Rustomjee Seasons in BKC, Bandra East and Rustomjee Paramount in Khar were able to achieve a premium as compared to pricing of the Western Suburbs micro-market. The prices of the following projects have increased significantly between the price at project commencement and the price at project completion.
| Project | Average Starting Price | Average Price at Project | Price Appreciation | Average Price throughout the |
| --- | --- | --- | --- | --- |
| | (per sq. ft. on Saleable | Completion (per sq. ft. on | | Project (per sq. ft. on Saleable |
| | area) | Saleable area) | | area) |
| Elements | 18,593.55 | 31,983.74 | 1.72 times | 29,511.91 |
| Seasons | 17,773.11 | 37,934.08 | 2.13 times | 28,208.06 |
| Paramount | 17,535.20 | 36,129.08 | 2.06 times | 28,153.19 |
Strong pipeline of Forthcoming projects
In the past three fiscals, of the 19 new buildings launched by the company, 47.22% units aggregating Rs.13,555.08 million were sold within six months from the date of launch and 57.98% units aggregating Rs.17,494.35 million were sold within the first year (sales considered until August 31, 2022 for eight new buildings which have not completed twelve months of launch).
They also have a strong pipeline of Ongoing / Forthcoming Projects in MMR, the details of which are as follows:
| Category | Ongoing (Residential) | | Forthcoming(Residential) | |
| --- | --- | --- | --- | --- |
| | Number of Projects | Saleable area (million sq ft) | Number of Projects | Saleable area (million sq ft) |
| Super Premium | 2 | 2.34 | 2 | 0.45 |
| Premium | - | - | 2 | 0.19 |
| Aspirational | 3 | 0.43 | 4 | 0.95 |
| Mid and Mass | 4 | 2.37 | 6 | 9.65 |
| Affordable | 1 | 0.59 | 3 | 11.17 |
| Total | 10 | 5.73 | 17 | 22.41 |
Some of the key notable Ongoing Projects include:
Rustomjee Seasons. Rustomjee Seasons is a gated community spread across 3.82 acres in BKC Annexe.
Rustomjee Paramount. Rustomjee Paramount is a gated community spanning across 3.50 acres in the heart of Khar West.
Rustomjee Crown. Rustomjee Crown comprise of three high- rise towers spanning across 5.75 acres in the Prabhadevi, South Mumbai.
Technology-driven operations improve operational efficiency while enhancing customer experiences:
The company leverages technology as an enabler in its operations, including project planning and execution and customer relationship management. It uses a 3-dimensional BIM software for model-based construction to maximize productivity and cost estimation across all its projects. The virtual model addresses several parameters associated with time, cost and critical paths while also accounting for contingencies and reasonable wastages, resulting in more predictability in project execution and better planning and monitoring from site heads which ensures a reduction of wastage and higher efficiency of manpower usage.
The company has also implemented SAP enterprise resource management ("ERP") to assist with data management, analysis and forecasting, resulting in performance efficiency.
Financial Performance for last 3 years:
Keystone Realtors topline growth has been quite volatile in the past 3 years due to COVID disruption. It recorded a strong growth in FY22 with revenues growing 49% at Rs.1269 cr against Rs.849 cr in FY21 owing to low base. However, revenues dropped significantly in FY21 at Rs.849 cr amid COVID disruption. PAT also witnessed a volatile growth in the past 3 years as indicative in the table above.
On the operational front, company witnessed a steady EBITDA growth of 57% in FY22 at Rs.179 cr from Rs.114 cr in FY21. EBITDA Margin saw an expansion of 100 bps in FY22 reflecting steady operational performance.
Key operational indicators:
| Particulars | FY20 | FY21 | FY22 | Q1FY23 |
| --- | --- | --- | --- | --- |
| Pre-Sales (Rs. in cr) | 1009 | 1516 | 2639 | 244 |
| Pre-Sales (Number of units) | 607 | 823 | 1241 | 225 |
| Pre - sales (Saleable area) (million square feet) | 0.71 | 0.98 | 1.49 | 0.2 |
| Completed Developable Area (million square feet) | 1.03 | 0.87 | 0.31 | 0.17 |
| Collections (Rs. in cr) | 1271 | 1239 | 2038 | 404 |
Peer Comparison
| Name of the Company | Revenue (Rs. in cr) | P/E (x) | EPS (Rs) | ROE (%) | ROCE (%) |
| --- | --- | --- | --- | --- | --- |
| Keystone Realtors | 1269.00 | 39.00 | 14.00 | 14.00 | 14.00 |
| Macrotech developers | 9233.00 | 36.00 | 26.28 | 14.40 | 10.30 |
| Godrej Properties Limited | 1825.00 | 99.31 | 12.68 | 4.00 | 5.00 |
| Oberoi Realty | 2694.00 | 32.16 | 28.80 | 11.00 | 12.00 |
| Sunteck Realty | 513.00 | 220.00 | 1.80 | 1.00 | 3.00 |
Risks
Competitive space: Keystone Realtors faces significant competition from regional, national, and international property developers.
Rise in interest rates: Increase in interest rates could impact housing demand and might impact company's sales which pose a key risk for the company.
Other Risk factors
Related Party Transactions: Company, in the past has entered related party transactions and may continue to do so in the future, which may potentially involve conflicts of interest with the equity shareholders.
Contingent Liabilities: Company has certain contingent liabilities amounting to (Rs.161.69 cr), which if they materialize, may adversely affect its, financial condition.
Increase in prices/ disruption in the supply of raw materials: Significant increases in prices, including increase in taxes and levies or shortage of or delay or disruption in the supply of construction materials, could adversely affect estimated construction cost and timelines and result in cost overruns.
Valuation
Keystone Realtors, the brand known as Rustomjee is one of the prominent players in the real estate sector in India and presents across the Mumbai Metropolitan Region with comprehensive, affordable projects and premium & super-premium categories. The company has an asset-light business model and is involved in redevelopment projects and projects under joint partners. With changing lifestyles and increasing importance to the quality of living, the real estate sector is witnessing a strong demand for residential projects, especially in metropolitan areas, which will be a massive opportunity for the organized and branded players and we believe one of which is Rustomjee.
On the valuation front, Keystone Realtors is valued at 39x FY22 EPS of Rs.14 calculated at the upper price band of
Rs.541 per share which appears reasonable from a long-term viewpoint. Though company's financials in the past have not been that impressive as the sector was reeling under the COVID disruption. but the outlook seems promising given green shoots of revival in the real estate space, strong industry tailwinds, strong brand name, rising affordability and upcoming construction opportunities, reasonable valuation. At offer prices, we believe that most of the positives are factored in leaving little scope for further upside in near term or at listing. Since our view on real estate sector is positive for long term, this company may also benefit. Hence, we assign a SUBSCRIBE ONLY FOR LONG TERM.
Key Information
Use of Proceeds:
Use of Proceeds: The total issue size is Rs. 635 cr, of which Rs. 560 cr is Fresh issue and balance (Rs.75 cr) is Offer for Sale (OFS). The company will utilize the net proceeds from the fresh issue to repay certain borrowings availed by the Company and/or certain of its Subsidiaries and for funding acquisition of future real estate projects and general corporate purposes. Kindly find the bifurcation in the table given below
| Sr. No. | Particulars | Amount (INR. CR.) |
| --- | --- | --- |
| 1 | Repayment/ prepayment, in full or part, of certain borrowings availed by the Company and/or certain of its Subsidiaries | 341.6 |
| 2 | Funding acquisition of future real estate projects and general corporate purposes* | 218.4 |
| 3 | Total | 560 |
Book running lead managers:
Axis capital Limited and Credit Suisse Securities (India) Private Limited
Management:
Boman Rustom Irani (Chairman and Managing Director),Sajal Gupta (Group Chief Financial Officer), Venkatraman B (Chief Operating Officer), Percy Sorabji Chowdhry and Chandresh Dinesh Mehta (Executive Director), Ramesh Tainwala, Rahul Gautam Divan and Seema Mohapatra (Non-Executive Independent Director).