Company Description
Kaynes Technology India Ltd ("Kaynes") was incorporated on March 28, 2008. Kaynes is a leading end-to-end and IoT solutions enabled integrated electronics manufacturing player, having capabilities across the entire spectrum of electronics system design and manufacturing ("ESDM") services. They have experience in providing conceptual design, process engineering, integrated manufacturing, and life-cycle support for major players in the automotive, industrial, aerospace and defence, outer-space, nuclear, medical, railways, Internet of Things ("IoT"), Information Technology ("IT") and other segments.
Kaynes classify their operations under the following business verticals:
OEM - Turnkey Solutions -Box Build ("OEM – Box Build")
OEM - Turnkey Solutions - Printed Circuit Board Assemblies ("PCBAs") ("OEM – Turnkey Solutions")
Original Design Manufacturer ("ODM")
Product Engineering and IoT Solutions
Kaynes operates 8 strategically located manufacturing facilities across India in the states of Karnataka, Haryana, Himachal Pradesh, Tamil Nadu, and Uttarakhand. Bangalore facility gets advantages of technology parks & Chennai facility enjoys benefits of SEZ. As of June 30, 2022, they had a combined capacity to assemble over 1,500 million (on an annualized basis) components and have an exclusive line for 'Green Manufacturing' that is compliant with Directive 2002/95/EC Restriction of Hazardous Substances ("RoHS"). As of June 30, 2022, their manufacturing infrastructure also includes one design facility and two service centres.
Kaynes is an ISO 9001/14001/45001 BVCI certified company. Their operations comply with global standards and their facilities have 10 global accreditations including, accreditation for aerospace products.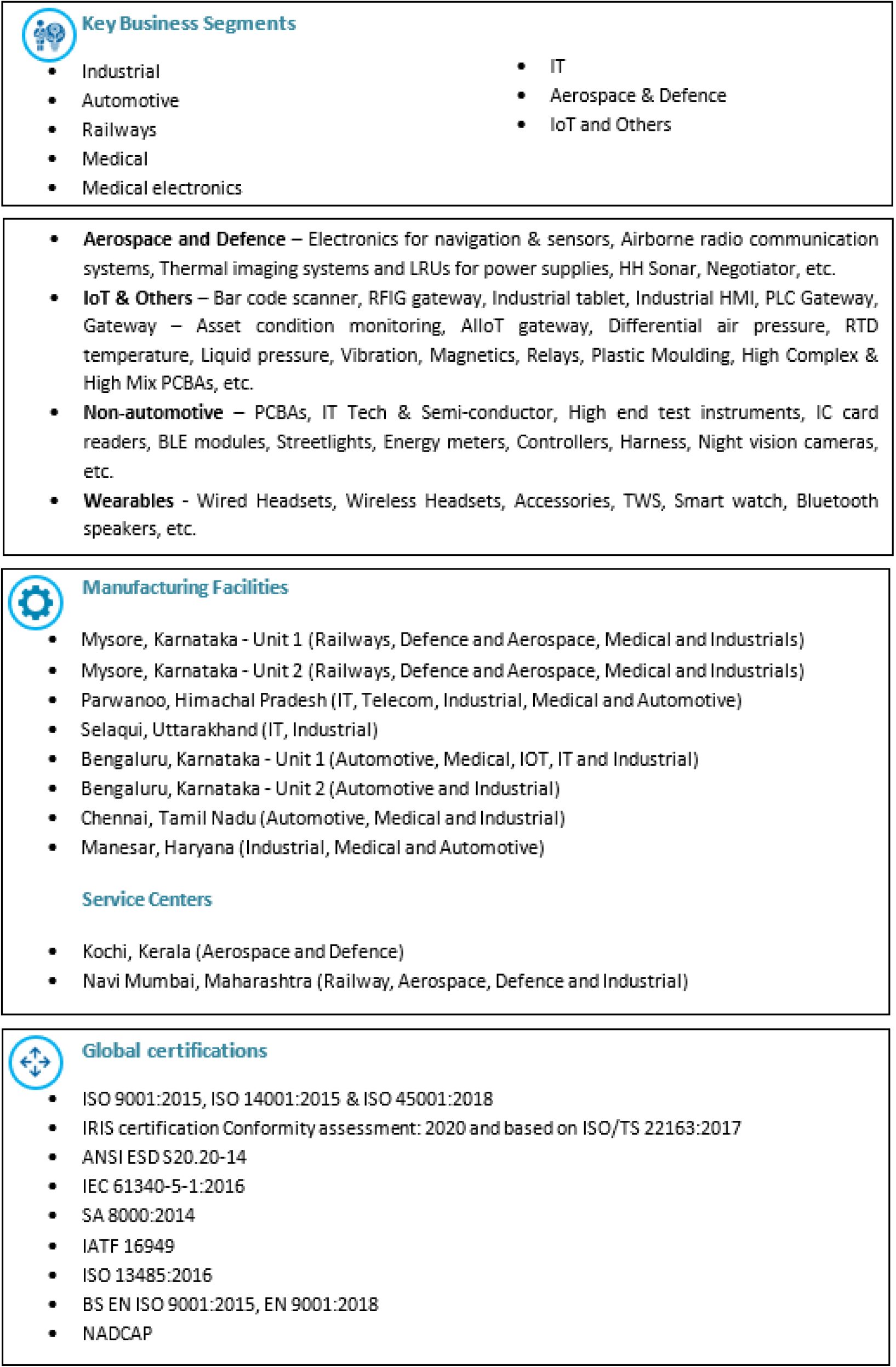 Organizational Structure

Competitive strengths and strategies
Internet of Things ("IoT") solutions enabled integrated electronics manufacturing player with end-to-end capabilities across the Electronics System Design and Manufacturing spectrum
Kaynes is a leading end-to-end and IoT solutions enabled integrated electronics manufacturing player, having capabilities across the spectrum of ESDM services, engaged in concept co - creation with the customers followed by product realization and life-cycle support.

Kaynes Technologies Limited provides the following services offerings that span the entire customer value chain.
They provide various value-added services such as obsolescence management, warehousing support, value engineering and value analysis, last time buy services that include purchase of electronic components that are either being discontinued or have been discontinued in larger quantities.
They offer customers in-house developed IoT technology consisting of hardware, software, and firmware design and tools which accelerate time-to-market and de-risk their customer's product development lifecycle.
They have developed designs for miniaturized Bluetooth modules, smart lighting with embedded Bluetooth, ceiling fans and remotes with embedded Bluetooth, various industrial sensors, wireless gateways with Bluetooth, Wi-Fi and 4G, streetlight controller working on wireless area network ("WAN") technology, smart meters compliance 4G WAN and connected vending machines.
They possess the ability to manufacture complex products through innovative engineering across various industry verticals.
Through their Subsidiary, Kemsys,they assist OEMs to transform their legacy products into smart systems by incorporating combination of sensors, micro-processors, software, and connectivity technologies in multiple ways.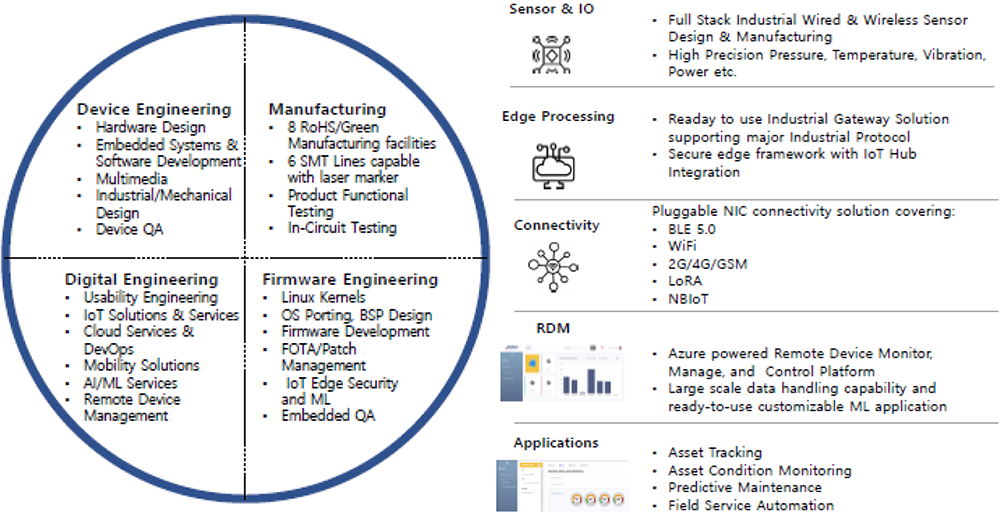 The key capabilities are as below:
Platform: Kaynes offers a customizable remote device and data management platform, ready to white label, making it convenient for OEMs to securely register, organize, monitor, collect and remotely manage IoT devices and all relevant data at scale.
Solutions: Kaynes offers IoT solutions in vertical applications for asset tracking, asset performance monitoring, and predictive maintenance solutions targeting industrial OEMs both in Asia Pacific region, and USA.
Devices: Kaynes has built IoT ODM products including sensors, gateways, HMIs, connectivity modules targeting industrial and consumer IoT market.
Leverage research and development capabilities to diversify product portfolio and provide value-added services
Kaynes has a wide-ranging product portfolio having applications across industry verticals such as automotive, telecom, aerospace and defense, space, medical, IoT and industrial, each of which are individually growing. Their diverse portfolio limits their exposure to downturns/slowdown associated with a particular vertical. It also ensures that their revenues are consistent across periods & different business or industry cycles.
The company intends to leverage on its experience and capabilities of in-house design and research and development to further its ODM capabilities, provide constant improvement in product features and introduce newer variants to further deepen customer relationships.
The Company will spend Rs.149 cr towards Investment in the wholly owned Subsidiary, Kaynes Electronics for setting up a new facility at Karnataka from the proceeds of fresh issue. The proposed investment by the Company will be undertaken to set -up a new manufacturing facility for carrying out Electronic Manufacturing Services.
Long - standing relationships with marquee customers
Kaynes has established long-term relationships with well- known customers across verticals and geographies. In the 3 months ended June 30, 2022, they served 229 customers in 21 countries and multiple industry verticals such as automotive, aerospace and defense, industrial, railways, medical and IT / ITES. They have a balanced mix of domestic and international customers including certain Fortune 500 companies, multinational corporations and start-ups. Company's business footprint spans across geographies and as of June 30, 2022, they serve customers across 21 countries and they have a sales and business development team of 36 employees that allow them to generate business across such geographies.
In Fiscal 2020, 2021 and 2022, and in the three months ended June 30, 2022, their revenue from operations from exports were Rs.75 cr, Rs.108 cr, Rs.141 cr, and Rs.25 cr, respectively, and accounted for 20.51%, 25.64%, 19.99% and 12.68% of their revenue from operations, respectively.
Some of the marquee clients include Agappe Diagnostics Limited, Canyon Aero (formerly Cobham Aerospace Communications) ("Canyan AERO"), Frauscher Sensor Technology India Private Limited, Hitachi Rail STS India Private Limited, India Japan Lighting Private Limited, Siemens Rail Automation Private Limited, Iskraemeco India Private Limited and Tonbo Imaging India Private Limited.
Global& Local certifications for each industry vertical:
Over the years, the company has focused on creating robust manufacturing systems and processes. They adhere to global standards and have obtained various global certifications. They are part of the Maruti Center for Excellence ("MACE") and qualified as a "Green" partner for a certain customer and accredited for electronic assemblies for space craft applications from U.R. Rao Satellite Centre, ISRO. They have also received the Certification of Military Airworthiness documents or CEMILAC for instrumentation electronics repair, which enables them to perform avionics repair. They are also certified by the Center for Design and Development of Chittaranjan Locomotive Works of the Indian Railways for the repair and rehabilitation of 3-phase locomotives.
Fungible manufacturing facilities; scalable at short notice:
Manufacturing Facilities:
Company's facilities are scalable allowing them to expand their capacity within a short time without incurring significant capital expenditure This is primarily on account of relatively short procurement and installation time for surface mount technology ("SMT") lines and ability to augment manual lines without requiring incremental real estate. As such, their capacity can be scaled. All their manufacturing lines are fungible with the flexibility to service customers across industry verticals and across diverse product requirements.
Track record of consistent financial performance:
Kaynes has been profitable for every year since inception. Company has delivered consistent financial performance, despite the impact of the COVID-19 pandemic, in its business operations. Revenue from operations has grown at a CAGR of 38.49% from Rs.368 cr in FY20 to Rs. 706 cr in FY22 and was Rs.199 cr in the three months ended June 30, 2022.
EBITDA has grown at a CAGR of 50.54% from Rs.41 cr as of March 31, 2020, to Rs.94 cr as of March 31, 2022 and was Rs.24 cr, respectively, in the three months ended June 30, 2022. ROE and ROCE stood at 25% and 24% respectively indicating strong metrics and overall financial performance of the company.
| Particulars (in Crores) | FY20 | FY21 | FY22 | Q1FY23 |
| --- | --- | --- | --- | --- |
| Revenue | 368 | 421 | 706 | 199 |
| EBITDA | 41 | 41 | 94 | 24 |
| EBITDA Margin (%) | 11% | 10% | 13% | 12% |
| PAT | 9 | 10 | 41 | 10 |
| EPS(Rs.) | 2.32 | 2.28 | 9.7 | 2.14 |
Peer Comparison
| Company Name | TotalRevenues(Rs.cr) | EPS(Rs) | PE | ROE(%) | ROCE (%) | Revenue CAGR (FY20-22) | EBITDA MARGIN CAGR | PAT CAGR |
| --- | --- | --- | --- | --- | --- | --- | --- | --- |
| Kaynes Technologies Limited | 706.00 | 9.70 | 60.50 | 25.00 | 24.00 | 38.51% | 51.00% | 113.00% |
| Dixon Technologies Limited | 10697.00 | 32.00 | 137.00 | 19.00 | 21.00 | 56.00% | 30.00% | 44.00% |
| Amber Enterprises Ltd | 4206.00 | 32.00 | 62.00 | 6.00 | 7.00 | 3.00% | -5.00% | 6.00% |
| Syrma SGS Tech | 1267.00 | 5.00 | 64.00 | 13.00 | 15.00 | 21.00% | -2.00% | -7.00% |
Risks
Operates in a competitive industry: Company faces significant competition in the electronics system design and manufacturing industry (ESDM). This is now a crowded space.
Contingent Liabilities: Company has contingent Liabilities worth Rs.97 cr (as of June 30, 2022) which, if they materialize, may affect its results of operations, financial condition, and cash flows.
Promoter Pledge: As per RHP, more than 1 cr Equity Shares held by Ramesh Kunhikannan, the promoter of the company is pledged in favour of Canara Bank Limited. The total pledged Equity Shares shall constitute 2.08 % of the pre-Offer Equity Share capital of the Company and 2.60% of the pre-Offer shareholding of Ramesh Kunhikannan, their Promoter. The Company confirms that 20% of the post-Offer Equity Share capital of the Company shall be available for the promoter contribution.
Dependency on top customers for major portion of its revenues: Company's top 10 customers accounted for 53.61%, 46.03%, 51.02% and 62.81% of revenue from operations in Fiscal 2020, 2021 and 2022, and the three months ended June 30, 2022, respectively. Revenue contribution from their top 1, top 5 and top 10 customers has fluctuated in the last three Fiscals which acts as a key area of concern.
Other risk
Entered in related party transactions: The Company has entered various related party transactions and such transactions may have a bearing on results of operations and financial conditions.
Offer for sale (OFS) – 38% of the issue is Offer for sale and the proceeds will go directly to the selling shareholders.
Ramesh Kunhikannan (Promoter) and Freny Firoze Irani (individual investor) are the selling shareholders.
Valuation
On the valuation front, Kaynes Technologies Limited is valued at 60.5x FY22 EPS of Rs.10 calculated at the upper price band of Rs.587 per share which appears reasonable.
We believe that despite company operating in a competitive space, they have been able to deliver strong and consistent financial performance, superior return ratios (best in the industry amongst the listed peers), strong fundamentals, long standing relationship with its customers, diversified product and services offerings, strong R&D capabilities. In our opinion, Kaynes is well poised to capitalize on the tailwinds in the electronics industry and thus we assign a subscribe rating to the issue for the long term.
Key Information
Use of Proceeds:
Use of Proceeds: The total issue size is Rs. 858 cr, of which Rs. 530 cr is Fresh issue and balance (Rs.328 cr) is Offer for Sale (OFS). The company will utilize the net proceeds from the fresh issue for the following:
| Particulars | Amount (Rs. In cr) |
| --- | --- |
| Repayment/ prepayment, in full or part, of certain borrowings availed by our Company | 130 |
| Funding capital expenditure towards expansion of the existing manufacturing facility | 98.93 |
| Investment in the wholly owned Subsidiary, Kaynes Electronics for setting up a new facility at Karnataka | 149.3 |
| Funding working capital requirements of the company | 114.74 |
| General Corporate Purposes | 37 |
Book running lead managers:
DAM Capital Advisors Limited and IIFL Securities
Management:
Ramesh Kunhikannan(Managing Director), Savitha Ramesh (Chairperson and Whole-time Director), Jairam Paravastu Sampath(Whole-time Director and ChiefFinancial Officer), Anup Kumar Bhat, Vivekanandah Ramasamy, Koshy Alexander, Murali S G and Poornima Ranganath(Independent Directors).