Key Strengths
Strong brand equity
Kalyan Jewellers has endeavoured to establish a strong brand in the Indian jewellery market that their customers associate with trust and transparency. They were among the pioneers in the Indian jewellery market in (a) educating consumers about the industry issues; (b) instituting the highest quality standards for their jewellery, and (c) introducing complete price transparency with their products. Through the following initiatives, coupled with concurrent customer education and awareness campaigns, particularly through their "My Kalyan" network, they have helped strengthen their brand by building customer trust and promoting transparency.
BIS hallmarked jewellery: While selling BIS, hallmarked jewellery is expected to become mandatory in India in 2021, the company is selling only BIS hallmarked jewellery, which is independently verified for purity by government-approved agencies in accordance with BIS norms.
Detailed price tags disaggregating various components: All of their jewellery items are accompanied by a detailed pricing tag disaggregating the various components such as metal weight, stone weight, stone price and making charges to aid transparency to consumers.
Karatmeters to verify purity: Company's showrooms offer karatmeters to allow customers to verify the purity of their gold jewellery as well as the jewellery they have previously purchased from other sources.
Transparency in gold exchange: In Fiscal 2020 and 9 months ended December 31, 2020, 27.13% and 31.50% of their revenue from operations involved customers exchanging or selling their previously purchased jewellery to them as payment for newly purchased jewellery. They have deployed a transparent process for valuing such exchange of customer gold, including verifying the exchanged gold purity in front of the customer to determine its fair value.
Product certification: With each purchase of jewellery they provide their customers with a "four level product certification" which assures purity, offers lifetime product maintenance, identifies exchange and buy-back terms and provides a detailed product description.
Relevant Staff Training: The company's sales staff is trained to be forthright with customers and to develop trust with the aim of providing long-term customer satisfaction and winning repeat business rather than focusing on a one-time sale.
We believe the company has created a good brand network in short span of time, but in our view some store are still new (approx. 40% stores are opened in <2 years) and will take its own time to get mature. Hence profitability/per store is still an issue for the company.
One of India's largest jewellery companies with a pan-India presence
The company is one of the largest jewellery companies in India based on revenue as of March 31, 2020, according to the Technopak Report. The company has a pan-India presence with 107 showrooms located across 21 states and union territories in India and also have 30 showrooms located in the Middle East, as of December 31, 2020. In Fiscal 2020 and in the nine months ended December 31, 2020, 78.19% and 86.21% of their revenue from operations was from India and 21.81% and 13.79% was from the Middle East.
Exhibit No 1: Revenue break-up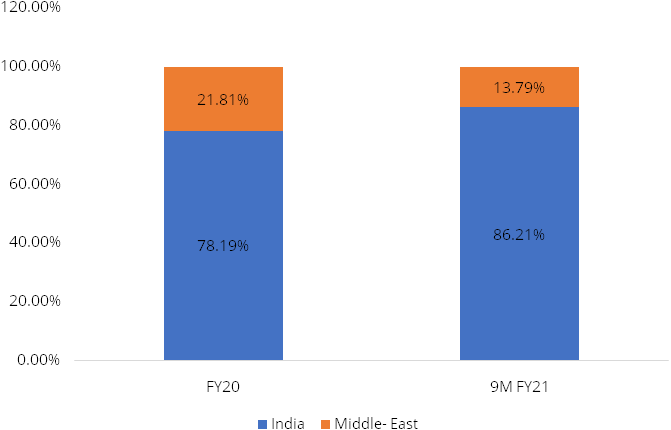 Source: Company RHP, Stockaxis research
While they started their operations in Kerala, over time the company has been able to successfully expand to become a pan-India jewellery company. As of December 31, 2020, 72 of their 137 showrooms were located outside of South India (South India includes Kerala, Tamil Nadu, Andhra Pradesh, Telangana, Pondicherry and Karnataka). Kalyan Jewellers operations outside of South India contributed 57.69% and 49.92% of their gross profit and 47.81% and 40.40% of their revenue in Fiscal 2020 and in the nine months ended December 31, 2020. In addition, they have a relatively diversified presence across larger and smaller cities, semi-urban and rural regions. For Fiscal 2020 and in the nine months ended December 31, 2020, approximately 51.29% and 53.08% of their revenue in India was generated from sales outside of tier-I cities. Their total showrooms have increased from 77 as of March 31, 2015 to 137 as of December 31, 2020.
Despite of Pan India presence the company generates more than ~50% of revenues from south India. Company has started to enhance its footprint in other states, but we expect the company will face stiff competition from Branded as well as unbranded players in new territories.
Hyperlocal strategy enabling the company to cater to a wide range of geographies and customer segments
Jewellery consumption patterns in India are highly localised with customer preferences varying significantly by region, according to the Technopak Report. According to the same report, this industry characteristic has acted as a significant barrier for jewellery brands to scale up in India as it demands (a) a nuanced understanding of local customer needs, (b) region-specific procurement and inventory models, which require operating at sufficient scale to attract the best artisans, and (c) significant investments in localised and region-specific marketing campaigns to build awareness and trust with consumers. They strive to appeal to a broad base of customers via a multi- faceted hyperlocal strategy by deploying the following initiatives in their operations:
Localisation of the product portfolio: The company appeal to a wide audience by endeavouring to understand the local market preferences and trends in the geographies in which they operate and offering a range of jewellery products in their showrooms that are tailored to such tastes.
Localisation in brand communication and marketing: The company's region- specific marketing efforts, including state and city-specific brand campaigns with differential, localised creative content and the use of various relevant brand ambassadors with national, regional and local appeal, is a core element of their brand positioning.
Localisation of the showroom experience for customers: Their localisation strategy is further supported by their policy of hiring personnel for each of their showrooms with local language and cultural knowledge, as well as their practice of designing the showrooms to reflect local tastes and sensibilities.
Localisation through the "My Kalyan" network: Through their strategy of catering to local preferences, combined with their large scale of operations, allows them to cater to a wide range of customers across geographies, age groups, socio-economic status levels and genders as well as across urban, rural and semi-urban markets, all of which greatly widens their appeal and addressability to broad segments of jewellery consumers across India.
We believe that, one of their key competitive strengths is their ability to operate as a hyperlocal jewellery company. They endeavour to cater to their customers' unique preferences, which often vary significantly by geography and micro market, through their local market expertise and region-specific marketing strategy and advertising campaigns.
Extensive grassroots "My Kalyan" network with strong distribution capabilities enabling deep customer outreach:
The company grassroots "My Kalyan" customer outreach network is a key element of their hyperlocal strategy enabling them to be a neighbourhood jeweller and is focused on marketing and customer engagement across urban, semi-urban and rural areas in India. According to the Technopak Report, a significant proportion of India's gold jewellery demand originates from rural and semi-urban markets where the penetration of organised jewellery companies has historically been even lower than that of the overall Indian market. They believe that their network of "My Kalyan" centres provides them with a marketing tool to help address the latent demand that exists in some of these markets.
Wide range of product offerings targeted at a diverse set of customers:
Kalyan Jewellers products span jewellery for special occasions, such as weddings, to daily-wear jewellery, and their product portfolio also caters to a wide range of price points. The company has launched numerous sub-brands that address specific customer niches such as:
Ornate wedding jewellery, which they sell through their "Muhurat" brand to their wedding customers;
High-volume, mass market jewellery, which they sell through their "Aishwaryam" brand to their value conscious customers;
Antique and heritage gold jewellery, studded with precious stones jewellery, polki and uncut diamond jewellery that they sell through their "Mudhra", "Sankalp", "Nimah" and "Anokhi" brands to the mid-to-high end customers; and
Technology savvy customers, to whom they cater through their online platform. Recognizing early the powerful potential of engaging customers online in an increasingly digitally connected world, they invested and acquired a majority stake in Enovate Lifestyles Pvt. Ltd. and its online platform, www.candere.com. Through this platform, the customers can purchase a wide variety of jewellery under the Candere and Kalyan brands, as well as enroll in their purchase advance schemes.
A description of company's jewellery sub-brands and their target geographies and themes:
The showroom centre presence across India as of December 31, 2020

Source: Company, RHP
Though company has diversified product portfolio, we believe the company will struggle to cater new customers. Many differentiated products often confuse the new customers and it can adversely affect the business.
Robust and effective internal control processes to support a growing organisation and showroom network with a pan-India presence
The company has established a robust set of operational and control processes to manage their business operations and to support their future growth at both the showroom and corporate level. Given the high value nature of their jewellery, their inventory management and internal audit procedures are critical to the success of their business. The company closely track their inventory starting from the initial procurement of raw materials to its ultimate sale in their showrooms, including by barcoding each piece of finished goods inventory and conducting daily counts at their showrooms. These measures are coupled with an integrated enterprise resource planning, or ERP, system. The ERP system is designed to permit the management to manage all aspects of their operations, including procurement of raw materials and semi-finished products, inventory management, sales and finance from a centralised platform.
Widen product offerings to further increase consumer reach
The company intends to continue to increase their focus on studded jewellery going forward as these products have wide consumer base and typically have a higher gross margin profile than their gold jewellery. The company has tailored their showrooms to offer prominent displays of diamond and other studded jewellery and, in many cases, have entire floors dedicated to such jewellery. Furthermore, they have launched a number of sub-brands around their studded jewellery range. Their revenue from sales of studded jewellery increased from 20.65% of their revenue from operations in Fiscal 2018 to 23.36% of revenue from operations in Fiscal 2020.