Company Description
Inox Green Energy Services Ltd. (IGESL) was incorporated on 11th May 2012. It is the subsidiary of Inox Wind Ltd. (IWL). Inox Wind Ltd offers variety of services including wind resource assessment, site acquisition and infrastructure development. It's subsidiary IGESL is solely involved in facilitating post sales Operating and Maintenance (O&M) services for wind farm projects and wind turbine projects along with evacuation of power from wind turbine generators. These projects are generally long term contracts of 5-20 years with the purchasers of wind turbines. IGESL has client base which comprises of large IPPs, PSUs and retail customers, some of which are associated with the company from past 5-9 years. As of 30th June 2022, the aggregate O&M services portfolio consisted of 2972 MW of Wind farm capacity and 1396 MW for Wind Turbine generators. The company has developed additional wind project sites in collaboration with IWL to support the installation of additional WTGs
Strong and consistent support of Parent company:
Inox Green Energy and parent company Inox Wind Ltd. have an exclusivity contract between them which states that the subsidiary company is solely responsible for successful delivery of O&M services for long – term contracts post sales of wind turbines to there (parent company's) clients. Hence, the order book of Inox Wind has a significant role in positive inflow of revenue of its subsidiary company (IGESLL).
Below table demonstrates the order book of Inox Wind Ltd.:
| Particulars | WTG Capacity (MW) | Order book capacity (MW) |
| --- | --- | --- |
| SECI 1 | 2 | 50 |
| SECI 2 | 2 | 200 |
| SECI 3 | 2 | 200 |
| SECI 4 | 2 | 100 |
| Maharashtra | 2 | 50 |
| PSU Order | 2 | 150 |
| PSU Order 2 | 2 | 200 |
| Others | 2 | 14 |
| Total Binding contracts | - | 964 |
| Non-Binding contracts | | |
Diverse portfolio of the company:
The company as of 30th June 2022 has a diverse portfolio of 2972 MW of wind projects spread across 8 states of India. The portfolio consists of independent power producers (approximately 72%), public sector undertaking (14%) and corporates (14%). The operating portfolio of the company in both comprehensive O&M and common infrastructure O&M contracts has grown at a CAGR of 41% in past 9 years. Going forward the IWL plans strategic policies to add more customers to the bucket of the company through outsourcing channels which will require O&M services other than its own customers.
Company's operating portfolio of O&M contracts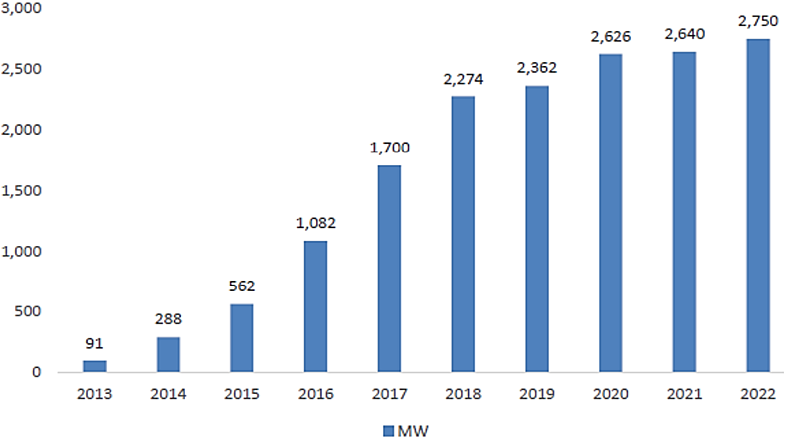 Company witnesses Stable cash flow on account of long-term contracts
The company enters into long term contracts (5-20 years) with its clients for facilitating O&M services where first 2-3 years of service are free for its clients if the wind turbines are purchased from Inox Wind. Further on yearly basis the company has a clear visibility of its cash flows given the prices are fixed in nature on an annual basis. However, the prices are increased by 5% every year automatically . The O&M services are essential and need to be implemented timely for the smooth functioning of these assets. Therefore, there is regular demand for these services from the customers.
Risks
High dependency on its parent company:
The company is highly dependent on its parent company for generation of revenues into the business as the O&M services are second step post sales of WTGs. At present the company do not have enough reach to customers independently.
Capital intensive market:
The business of its parent company is capital intensive in nature. Inability to meet such capital requirements will hinder the growth of IWL (parent company) which will further impact the growth of IGESLL.
Lack of profitability into the business on account of high debt:
Over the years the financial performance of the company witnessed downtrend with negative numbers on its side. As at 30th June 2022 the total borrowings of the company stood at Rs 904 Crores. This states lack of profitability into the business with the burden of high debt, which leaves less chances of impressive growth in coming 2-3 years.
The current issue includes 50% as Offer for sale from promoter co IWL hence only half proceeds of current issue will accrue to the company , the rest half will go IWL which IWL intends to use for repayment of part of IWL's debt.
Valuation
IGESLL is engaged in the business of providing O&M services post sales of Wind Turbine generator. IWL for majority of its client base and revenue generation. Any adverse impact on the business of IWL will eventually impact the earnings of its subsidiary IGESLL as well.
IGESLL lacks to display profitability into its business and bears the burden of high debt. The company in its RHP has not provided any clarity regarding the order book of IGESLL. Hence, there is no clear visibility of its future earnings & business growth.
On valuation front on upper band of asking price in IPO, the company would be trading at P/BV of 2.3x as on FY22 . In view of high debt & invisible path to profitability we recommend investors give a pass to this IPO.
We assign an 'AVOID' rating to the IPO offer.
Key Information
Use of Proceeds:
The offer is a combination of 'Fresh issue of equity shares and Offer for sale' of 11.3 crore shares and the company intends to garner Rs 740 Crores.
Repayment and/or pre-payment, in full or part, of certain borrowings availed by the company including redemption of Non-Convertible Debentures in full.
General Corporate Purpose.
Book running lead managers:
Edelweiss Financial, DAM Capital, Equirus Capital, IDBI Capital, Systematix Corporate
Management:
Manoj Shambhu Dixit (Whole-time Director), Mukesh Manglik (Whole-time Director), Devansh Jain (consultant with the company)