The Indian Railways is a departmental undertaking of the Government of India, which owns and operates India's rail transport, through the Ministry of Railways. India has the world's third-largest rail network under single management. Indian Railways is among the world's largest rail network, and its route length network is spread over 1,23,236 kms, with 13,523 passenger trains and 9,146 freight trains, plying 23 million travellers and ~1221 MT of freight in FY 2019.
The Indian railways earns its majority (~93%) of revenues from two segments i.e., Passenger and Freight. Revenue from passenger segment has increased at a CAGR of 1.25% to reach USD 7.25 billion in FY20 from USD 6.90 billion in FY16. Freight earnings stood at USD 16.24 billion in FY20. Increased carrying capacity, cost effectiveness, and improved service quality will see Railways incremental share from freight movement.

Source: IBEF, StockAxis Research

Source: IBEF, StockAxis Research
Freight Traffic
The Indian Railways is one of India's most important source of transportation. Currently, ~30% of total freight traffic of India moves on rail. Nine commodities including coal, iron, steel, iron ore, food grains, fertilizers and petroleum products primarily support freight business for the Indian Railways. Freight accounts for more than ~2/3rd of India Railway's revenue. As on FY20, freight segment accounts for 64% of the total revenues of Indian Railways followed by passenger segment at 28.6%.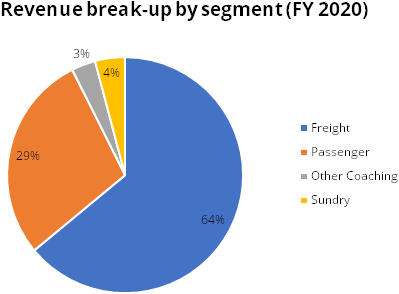 Source: IBEF, StockAxis Research
In the last decade, due to growing industrialisation across the country the Indian Railways has witnessed increased freight traffic. In medium to long term, freight traffic is expected to grow rapidly due to rising investments and participation from private players. The freight business of Indian Railways has increased nearly seven times from 167 MT in 1970-71 to 1,208 MT in 2019-20.

Source: IBEF, StockAxis Research
In order to improve freight traffic, in Fiscal 2018, the MoR implemented several policies such as Liberalising automatic freight rebate scheme in empty flow directions (routes with low freight traffic), Entering into long term tariff contracts with key freight customers, and Introducing double stack dwarf containers as a new delivery model to increase load-ability of trains and attract new traffic under wire.
Passenger Traffic
Train travel remains the preferred choice for long-distance travel for majority of Indians. The passenger travel is expected to grow further on the back of increasing population, rising income and growing urbanisation. Increasing incomes in urban and rural areas have made rail travel affordable to large number of Indians. Improvement of urban-rural connectivity has been another major contributor to the growth of Railways. Population residing in urban areas is expected to increase from 461 million in 2018 to 543 million in 2025F. The percentage of India's total population residing in urban areas is expected to increase from 34.03% in 2018 to 37.38% in 2025F (Source: IBEF, Indian Railways Industry Report, October, 2020).
The government is taking various initiatives to encourage people to travel via passenger trains. Fare for premium classes were reduced to compete with airlines, luxury buses and personal transport vehicles. Information Technology is used to make ticket reservation more feasible to passengers along with an airline-style upgradation facility from lower class to higher class. In September 2020, the Indian Railways announced the Clone Train Scheme, wherein it plans to run a clone train with the train of the same number, to help and provide relief to waitlisted passengers over heavy passenger traffic routes.
Infrastructure Development
The positive externalities and the multiplier effect of investment in Infrastructure for economic growth is a well-acknowledged and established fact. As per CRIS estimates, India, in its vision to achieve a GDP of USD 5 trillion by 2024–25, needs to spend USD 4.51 trillion, over these years on infrastructure. And it plans to do so, under its ambitious National Investment Plan. NIP will enable well-prepared infrastructure projects that in turn will create jobs, improve ease of living, and provide equitable access to infrastructure for all, thereby making growth more inclusive. The total capital expenditure in infrastructure sectors in India during Fiscals 2020 to 2025 is projected at approximately Rs. 111 lakh crores. The annual projected capital expenditure in Indian Railways is as follows:
| Year | Expenditure (Rs. Crores) |
| --- | --- |
| 2020 | 133,387 |
| 2021 | 262,465 |
| 2022 | 308,800 |
| 2023 | 273,831 |
| 2024 | 221,209 |
| 2025 | 167,870 |
| Total | 1,367,563 |
Source: RHP, StockAxis Research
Dedicated Freight Corridors (DFC)
Dedicated Freight Corridor Corp. of India Ltd (DFCCIL) is building two freight corridors – Eastern Freight Corridor from Ludhiana to Dankuni (1,856 kms.) and Western Freight Corridor from Dadri to Jawaharlal Nehru Port (1,504 kms.) at a total cost of Rs. 81,000 crores. The projects, when commissioned, are expected to take up more than 70% of the Indian Railways freight traffic on to their faster, longer and heavier trains.
Locomotives, Coaches and Wagons
The Indian Railway's locomotive fleet has seen significant changes over time. Initially, led by steam locomotives at the time of independence, the shift in favour of diesel locomotives has been gradual. Now, electric locomotives are expected to dominate the future in the Indian Railways.
Source: DRHP, StockAxis Research
There has been an increase in demand for electric multiple unit (EMU) and diesel electric multiple units (DMU) driven by rising demand from suburban traffic as well as efficiency considerations. Passenger carriers are also expected to be in demand with the increasing passenger usage. It is expected that the demand for coaches shall outstrip supply of coaches.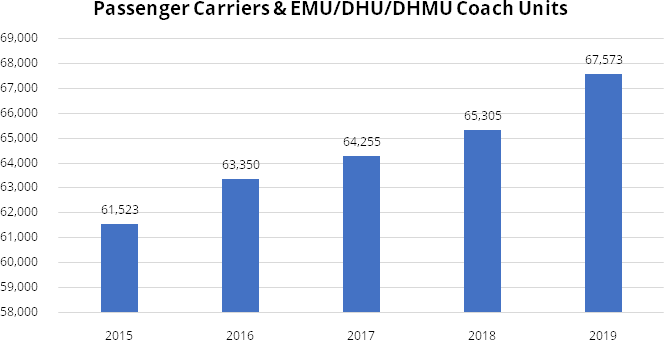 Source: DRHP, StockAxis Research