Strengths
Wide variety of products with focus on export market
Over the years, the company has diversified their product portfolio and has developed a niche portfolio of agro-chemical products. The company has grown into a multi-product manufacturer of formulations, herbicide and fungicide technicals as well as APIs. This diversification across products and sectors has allowed them to de-risk their business operations. As of the date, the company has a license to manufacture for 49 agro-chemical technicals and 158 formulations and for APIs, they have obtained a license for manufacturing 2 drugs for sale. The company's products are exported to regulated markets including Australia and other countries located in Europe, Africa and Asia and have received product registrations either through their customers or by the company. The company commenced manufacturing of technicals for herbicides in 2018 that are exported which has led to an increase in their EBITDA margins from 21.6% in FY18 to 29.2% in FY20. The company's diversified product portfolio allows for limited dependence on individual products and helps counter seasonal trends that are, in particular, a challenge for the agriculture industry in India. Their major customers include multinational corporations, and hence, 56.7% of their FY21 revenue was generated from exports.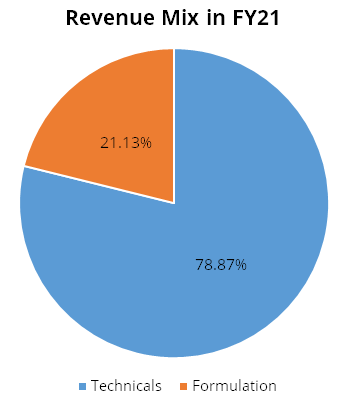 Long-term relationship with key customers
The company has developed strong and long-term relationships with various multinational corporations that has aided in expanding their product offerings and geographic reach for their technicals business. These multinational corporations look to collaborate with active ingredient manufacturers in India, leveraging their cost effective manufacturing coupled with cheaper labour force and stronger R&D capabilities. The company's customer relationships are led primarily by their ability to manufacture complex Technicals that go off-patent in a cost effective, safe and environmentally conscious manner as well as their ability to meet stringent quality specifications. They undertake exports of their products, and either their customers get their products registered with the relevant regulatory authority or IPL register their products with the respective regulatory authority directly. Several of their customers have been associated with the company for over 10 years and certain of their key customers include crop protection majors, such as, Syngenta Asia Pacific Pte. Ltd. and UPL Ltd.
Extensive distribution network along with strong sourcing capabilities
The company source their primary raw materials from sources within and outside India and have developed relationships with multiple vendors for their major raw materials to ensure timely delivery and adequate supply. In FY21, 62% of their raw materials were sourced locally and this ability to procure raw material domestically enables them to withstand volatility in raw material prices and ensures continuous supply for their operations. The company's vendor selection is based on pre-determined criteria ensuring all raw materials procured meet stringent regulatory and quality checks. The company has a dedicated sales team which is focused on direct selling to customers and leveraging the relationship with them to increase sales of technicals. For their technicals and formulations segment, they have a Pan-India sales and distribution presence with a dedicated sales force. As of March 31, 2021, they have a network of over 20 sales depots consisting of branches, carrying and forwarding agents, and warehouses spread across 15 states in India and their distribution network comprised a number of dealers and distribution partners across India.
Strong R&D and product development capabilities
The company has substantial experience in undertaking R&D activities as part of their manufacturing operations. Their R&D places significant emphasis on identification of appropriate complex technicals that are suitable for commercialization, improving their production processes and the quality and purity of their present products and manufacturing new off-patent products. The company has two well-equipped R&D laboratories, each of which is registered with the DSIR and their laboratories are equipped with sophisticated equipment that include gas chromatography, mass spectrometry and Karl Fischer titrators etc. The company's R&D efforts also focus on determining the optimal production process for the technicals and reduce energy consumption. The company continuously seek to innovate to develop alternate production processes for their existing technicals and for technicals that are expected to go off-patent in the near future. As part of these measures, they undertake pilot studies of new technologies.
Capacity expansion of business and geographies shall boost growth
The company aims to scale up the manufacturing capacities for their existing products to cater to the growth in demand for the products. They have obtained approval from the Ministry of Environment, Forest and Climate Change ("MoEF") to expand their manufacturing capacity at Sandila to 30,000 MT. In addition, they continually explore new markets for their existing products. Their expansion and diversification of their product portfolio would allow them to service new clients, meet existing demand and consequently, enhance their business prospects. The company intends to augment their organic growth by pursuing selective acquisitions and strategic alliances and may consider other acquisition opportunities to selectively expand in their verticals, provided such opportunities offer the synergies.