Key Strengths and Strategies
Distribution, Technology, and Partnership (DTP) Framework
The bank's DTP enables it to serve target market efficiently and is designed to achieve improvements on three key challenges like scale, service, and sustainability associated with serving such target market. This framework creates a network effect and facilitates interplay between each of distribution, technology, and partnerships. With respect to: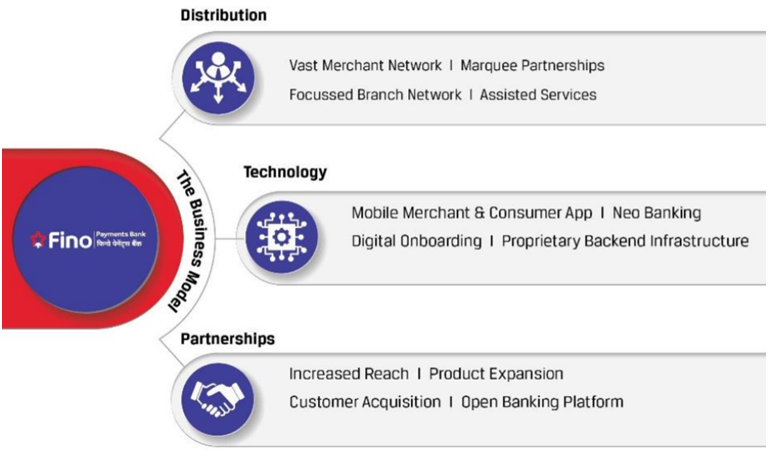 Source: Company RHP
As per RHP, the framework differentiates the bank from its competitors, is difficult to replicate, promotes effective delivery of products, reinforces positive customer experiences, facilitates strong relationships, and improves operational and strategic decision making.
Asset Light Business Model
Banks's merchant-led model is a capital light business strategy in respect of network expansion and except for referrals of third-party loan providers, Fino do not offer any lending products and it do not hold credit risk for loans. In addition, its technology platform allows it to service a pool of customers and cater to their diversified requirements. In addition, its focus on and use of technology helps Fino in expanding reach in India without incurring relatively higher costs associated with traditional bricks and mortar branch presence.
Fino incurs minimal capital expenditure costs in connection with on-boarding merchants, because the on-boarding and setup costs are borne by the merchant, and Fino's technology simplifies merchant on-boarding and training process. This approach presents opportunities of high operating leverage. Further, once a merchant has been onboarded, it is possible for Fino to offer additional products through the same merchant. Over time, the merchant cross-sells new or third-party products, which increases the revenue per customer at minimal to no cost to Fino, which in turn, improves operating leverage and ability to achieve profitability.
Continued Innovation Leading to High Growth Products and Diversified Revenue Streams
Fino payments bank is committed to establish itself as a modern technology-enabled bank that offers a comprehensive suite of products to target market via a range of touch-points. It intends to target high growth products with high margins within existing offering, as well as exploring new products, in each case with a focus towards products offered through its "own" channel. Typically, the "own" channel products generate higher margins and the banks aims to expand this through new products and additional merchants. The bank has identified and expect that CASA and micro-ATMs have high growth potential. It is actively exploring the potential of tie-ups with third party financial institutions such as NBFCs for referral credit products designed for customers, where fino payments bank will earn fees on such referrals.
Expand and Deepen Customer Sourcing Capabilities
As of September, 2021, the Fino had presence in over 90% of districts, and during the last three financial years and three months ended June, 2021, it acquired ~6,96,500 merchants across its network (including "own" and API channel merchants). Additionally, it had several strategic relationships with businesses across the country, including with a State Road Transport Corporation where they introduced a near field communication-based contactless payments solutions for the mass transit system. With a goal to acquire more customers, it intends to continue expanding network to drive deeper penetration and sustainable operations in these regions and communities, focusing on underserved and unserved individuals and micro businesses that have limited or no access to formal banking channels.
It also intends to focus on increasing the adoption of CASA offering by customers as they believe this acts as a key customer sourcing gateway for certain of its other products. It expects that growth will come via further expansion of geographic footprint and deeper penetration in the regions it currently operates in. This is likely to be achieved by ensuring that more merchants are on-boarded, departure rates of existing merchants remain low, continuing to provide merchants with opportunities to cross-sell various products and ensuring that merchant commission paid per transaction increases.