Key Strengths and Strategies
Integrated Defence and Aerospace Electronic Solutions Provider, Positioned to Benefit from Make in India Opportunity:
Since inception, the company has focused on designing and building its own products. It is focussed on developing complete systems and sub-system solutions such as radars, electronic warfare, communication systems, radio frequencies and microwave, Military Commercial Off the Shelf, avionics, missile and torpedo electronics, fire and launch control systems, space-based systems, and automatic test equipment. Defence Research and Development Organisation (DRDO) is one of the company's valuable customers. The company's management feels that the company's competency, along with the government's emphasis on indigenization, puts DPIL in a good position to rapidly scale-up several existing products, allowing it to reap benefits from the Make-in-India initiative.
The company successfully bid for and obtained a Rs. 380 crores contract from the Ministry of Defence for nine precision approach radars for the Navy and Air Force, which are currently in the delivery stage. With Indian defence requirements being opened out to indigenous manufacturers, the management believes that opportunities are now available which can be addressed based on in-house capabilities to develop such large systems.
Sound Order Book Across Product Categories Supplying to Marquee Customers:
As of September 2021, the company has an order book of Rs. 581.3 crores with orders from several marquee customers including Ministry of Defence, Defence Research and Development Organisation, BrahMos Aerospace, Hindustan Aeronautics, Bharat Electronics, India Government Space Organisation (supplying products for 20+ years), and Defence Public Sector Undertakings involved in missile space. The company is currently engaged in supply of products to several prestigious defence projects in India including LCA (Tejas Mk I A Light Combat Aircraft), the HAL Dhruv, Light Utility Helicopter (LUH), and the BrahMos missile programme and in each of these projects, the company's products are critical in nature. It continues to invest in product development on various platform-specific products which has an annuity requirement thus ensuring continuity of business in the coming years.
Due to its diversification, the company's order book has increased from Rs. 80.5 crores as on March, 2017 to Rs. 581.3 cores as on September, 2021. The break-up of the order book is as follow: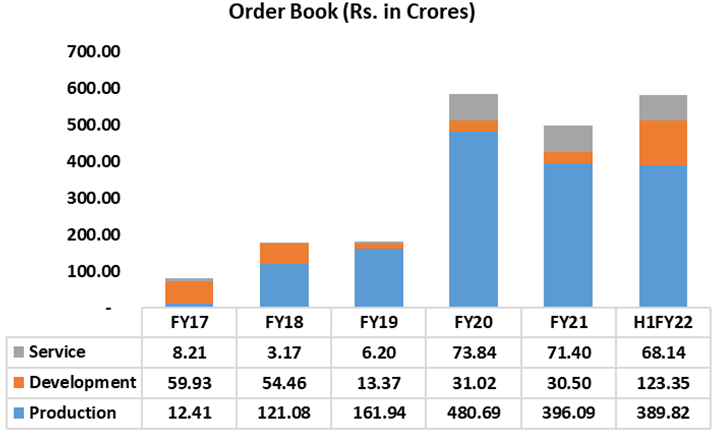 Source: Company RHP
Certified Manufacturing Facilities having International Standards:
The company's 100,000 sqft manufacturing unit has facilities for design, manufacturing, qualification, and life cycle support of electronic systems. The company is certified for various standards across product life cycles, including aerospace systems under AS9100D by TUV-SUD, IPC Standards for PCB design, DO 178B for software for airborne systems, Software life cycle processes, and environment standards MIL-STD-810, JSS-55555 and EMI-EMC standard MIL-STD-461. The company's systems and processes are subject to periodic audit by its customers. Its Electronic Manufacturing Services (EMS) line is certified for production by the Indian government space organisation.
Sound Financial Profile
As per the company's filings, it is one of the fastest growing companies in Defence and Aerospace Electronics Sector in India with higher margins and return ratios. The company's top line has grown at a CAGR of 30.7% between FY19 – FY21. The absolute EBITDA has posted a CAGR of 89.8% and EBITDA margin has seen consistent up move from 19.5% in FY19 to 41.1% in FY21. Its PAT has grown from Rs. 7.7 crores in FY19 to Rs. 55.57 crores in FY21. PAT margin has also improved from 5.9% in FY19 to 24.8% in FY21. RoE and RoCE stood at 26.8% and 34.7%, respectively in FY21.
| Particulars (Rs. in Crores) | FY19 | FY20 | FY21 | H1FY22 |
| --- | --- | --- | --- | --- |
| Revenue | 131.06 | 156.10 | 223.95 | 96.45 |
| EBITDA | 25.55 | 43.16 | 91.99 | 37.82 |
| EBITDA Margin | 19.49% | 27.65% | 41.08% | 39.21% |
| Profit After Tax | 7.70 | 21.05 | 55.57 | 23.21 |
| PAT Margin | 5.88% | 13.48% | 24.81% | 24.06% |
| RoE | 5.80% | 13.71% | 26.75% | 10.71% |
| RoCE | 12.45% | 23.39% | 34.69% | 13.41% |
Source: Company RHP
Expansion of Product Portfolio Focused on Complex Technologies:
The company intends to continue expand its capabilities and product portfolio to enhance offerings in the defence and aerospace electronics space, especially in complex technology products. It also intends to opportunistically bid for higher value projects demanding significant use of complex technologies. For instance, the company has developed and deployed its first Nano satellite in 2017, after which, it has received additional two contracts to design and build nano satellite.
DPIL is further investing in AESA radars, modern EW Systems, Airborne sensors, among others in a view that these complex products have wide range of applications and would provide a higher value growth opportunity. The company also intends to avail the benefits from the Make-in-India programme by participating in tenders for large and complicated projects.
Expanding Manufacturing Facility:
The company intends to deploy a part of fresh issue towards upgrading and expanding its existing facility. The proposed expansion includes acquisition of additional 2.8 acres of land, large systems integration hangar, complete radar integration, electronic warfare vehicle integration, augmented environmental test infrastructure, multi ton material handling, additional EMS line, and clean room for satellite integration. The company also intends to augment its design and development capabilities for various verticals through procurement of software, testing equipment and other related hardware.