Key Strengths and Strategies
Diversified Product Portfolio Supported by R&D and Process Chemistry
The company has developed and commercialised over 450 Pharma intermediates which includes Dolutegravir, Trazodone, Entacapone, Nintedanib and Rivaroxaban and NCEs across 17 therapeutic areas, such as anti-retroviral, anti-inflammatory, anti-psychotic, anti-cancer, anti-Parkinson, anti-depressant, and anti-coagulant. Following table shows the market share of the company's products: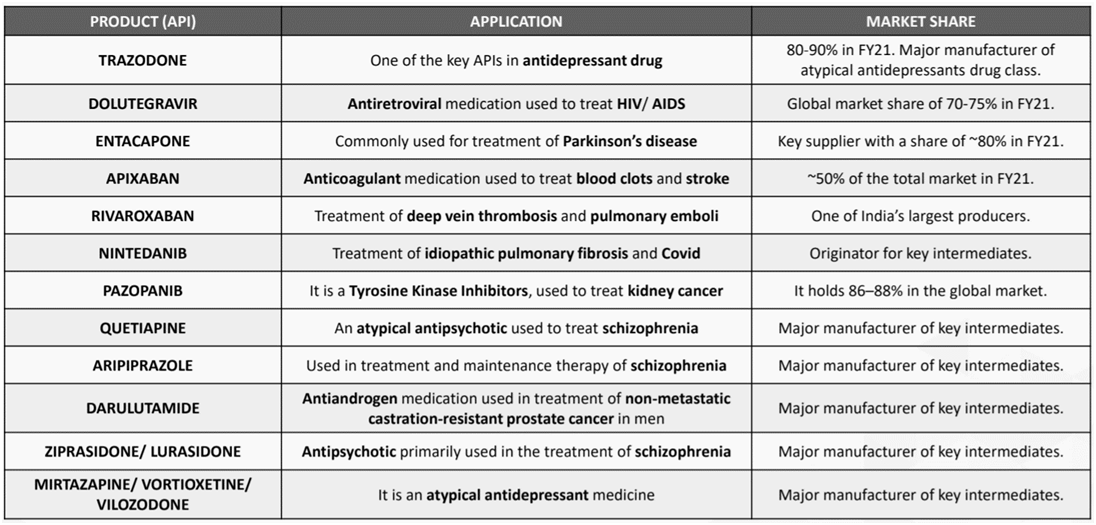 Source:RHP
The company, as a result of its R&D capabilities, have been able to file 11 process innovation patent applications in India out of these 3 were pending for which applications were made in March 2021. The R&D centre at Sachin has been approved by DSIR and has a team of 66 people across various sections including R&D, regulatory affairs, quality control, quality assurance and analytical development laboratory.
Diversity Across Geographies and Customers
Ami Organics caters to domestic as well as multi-national pharma companies in Europe, China, Japan, Israel, UK, Latin America, and the USA. In FY20 and FY21, the revenue from exports was ~46% and ~52%, respectively. The company supplies products across 25 countries and enjoys long standing relationships with various domestic and international companies. Some of its domestic customers include Laurus Labs and Cipla and export customers includes Organike s.r.l.a Socio Unico, Fermion Oy, Fabbrica Italiana Sintetici S.p.A, Chori Co. Ltd., Medichem S.A., and Midas Pharma GmbH. The top ten customers as of FY21 have been engaged with the company for over 3 years and contributed to ~61% to the topline.
Particulars
% Exports
FY19
FY20
FY21
Pharma Intermediates
56.09%
46.52%
53.47%
Speciality Chemicals
100%
100%
86.30%
Others
-
-
-
Total Rev. from Operations
49.61%
45.89%
51.57%
Consistent Financial Performance
On a consolidated basis, the company's revenue has grown at a CAGR of 17.3% over FY16 – FY21. Its operating margin has also witnessed consistent improvement; in FY16, EBITDA margin stood at 11.8% and in FY21, the margin jumped to 23.5% (17.1% in FY20). In absolute terms, the company's bottom line has grown at a CAGR of 33.7% and margins has also witnessed an improvement from 8.2% in FY16 to 15.9% in FY21. The company's ROCE has improved in last three years, as on March 2021, ROCE stood at 25.9% (21.5% in FY20). ROE as of March 2021 was 32.3% (24.6% in FY20). As of March 2021, the total borrowings stood at Rs. 136.64 crores and the company propose to use Rs. 140 crores from fresh issue to repay certain indebtedness. The company intends to reduce its debt levels by Rs. 140 crores from the proposed fresh issue.
| Rs. in Crores | Net Sales | EBITDA | EBITDAM | PAT | EPS | ROE |
| --- | --- | --- | --- | --- | --- | --- |
| FY19 | 238.5 | 42.1 | 17.6% | 23.3 | 22.2 | 28.3% |
| FY20 | 239.6 | 41.0 | 17.1% | 27.5 | 26.2 | 24.6% |
| FY21 | 340.6 | 80.2 | 23.5% | 54.0 | 17.1 | 32.3% |
Source: AceEquity
Diversification of Business by Focussing on Organic and Inorganic Growth Opportunities
To supplement its organic expansion, the company plans to pursue strategic acquisitions and partnerships. The company's management believes that by pursuing strategic acquisitions, such as the recently completed GOL acquisition, it will improve its capabilities and technical expertise, as well as form partnerships to strengthen product infrastructure and manufacturing capabilities in the specialty chemicals sector. The management may pursue brownfield expansion opportunities on portion of the 15,830 sq. mtr of land at the Jhagadia site.